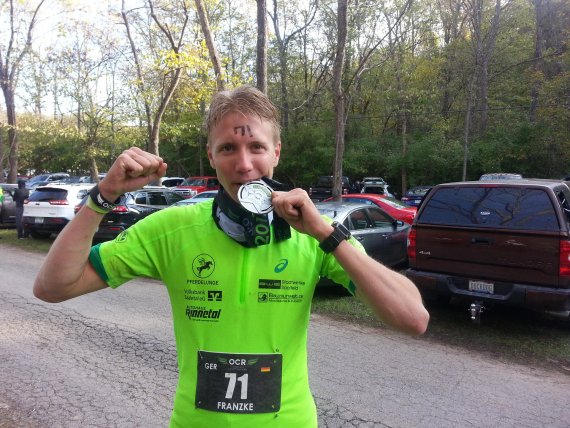 This year, he qualified for the Spartan Race World Championship in the USA. ISPO.com spoke to the really tough guy about borderline experiences in what might be the hardest sport in the world.
Mr. Franzke, obstacle course races are becoming increasingly popular. Why should men and women pursue this sport?
Those who like to push themselves to the limits will find everything they're looking for. The same goes for someone who simply enjoys participating in great events. However, it's the community that fascinates me most. Everybody is very outgoing and open. If you need help with an obstacle, you don't have to wait long. There is just an amazing atmosphere which not many sports can offer.
You run over 25 kilometers, splash through mud, climb over walls, crawl under barbed wire fences. How crazy do you need to be to do something like this voluntarily?
A little bit crazy is just enough. I have learned how important it is to be mentally tough, to train my mind and to go constantly push my limits even further. Us humans, we are always looking for new and unusual experiences. Obstacle course racing presents the perfect opportunity to find new challenges.
You were a successful biathlete in your youth. Why did you change your sport?
fter graduating from school, I ended my career as a biathlete. After that, I first joined up with the German Armed Forces, and during my term of service I coincidentally heard about Getting Tough – The Race in Rudolstadt. My father and I just wanted to try it out, and see what kind of race it was – I was hooked immediately.
How did you get your nickname?
I was given the nickname "The Horse Lung" by the Getting Tough Team. There, everybody is given their own nickname.
What is your training like?
I try to complete about 10 training units every week. It is important to find the right balance between strength training and running. Too much weight and you get slow. Too little strength and you won't be able to overcome the obstacles.
To what extent does nutrition play a role during your preparation?
As with any competitive athlete, nutrition forms the basis. If it is not well matched, performance will correspondingly develop poorly. I always try to be very careful about what I eat, and use components from the Dr. Feil Strategy. This means fewer carbohydrates and a lot more fat and protein.
Your equipment is exposed to severe conditions. Do your shoes ever last longer than one race?
With the right footwear, there is absolutely no issue. I wear ASICS GEL Fuji Runnegade for a lot of my races. These shoes have already survived several Spartan Races, including the World Championship at Lake Tahoe. T-shirts are what I use up most. It is not uncommon that a new shirt will have a couple of holes after its first race. Normally it's because of the barbed wire.
Do you also have to work in order to finance your sports career?
Currently, I am still a student. I am partly funded by sponsors. However, I had to finance my World Championship trip through crowd funding. On top of that, I also work as a personal trainer and share my experience with other athletes. My plan for the future is to give talks.
What was the hardest race that you have ever participated in?
The Spartan Race World Championship at Lake Tahoe, without a doubt. The entire course is located at an altitude of more than 2,000 meters, and you have to overcome extreme slopes and carry extremely heavy weights. The 200-meter-long swimming section was ice cold and brought many participants to their knees.
What is the difference between a biathlon and an obstacle course race?
In a biathlon, everybody knows the race procedures 100%. You know more or less what to expect. In contrast, during an obstacle course race the obstacles keep interrupting the running rhythm, forcing athletes to push their limits. If you want to solve the various tasks effectively and quickly you need a great wealth of experience in various motion sequences.
How long do you need to bathe in an ice tub after a race?
After Tough Guy, I didn't need one at all! The entire course there is an ice tub. Apart from that, depending on the duration of stress, my recovery time can be from 2 days up to an entire week.
You are now in the USA, at the World Championship. How does the German obstacle course race differ from the international one?
The USA mantra is "bigger is better". The obstacles are partly more sophisticated. In addition, there are also enormous weights that an athlete has to be able to shift: 25 kilo sandbags, 30 kilo logs and equally heavy stone balls. And to top it all off, there is also the Hercules Hoist. A 70 kilo rock that has to be pulled up with a rope. It is also crucial to have upper body strength to be able to hold on to the countless rigs (climbing ladders, often even rings; editor's note). In the USA, simple climbing walls (about two meter high wooden walls; editor's note) are no longer considered obstacles. These rather form part of the course.
How realistic is it that you will one day become world champion?
At 22, I still have time. My best years are yet to come. So I'm very optimistic that one day, I will succeed in becoming world champion. Looking ahead, there's also the possibility of participating in the Olympics. The OCR community has various plans to turn our sport into an Olympic discipline by 2024.