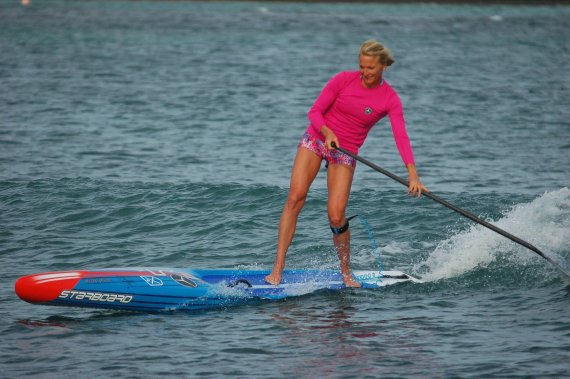 Tahiti, then to Maui, and then Sylt from time to time – Sonni Hönscheid is living her dream. But behind the success of the woman who crowned herself three-time champion in the hardest SUP race in the world, over 32 miles of ocean from Molokai to Oahu, is a lot of hard work.
Part of the famous Hönscheid family of surfers, she's also a twelve-time German champion in surfing, but now all of her love belongs to the trend sport of SUP.

In the meantime, she has even launched her own artistic board collection for her board outfitter Starboard with the Tikhine Line.
Test the products of the future with ISPO OPEN INNOVATION and give the manufacturer direct feedback. Register here for free >>>>

As much time on the water as possible
"With surfing it's also about luck: for example, whether you catch the perfect wave. With SUP, it all depends on you. You can work on coordination, balance, strength, and endurance on your own," says Hönscheid.

The perfect way to get yourself in top shape is to spend as much time on the water as possible: "You should go out in all types of conditions, even if it's a bit more windy. Sometimes only then will you really merge with the board, and know exactly what you need to do in what situation."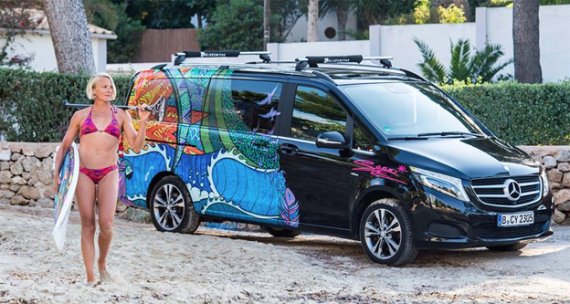 The world champion's training plan
Variation is also important in training. On one day, for example, the blonde athlete will "only" do a 20-km endurance workout on the board, while on others interval training will be the theme of the day.
She reveals one training plan: "20 minutes warming up, then two minutes paddling at 70 percent, then two minutes rest, then one minute at 100 percent, and so on."
What SUP board to buy? Get advice here! >>>>
To make the training even harder, she sometimes ties the belt that straps the board down to her car around her tools. This makes the water resistance stronger, but that's really only something for people with a true knack.
Toning exercise and nutrition:
Aside from water training, Sonni Hönscheid also likes to go jogging. However, she's not a big fan of gyms: "I don't go to the muscle factory to pump iron all that often. A couple of reps with the bungie cords and dead weight at most. On one hand I don't want to look like Rambo, and on the other hand, more muscles also consume more oxygen."
On the topic of nutrition for SUP whizzes: Hönscheid, for example eats noodles as early as two days before the famous Ocean Classic in Hawaii, in order load up on carbohydrates. "In addition to pasta, I have one other very simple tip: Eat lots of fruits and avocado."
The perfect preparation for an SUP race
In addition to targeted nutrition, Hönscheid also recommends that SUP aces pit themselves against international opponents: "Lots of people will do races in Germany, but don't venture beyond that. It's important to keep evolving. The good news is that there are now two international SUP races in Germany."

For the top aces in the SUP scene, the most important mental preparation before a race is making sure her mind is clear.
"My second great passion is art. I want to be the fastest when it comes to paddling – with painting, I can take my time. I also try to regulate everything leading up to a race, like answering all of my important e-mails, for example. A colleague of mine once hadn't paid for his rental car, and then his ringtone went off 24 times on the water during the race."



The optimal SUP board

Music is a good keyword: Many SUPers like to ride with music. Sonni Hönscheid's favorite music "is the sea and the wind. But everybody needs to make that decision for themselves." The same goes for the topic of one's board and paddle. Hönscheid relies on the 3,400-euro "Allstar" model by her sponsor Starboard, made of a carbon fiber sandwich. "It has convexities (concaves) that make the water flow faster. That makes the board super fast."

Also important for her purchase are the topics of the environment and sustainability "Starboards are laminated with "BIO Resin" . For every board that's sold, Starboard plants a tree.

Trends for the SUP paddle

For the paddle, the trend is headed towards using lighter and lighter, and above all shorter and shorter models. "But that can lead to shoulder problems. That's why you have to test everything out yourself to see what feels the most comfortable. At the moment, the trend is towards paddles similar to that of a canoe. Some like it stiff, others flexible. Hönscheid: "My absolute favorite paddle is the 'Bolt' by Starboard."


SUP world champion: Tips for not falling into the water
But even the perfect equipment can't save the best female SUP paddler in the world from sometimes falling into water. "On the 52 kilometer at the world championship last year, I fell into the choppy water four times. Sometimes that isn't all that bad, sometimes it's even refreshing," says Hönscheid. For her, the best tip against falls into the water is "becoming one with the board: then you'll know exactly how the board will react in certain situations."

Sharks in the water: A risk for SUP athletes!

For Sonni Hönscheid , not falling into the water as much is also a kind of life insurance. Before Hawaii, for example, she was even accompanied for a long time by a giant tiger shark.
People doing SUP in these kinds of waters should look out for things like whether the water is dirty. Hönscheid: "That's when there are the most attacks, because the sharks can't see as well. Generally the water is their element, after all, and they're super curious. I have respect for them, but not fear. It's more dangerous to be in a car, in any case!"

Test the products of the future with ISPO OPEN INNOVATION and give the manufacturer direct feedback. Register here for free >>>
VIDEO: ISPO OPEN INNOVATION at ISPO MUNICH 2017