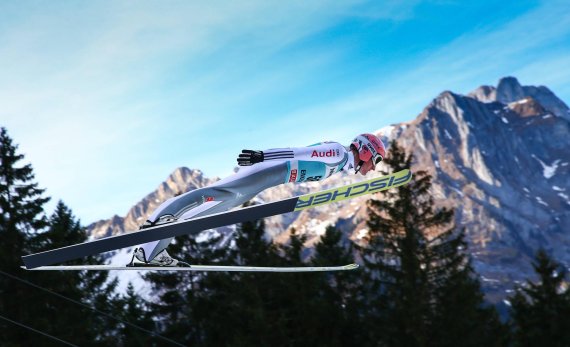 34,150 Swiss francs prize money - that's the equivalent of just under 32,000 euros - was earned by ski jumping star Severin Freund in the first World Cup month of the 2016/17 season alone.
Norway's Halvor Egner Granerüd, who had dominated the 2020/21 World Cup season, ended up with around 200,000 euros in prize money at the end of the winter. That sounds like a lot of money. However, compared to world-class athletes in soccer or tennis, for example, it's just peanuts.
ISPO.com spoke with Severin Freund and his management in 2016 and explains which sponsors are backing Freund, what has changed since his overall World Cup title and the World Championship title in 2015, and how the then 28-year-old is providing for the time after his active career.
In his most successful winter 2015/2016, Severin Freund earned 169,500 Swiss francs (just over 158,000 euros) in bonuses from the International Ski Federation FIS as overall World Cup runner-up.
In 2014/15, his most successful winter, Freund earned 198,900 Swiss francs (just under 186,000) with two World Championship titles and overall World Cup victory. The following year it was a good 158,000 euros.
Subsequently, injury problems and fluctuations in form caused a sporting downward trend, which is also reflected in the prize money. In the season 2020/21 Freund could only win 16,000 Swiss Francs (approx. 15,200 Euros) in prize money. In the season 2021/22 Freund is initially only in the line-up for the second-class Continental Cup.
For comparison: When Sven Hannawald celebrated his historic Grand Slam victory at the Four Hills Tournament 15 years ago, he collected a total of 330,000 euros in these four jumps alone. In addition to the prize money, there were also bonuses from the German Ski Association (DSV), which no longer exist in this form today.
Severin Freund has two official sponsors in Manner (head sponsor) and Avis (ski sponsor). In addition, there are equipment suppliers such as Fischer (skis) and Uvex (helmet & goggles) as well as the other partners Audi, Würth, the German Ski Association (DSV) and Freund's marketing company ASP Sports.
Almost all of them offer performance-related payments in addition to a basic bonus. Severin Freund works with all partners on a long-term basis, and there were also TV commercials for Manner and IKK Classic in the winter before last and last winter.
"We have few, but strong partners," says Hubert Schiffmann of Freund's marketer ASP Sports. Compared to the boom time of ski jumping in the last decade with Martin Schmitt and Sven Hannawald, the revenues have decreased "slightly" according to Schiffmann.
The two World Championship titles in Falun in 2015 and winning the overall World Cup of course paid off for Severin Freund. On the one hand because of the success bonuses from sponsors and equipment suppliers, on the other hand because of improved contracts.
"We would have done a bad job if this would not be reflected financially," said Schiffmann. There have been some inquiries, but some have been turned down. "We'll be careful not to take anything, after all, it has to fit Severin and the existing fabric."
In terms of popularity, Severin Freund is number two among active German winter athletes in most polls, behind alpine star Felix Neureuther.
Since this winter, Severin Freund has also had his own hashtag on his social media channels: #SFly.
"We certainly can't complain, even if there are winter sports where significantly more is possible. Money is important for me in the sense that I can practice my sport as professionally as I'm doing at the moment," says Severin Freund in an interview with ISPO.com.
In doing so, the financial aspect is not his first priority: "The experiences are more important to me than the money."
Freund is careful with his income from ski jumping. "I'm generally more of a saver type. As a competitive athlete you don't have extreme costs and the time of the career is limited: That's why you should have something on the high side. But I certainly won't be financially secure at the end of my career."
Despite the higher incomes of football stars, Freund would "definitely not swap, even if I am a fan of Bayern Munich".
His main criticism: "The 90 minutes are cool. But I don't find the before and after so cool. Whether transfer rumours or injuries: Everything is taken enormously important. As if it were decisive for the world. But it's all about sport."
"All participants must provide proof of accident insurance. The organizers do not assume any liability for accidents and their consequences, not even towards third persons." This is what it says in the announcement of the Four Hills Tournament.
Severin Freund also has to insure himself privately with a high premium corresponding to the risk.
Severin Freund studied International Management at the Ansbach University of Applied Sciences parallel to his sporting career.
"I've been studying on the side for a while now, but I can't say yet where I'll end up after that. For some it's good to have a master plan, but I'm currently a ski jumper and that's what I do 100 percent," explains the 28-year-old.
He is not worried about the future: "I don't need a stopgap, I will find a new exciting job afterwards. I also got married this year and basically want to have kids."