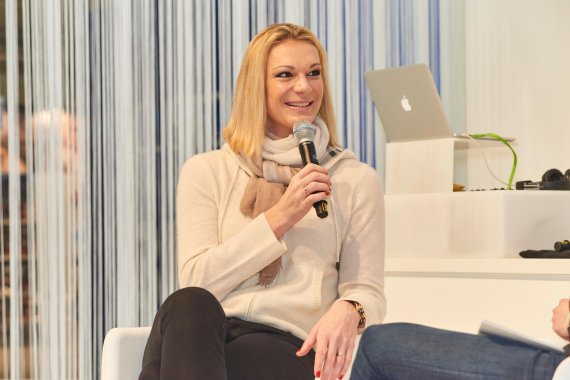 Maria Höfl-Riesch's appointment calendar is still full: The "Ball des Sports" in Wiesbaden on Saturday, Bundesliga soccer at FC Augsburg (where her husband sits on the supervisory committee) against Bremen on Sunday, ISPO MUNICH on Monday, from here directly to Italy, and from there back to the Alpine World Ski Championships in St. Moritz, where she'll be at the start as a commentator for the German broadcaster ARD.
Always in her luggage: something to do with sports. And her own book. 
Read the big interview with Maria Höfl-Riesch here: How the Former Sports Star is Marketing Herself

"Maria macht Dich fit" is the name of the Olympic skiing champion's third book, which will be available in January and has already made it on the bestseller lists for sports guides. "I want to address everybody who is sedentary by nature or has become sedentary, but would like to exercise and doesn't know how they should go about it," says the former world champion.
She herself calls both her book and her tips a "simple concept. It revolves around the basics from my own training. Plus tips for nutrition." The most important principle: "Bans are banned."

Maria Höfl-Riesch presented a couple of her personal tips on the Health & Fitness stage at ISPO MUNICH. ISPO.com has evaluated them.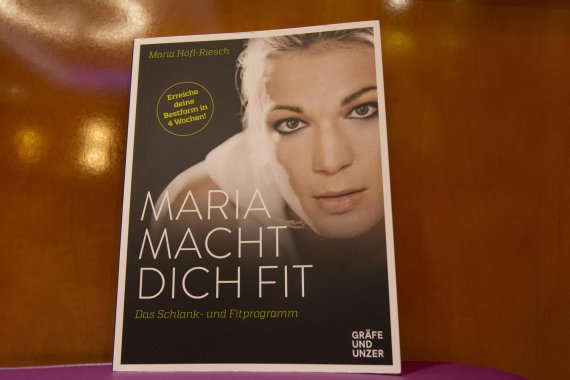 Tip 1 from Maria Höfl-Riesch: Exercise regularly!
"I try to do something every day if possible, sometimes longer, sometimes shorter, but always regularly. If you really want to achieve something, you should be doing something four times a week. Get active at least four times a week.  Earlier today I was on my bike for at least half an hour. Rowing machine, low pulse range."
Tip 2 from Maria Höfl-Riesch: Early activity is better!
Maria Höfl-Riesch advises getting started early in the day: "For me it's best when I exercise right away in the morning, then it's over." Those who manage it should preferably get up an hour earlier, because you just can't pull yourself together anymore in the evening after a stressful day. "I would be lying if I said that I'm happy every morning when the alarm is ringing at 6 am and I'm heading to the basement. But then I know that I've done something."

Tip 3 from Maria Höfl-Riesch: Start slowly and escalate slowly!

"The most important thing is not overexerting yourself and your body. Lots of people go about it way too forcefully, and after that they don't do anything anymore. If you haven't done anything for a long time, what I recommend is first just going for a half-hour walk every day, and then start with jogging. Do the easy things in the beginning, and then you can always step it up."

Tip 4 from Maria Höfl-Riesch: Measure out your tempo and intensity!
Measure out your own tempo and intensity: "You should exercise in a way that you can still chat while doing it – otherwise you'll have some nasty sore muscles. Chatting and singing should still be possible. People who say that it's not tiring at all and then quickly get to a pulse of 150 are misadvised. My recommendation: Only do very few high-intensity units. I focus on low intensity."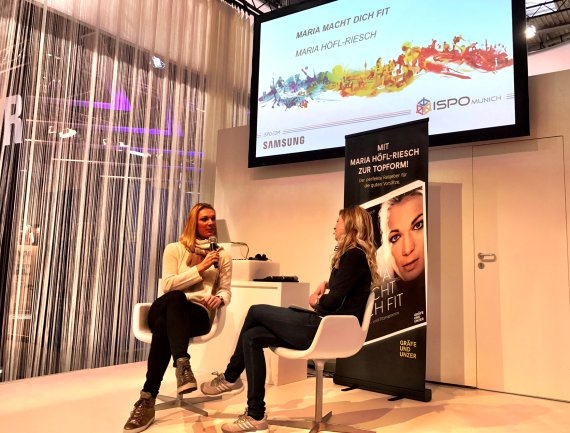 Tip 5 from Maria Höfl-Riesch: Only do what does you good!
Only do exercises and sports that are good for you: "Today when I ski, it's not in 14 degree weather or sleeting snow. I only do it when it's fun for me. And then I might also do some flat stretches. Another example: When I see how so many people overdo it with pushups in the gym – it doesn't have to be that way. Better to do good kneeling pushups than bad regular pushups."