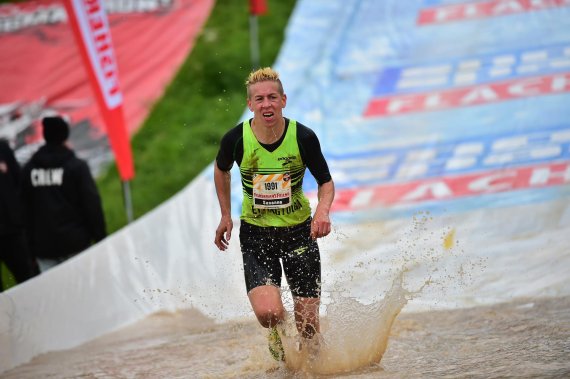 A 24-hour competition braving mud, electric currents, ice-cold water and obstacles. This is what the unofficial World Championship of extreme obstacle courses World's Toughest Mudder 2016 threw at participants from all over the world in Las Vegas on November 12 and 13.

You have to be fit, tough, and downright crazy to see this unofficial obstacle World Championship through to the end. These are all requirements Getting Tough team member Susanne Kraus (from the German state of Thuringia) meets. From the sixth hour onwards, the 35 year old steadily worked her way up from sixth to third place – and in the final lap she overtook April Hartwick (until then ranking second in the race), who collapsed and had to be supported.
Susanne Kraus crossed the finishing line a total of 80 miles behind Stefanie Bishop and in front of Morgan McKay. 
Susanne Kraus' victories at Tough Guy, the Getting Tough Race, and the Strongman Run attracted the media's attention. Experts in the extreme sports scene even thought that Kraus could win the Las Vegas race; however coming second in a sport that is rapidly becoming a professional and is even to become an Olympic one by 2024 is no mean feat.

Susanne Kraus spoke to ISPO.com about the energy sapping contest in Las Vegas.
Susanne Kraus: "I train at night, too."
ISPO.com: Las Vegas was your first time participating in the World's Toughest Mudder extreme obstacle course. What preparations are necessary for a 24-hour race?
Susanne Kraus: The demands set by the contest are extreme and almost more complex than in any other sport. It requires daily training and making effective use of all the time you have spare. I train at night, too. And because I work full-time, I also use my lunch breaks for 45-minute sessions.
My weekends are a bit like mini boot camps – I include everything from circuit training and mountain sprints to training courses in the forest. Most of the time I train alone. I only rarely have the opportunity to train with Michael "Kalinator" Kalinowski. He's an ex-paratrooper, and his training is really intense. We push each other to the limit.
Your daily training program seems very lonely. Don't you have a trainer?
I create my own training schedules. My experience in the field of competitive sports gives me an idea of the requirements. I get a second opinion from my old trainer Dieter Herrmann [Ed.: led Nils Schumann to 800m Olympic victory in 2000]. Charles Franzke is the only runner on the obstacle course who trains professionally.
Do you have any sporting goals?
I want to be more in shape in 2017. In the last Strongman Run, which actually focuses on running, I was 20 minutes ahead. I was only five minutes ahead in the Spartan Race, which has more technical aspects. That is something I'm going to change. In terms of my team, we want to raise the German flag even higher by participating in the 2017 Europe and World Championships. 
We are not yet a professional team in Germany.
How far does your team have to go to reach the very top of the international league?
Our team is purely an amateur one. However, in terms of sporting ability, the Getting Tough team is number one in Germany. In Europe, we regularly made it to the top three European obstacle course teams. We are a step behind on the international stage, though, especially in comparison with the US team. 
How does your success affect sponsoring?
Our core team is sponsored by Brooks, LED Lenser, and Rodenstock. They provide us with their products and, as far as I am aware, sponsorship funds per year totalling four digit sums. Only our main sponsor ups this amount to five digits. That's sufficient to lower our material and travel costs. We are very grateful for this. Nobody in the German extreme obstacle course league has had all their costs covered by sponsors yet.
Are there companies that have specialized to use this sport in their product marketing?
Trail running shoes by Brooks or Innov-8 are very popular in the extreme scene, but even Merrell and Reebok have now included obstacle course shoes in their range.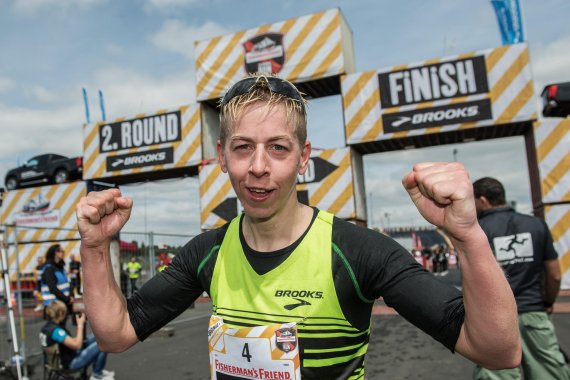 There is more prize money in the US.
What about materials? Would shirts and trousers with neoprene elements not help?
What is important to me is how breathable a material is. I warm up when I'm running anyway (laughs). In general, you need to decide on different clothing for a winter or a summer race. For example, at the Getting Tough – The Race run, wearing a thin, flexible neoprene top covering the core was fantastic. My team experiments a great deal with neos, compression etc. At Tough Guy two years ago, about 30% of the top runners had to drop out because of hypothermia – that's definitely a gap in the market!
Do you think that extreme obstacle courses are still misunderstood?
Not necessarily misunderstood, but people don't realize what is special about them: Obstacle courses are defined by their unique team and individual sporting spirit, something that definitely makes them stand out from the crowd of traditional endurance sports. Let's use Getting Tough – The Race 2015 as an example: Charles Franzke was in third place and the runner in second place was struggling to get over the pyramid obstacle. However instead of overtaking him, Charles stopped. He helped him over the obstacle and together they continued the duel for second place. Those are truly spine-tingling experiences. 
Participants will also wait for their teammates to improve their team score. They won't be able to do that in Las Vegas.
No, extreme obstacle courses in the US are something else. The Americans have been working hard at this sport about 10 to 15 years more than we have. There is a lot more prize money on offer and top runners are invited by hosts. Full speed ahead is the only way forward here.
Extreme obstacle courses become a trend
At the New York Marathon 2016, the winner was offered 100,000 dollars. That's the prize money given to the winning team at the 2016 World's Toughest Mudder. Whereas in 2012, only eight obstacle course events took place, in 2016 there were over 100 in Germany alone.

In Germany, the five most difficult obstacle courses now attract more than 10,000 participants. This is a completely different league: with that number of participants, you're moving in the circles of the top 10 largest running events in Germany. Even 800m Olympic medalist Nils Schumann helps to organize the "King of Cross" obstacle course.
All of this shows that obstacle courses are no walk in the park for the contests' favourites. See for yourself: World's Toughest Mudder 2016 live on CBS Sports. The Getting Tough Facebook page gives you a behind-the-scenes insight to how the German participants do it, with Facebook live streams from the obstacle course.
This interview was conducted by David Lemmer.