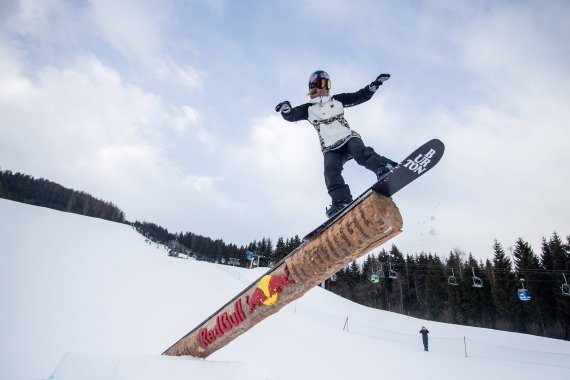 Sebastien Toutant, aka. Seb Toots, regularly shows jaw-dropping jumps. The Canadian won Olympic gold at the Big Air and moreover has a large collection of medals. In his Instagram account he posts videos of his impressive park runs and tells more through pictures than words. The snapshots show him snowboarding, travelling, partying or posing with his new tattoos. A classic profile of a snowboard pro.
Breathtaking big mountain lines, snowboard life, camping, surfing and everything else that releases adrenaline to Xavier de le Rue can be found on his Instagram account. The freeride world champion is a true mountain lover and explorer - he likes to travel deep into Alaska and Antarctica. He also conveys his feeling of freedom and adventure on his profile, which ultimately awakes the desire for mountains and snow.
X-Games Gold winner Elena Hight has many natural selfies on Instagram, but just as many snowboard and surf shots. In addition, the snowboarder, adventurer and environmentalist gives insights into her world of thoughts with texts and encourages reflection. So if you want to see beautiful photos and a good breeze of adventure and be inspired at the same time, Elena's account is the right place for you.
Scott is a real magician on the board. His unique and super creative tricks on the snowboard as well as skateboard always cause incredulous amazement. He manages to use inconspicuous items as an obstacle and conjures one-footer tricks out of his pocket as easily as he collects likes on his profile. On his Instagram account, he creates a wow effect with videos and photos of his crazy tricks on the snowboard, skateboard and trampoline. Absolutely worth seeing!
The Norwegian Kjersti Buaas is well known from the world's contest stages. She very successfully took part in slopestyle and halfpipe contests for more than 20 years and concentrates on freeriding and her own camp called PRSNT today. In recent years, she has been looking for more spiritual input besides snowboarding - and not only discovered yoga, but also nutrition, meditation and mindfulness for herself. She especially shares her worldviews and insights on Instagram with her followers and wants to do her part to make the world a better place.
Kjersti Buaas on social media:
"I enjoy sharing my creative eye and my desire to tell stories through my own profile. Social media can be a tool or a burden. It is important to keep the balance and remember that you are not your Instagram account. I want to bring an aspect of mindfulness into the use of social media, because social can be a beast that devours you and makes you feel heavy and serious."
And this is how Kjersti Buaas uses Instagram and co.:
"I use social media as a platform for creativity, where I share company-related and private content and stories. I also work with some non-profit organizations and I feel honored to be a voice for their statements. If I can inspire and motivate my followers to protect our beautiful planet and natural playgrounds, I have achieved a goal that goes far beyond Selfies."
The embodiment of the Roxy Girl enjoys life to the fullest and allows her followers to participate in it. The Olympic champion shows selfies, action shots of freeriding and surfing, her husband and private snapshots that always look authentic - just like herself. Her bright laughter is infectious and after visiting her profile you not only feel like getting on the board yourself, but above all you are in a good mood.
Snowboarder Robin van Gyn lives in Whistler, British Columbia. From there the freerider hunts the best powder in winter. In her Instagram account she takes us on her adventures, which take her to Alaska, Europe, Japan and South America. Even in summer she spends most of her time outdoors surfing in cold water, camping or snowboarding in Argentina, creating a world full of nature and adventure. Besides action shots she posts portraits and photos of her dog and friends.
That's what Robin van Gyn thinks about social media:
"Social media is a great way to connect the world, in that sense it's a great tool. But what I find difficult is the fact how wrong social media often is. It is important to realize that it is not real and that life outside our phones is so wonderful - nothing can replace the real and momentary world. That's why it's important to me that I'm real on my profile and I only post things that I really like and what I'm actually doing. Unedited and just a rendition of my world, nothing more."
For the Olympic Champion, Sportswoman of the Year, Rider of the year and first female snowboarder to land a Cap Triple 1260, things are running smoothly. Anna Gasser is also super photogenic and entertains on her account with pretty selfies, snowboard videos and photos from her everyday life. So if you want to stay up to date on what new trick she has landed again, you have to give the likable Austrian a like.
Anna Gasser on social media:
"I don't post every day, but I use social media daily. I already notice that many followers also mean a certain responsibility and therefore I consider very carefully what I post. But it's also nice to be able to enter into a direct dialogue with fans via social media."
On his account, the likable guy from the Allgäu (region in Southern Germany) with the broad grin gives insights into his everyday life as a snowboarder. As part of the Pirate Film crew he has made a name for himself with impressive video parts and spends a lot of time in the backcountry. The clips and photos from Big Mountain Riding in Alaska or powder riding show how relaxed and casual Elias jumps kickers, spins and rides demanding lines - but the fun doesn't come too short. Those who want to pick up a good portion of winter and snowboarding will find a big spray of it here.
Elias Elhardt wants to "share passion"
"I want to share my passion for snowboarding on my accounts and show it from my perspective. What I like about social media is the immediacy between the one who posts and the followers. I have the opportunity to show everyone how I see the world. At best, this has the potential to connect people. Sometimes, however, it seems to me more like an advertising catalog in which everyone sells his person and his life as well as possible. This not only lets people of public life become a kind of brand, but also we all become a kind of brand of our own, whose value is measured in likes and followers".
With a full beard and long mane John Jackson brings creative freestyle snowboarding to the backcountry. With breathtaking lines and huge backcountry kickers he takes his followers into the rough winter wonderland. He not only lets videos and pictures speak, but also speaks about his misadventures and adventures with a lot of humor. So you will always find something to amaze and smile about on his account.