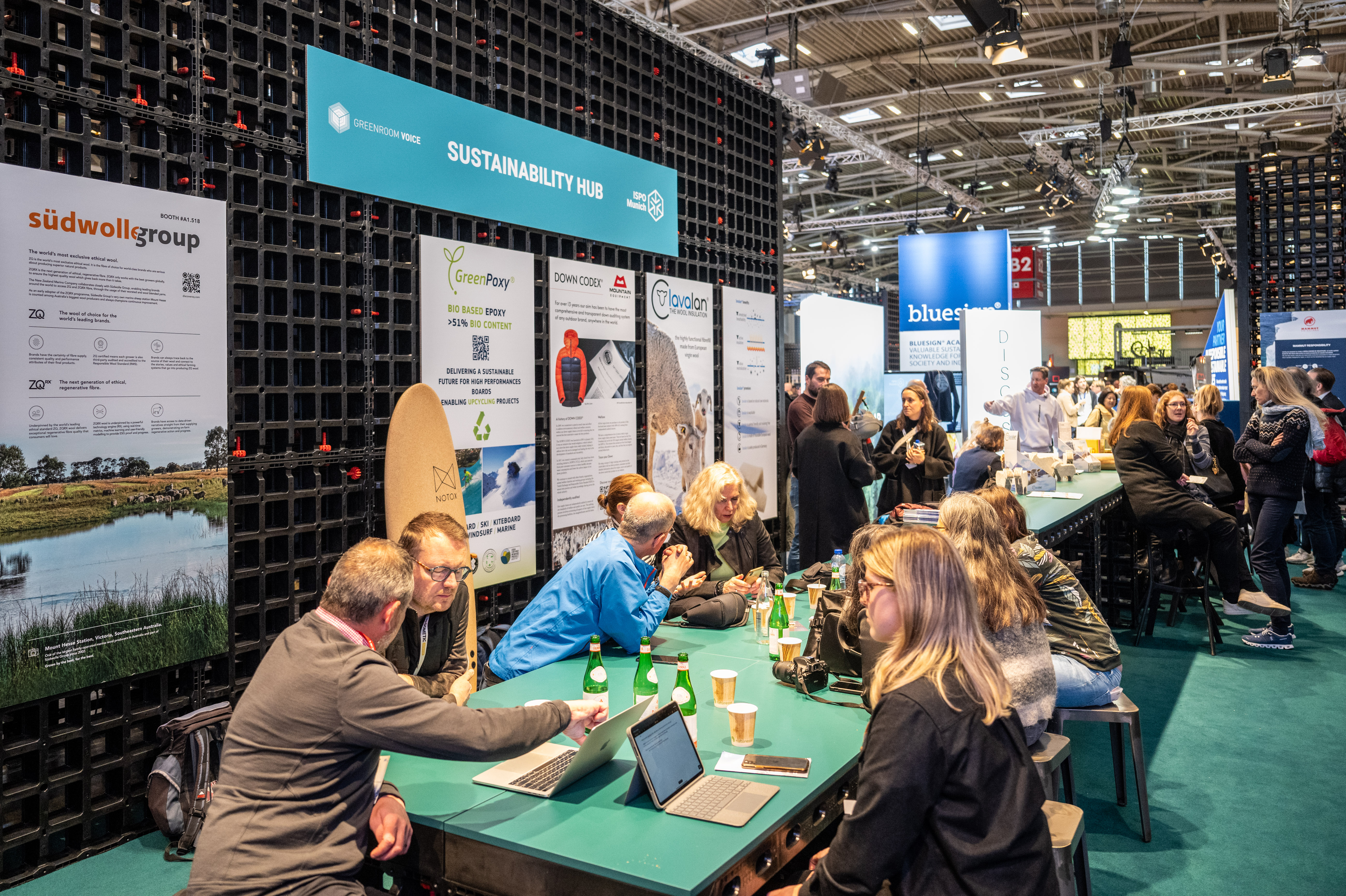 Together instead of separately - this is how the sports community is tackling the megatrend of sustainability in the fight against climate change. In the Sustainability Hub at ISPO Munich, pioneers of the trend share their know-how instead of hiding it. From Icebug's big solar energy offensive "Icebug and Sun" to Vaude's gradual transformation over the past decade to a climate-neutral brand. Another example is the Carbon Reduction Project of the European Outdoor Group, in which brands such as Amer Sports, Burton, Deuter, Fenix Outdoor, GORE-TEX, Haglöfs, Helly Hansen, Mammut, Ortovox and Vaude share once sensitive supplier information with each other - in order to gradually reduce the ecological footprint of their products. In the meantime, the brands even exchange information on a regular bi-weekly basis.
The sports community rewards sustainability
Just how innovative the industry is could be seen in the ISPO Award Area in the Future Lab. Here, numerous award winners and nominees presented their groundbreaking new products. At the ISPO Award Gathering, it was also evident that consumer experts reward sustainability: For months, users* of the ISPO Collaborators Club had the opportunity to vote for their favorite among the ISPO Award 2022 winners.
The winner: the MIUtech Iso jacket from Muntagnard and Innovation Unit, which is 100 percent recyclable thanks to its innovative fiber technology and beat out renowned competition in the voting. "The award shows that even a relatively little-known brand can be noticed if it focuses on innovation," said a delighted Dario Pirovino, Co-Founder and CEO of Muntagnard. An encouragement: lived sustainability is seen and rewarded by the Consumer Experts even without huge marketing campaigns.
"Pink it and shrink it"? That's the past. Brands like IDA Sports are the future. The US startup produces soccer shoes that are perfectly adapted to the ergonomics of women's feet. IDA presented its revolutionary shoes at the Future Lab as part of the ISPO Brandnew Pitch Sessions - and convinced not only the jury, but also the expert audience: They voted IDA the ISPO Brandnew Overall Winner as the most innovative startup. An exclamation point for the scene, in which women still only make up 20 percent of founders. "It's a great honor to win the ISPO Brandnew Award because it introduces us to a wider audience. It's great that we can represent and see more women in sports technology," CEO Laura Youngson was pleased to say.
The panel "Connecting Women - Female Empowerment: Stories to be told" also gives an insight into the female future. Female empowerment success stories show how it can be done. Swedish mountaineer Vibeke Sefland, for example, met two women in Nepal who had escaped forced marriages. Together with them, she founded a sewing shop. It has since grown into a company employing 97 women from difficult backgrounds. "This is empowerment: telling people how they can use their skills, other people and their know-how for development," says Sefland.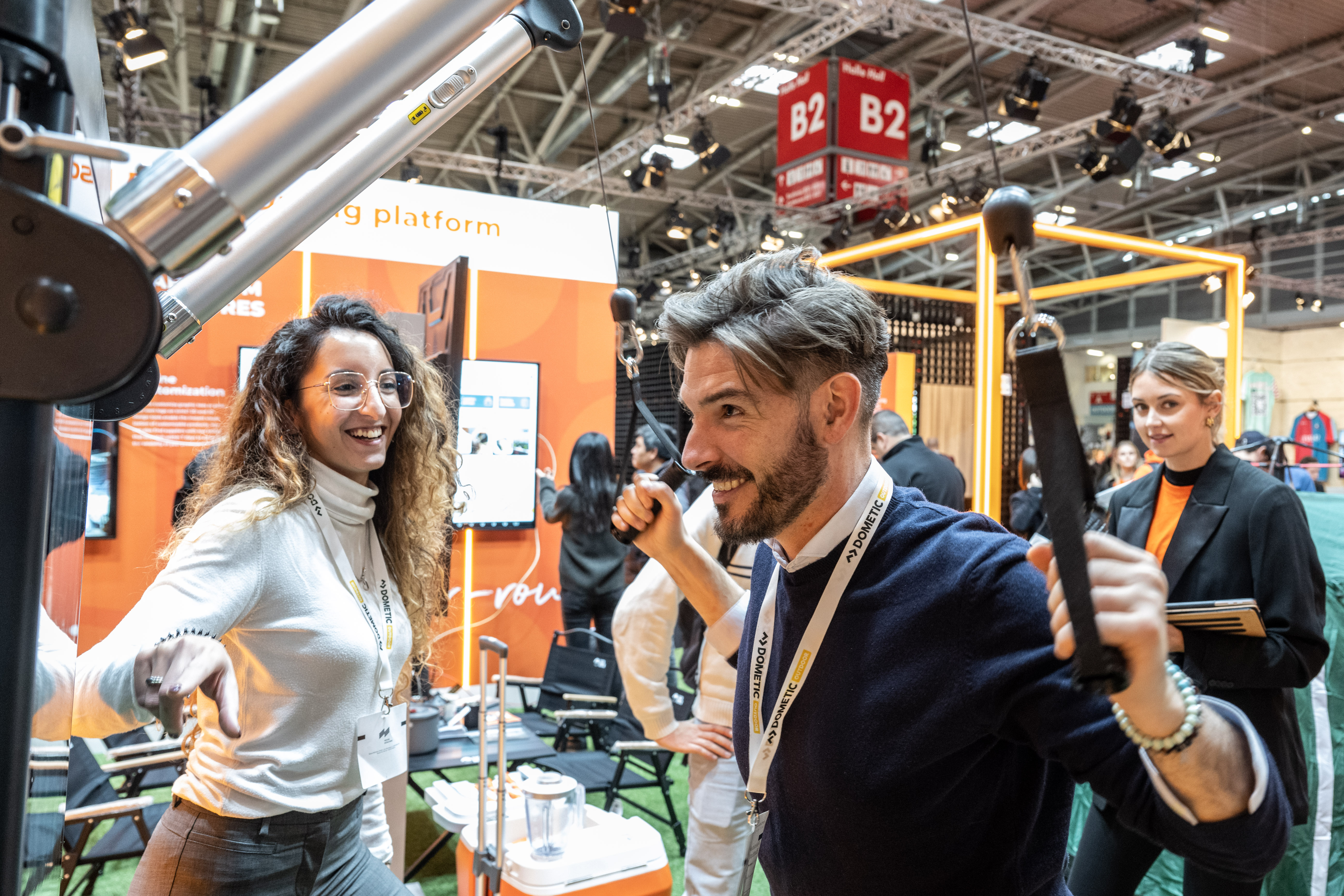 Together with climate change, what is the greatest challenge facing society? "Our society is getting older and older. With muscle loss in old age, a tsunami is rolling toward us and the health care system, but we can stop it," said Prof. Dr. Stephan Geisler, vice president of the IST-Hochschule für Management (University of Management) and president of NSCA GC Germany, on the Main Stage of the Future Lab: "The antidote: strength training in old age. We need mandatory workouts for seniors. Governments need to understand that we need to act now, not 20 years from now."
But how can the sports community really influence policy here? Laura Santucci describes how it works: "A basic rule for influencing policy yourself is: don't explain to legislators why your proposals are useful for your industry, but what they'll do for society." Santucci should know: As Chief of Staff of Political Operations in the Obama administration, she was instrumental in getting the revolutionary Health Care Act passed.
Training of the future with VR glasses
Digitalization has dominated all industries for several years now. The sports industry is now showing how it can revolutionize the future of training with the VR glasses ImproVR. The role model for this technology is tennis superstar Alexander Zverev, who caused a sensation with the innovation in the Future Lab at ISPO Munich. Due to injury, he was unable to make a splash in the second half of 2022, but together with his brother Mischa Zverev, the almost-two-metre-high star wowed the audience with virtual reality, which is the starting signal for futuristic neuroathletics training. Zverev is a shareholder and testimonial of the company of the same name and relies on the high-tech tool: "I use the glasses every day when I go on the court. I always have them in my pocket," says Zverev.
Digitization in retail: 3D holograms as eye-catchers
How can retail and omnichannel providers create momentum? Digitalization does not stop here either. This is shown, for example, by the holograms from HYPERVSN, who are already working with Adidas, Puma or Decathlon and are probably not only causing the eyes of Star Wars fans to light up. HYPERVSN conjures up 3D holograms in stores without any screen at all. This is eye-catching, attractive - and also saves resources: 96 percent fewer pixels are needed for the holograms than with conventional LED screens. How does it work? Instead of a screen, two rapidly rotating panels - similar to a fan - create the light sculptures.
The challenges in winter sports are many: inflation, rising energy prices as well as climate change. The solution for the future lies in both an ecological energy supply and the expansion of a sustainable infrastructure. Bernhard Ratschiller, professional skier and technical director of Snow51, explains what the future holds at ISPO Munich 2022: People don't need to be brought to winter sports, but winter sports need to be brought directly to the people. This is particularly pleasing for winter fans in urban regions. With indoor ski resorts, which already dominate in China, VR glasses or a better infrastructure between cities and ski resorts, winter sports should become accessible to everyone. And not only that: John Ha Jun Yang, co-funder of ALI, paints a picture of winter sports in China, which have long ceased to be winter sports thanks to indoor halls, and shows a possible future for Europe. The session starts there already in May and attracts the ever-growing fan community all year round.
The future of retail and omnichannel brings with it tried and tested processes. Christoph Mangelmans, Managing Director Consumer Products & Digital Services at FIEGE, put it in a nutshell. According to Mangelsmans, while full warehouses were "the devil's work" in the past, European brands in particular are now endeavoring to keep their products in stock in the face of supply chain bottlenecks and sale peaks such as Black Friday. Another side effect of the current challenges in eCommerce: the comeback of delivery fees that had been thought forgotten.