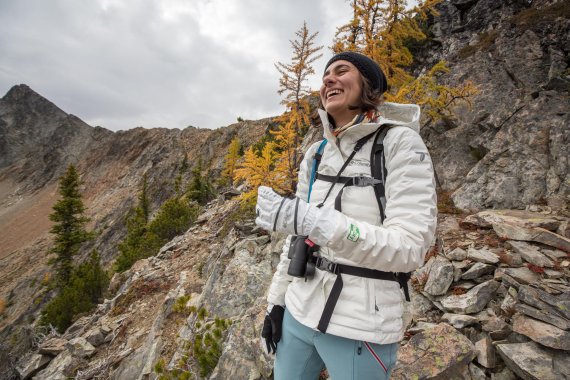 Columbia will be showing off the three new jackets at ISPO MUNICH 2017 to an audience of industry specialists. The insulated and down jackets from the OutDry Ex Eco Down jackets will be presented for the first time, and in style!
Two jackets are made for cold, extreme conditions. They should be waterproof and breathable and will be available from fall 2017. The OutDry Ex Eco rain jacket will be available from the spring.
All in White for Greater Sustainability
All three jackets will only be available in one color: white! And why is this? Because this allows them to be produced in a more resource-efficient way. By not coloring the materials, 70 liters of water is saved per jacket in the production process.
It is of course no long-term solution to only make uncolored clothes. Because of this, Columbia must acknowledge that there is still need for improvements.
The currently-used dyeing methods are too resource-intensive and should be replaced in the future, says Global Sustainability Manager Guru Khalsa: "We are currently looking for new dyeing methods."
Robbert Hersman, Product Director Europe at Columbia is however excited at the three white jackets: "We are the world's first company to develop waterproof and breathable high-performance jackets which are produced in an environmentally friendly way and are completely free from PFCs."
Key Point: PFC-Free Coating 
One of the key points of the product development was making a waterproof jacket with a coating free from perfluorinated and polyfluorinated carbons (PFCs).
These are normally used in rain jackets and functional materials so that water, dirt and oil run off the surface. Their molecular qualities help make them particularly resistant.
But, as Greenpeace has written, it is precisely this quality that is causing such jackets to be an environmental problem. PFCs pretty much never degrade once they are in the environment. They can also enter human and animal bodies via food, air and water.
Studies have shown that a large number of thyroid diseases and immune disorders are connected to PFCs. It is also thought that they may be a cause of cancer. Because of these reasons, Greenpeace has been advocating for PFC-free clothing for years.
OutDry Extreme Eco is a Milestone for Columbia
With the new "OutDry Extreme" technology, Columbia has no need of water-resistant coatings made using PFCs. The trick is this: The waterproof, breathable membrane lies directly on the exterior of the jacket, not between an outer and inner layer as it usually would be.
"OutDry Extreme Eco is a milestone," says Christelle Bretaudeau, PR manager at Columbia Europe," but there is definitely a long way still to go." She had to admit, that Columbia has not completely solved the PFC problem.
In particular, short-chain PFCs are still used in many waterproof Columbia products. As soon as development makes it possible, that should change.
Bluesign Certification for OutDry Extreme Eco
The OutDry Extreme Eco series is also ahead of the competition in terms of usage of recycled materials. The jackets are made in large part using recycled plastic bottles. 20 to 30 bottles are used per jacket. The eyelets, zips, labels and stitching are all 100 per cent recycled.
"The jacket is bluesign-certified," says Hersman. This guarantees the highest degree of consumer protection and that impact on animals and the environment is minimal.
"Retail markets are definitely looking for sustainable collections," the Product Director Europe says. More and more consumers are concerned about the environment and want to know how products are made and what materials are used.
Real Sustainability or Just Greenwashing?
Among industry audiences, the jacket is also now being received: The collection has already scooped multiple awards. For example, as part of its "Gear of the Year" awards, National Geographic awarded OutDry Extreme Eco the title of "Greenest Jacket."
This brought on the accusation that Columbia is merely jumping on the sustainability bandwagon and offering eco-friendly products because of the PR benefits.
But no, says Columbia – As Hersman says, "The goal is to be a company that everyone can be proud of – one that is responsible in its handling of raw materials and that tries to reduce its impact on the environment."
That there is still a long way to go is something that Columbia's management is aware of.