Dorothea, no other Italian or Italian woman has collected as many medals in biathlon as you. How do you train?
Dorothea Wierer: We are a comparatively small biathlon team in Italy and have always trained mixed in the past. I still train with the men, even though many young female biathletes have joined us in the meantime. But I like to compete with the men. There are a lot of very young guys who approach the training with ambition, but also take it easy, so the training is often quite fun.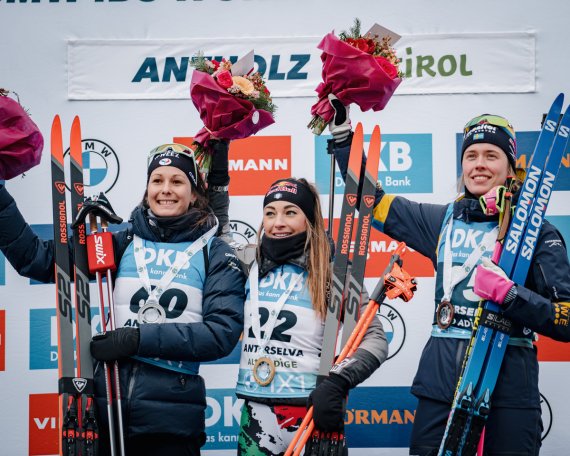 What else do you pay special attention to?
Nutrition is important, of course, which is why we have our Italian chef with us in the World Cup, who is the envy of everyone. But I don't really pay attention to anything. I also drink an aperitivo while shopping with my girlfriends or a schnapps at a mountain hut when I'm on my own business and have time off. As far as sleeping is concerned, women simply need more sleep than men. I have to be a bit careful because sometimes I can't sleep when there's just so much going on. Besides the biathlon, my husband and I are currently building a house near Bolzano. Before, I didn't even know how incredibly much there is to decide. But now I've also woken up in the middle of the night thinking about the choice of floors.
You just mentioned the difference between men and women. Equal opportunities for women in sports is super present at the moment, how do you see it in the biathlon?
The biathlon sport itself is relatively neutral and everything is equal between men and women. Victory bonuses are the same and everyone earns the same money at the races. Family planning is much more difficult for women at the same time. We are constantly on the road from November to March. And after training and competitions, regeneration is incredibly important. Of course, that's not so easy with a baby. Many then take a year off or take the child with them on tour later with a nanny. But that's a personal, perhaps also culturally influenced issue, where everyone ticks differently. I want to be able to say later that I did everything one hundred percent. At the moment I'm concentrating fully on biathlon and if I stop at some point, family will come first. Today I don't have to have children at 20. It's still okay to have children at 30 or 40.
Of course, the cycle also plays a role for women in training and competition. If you're lucky, you won't have your period on race day. If you do, of course you still have to start, have three races in a row, for example, with back pain and heavy legs. Nevertheless, of course, the result list does not say: "had her menstruation". But it would actually be exciting.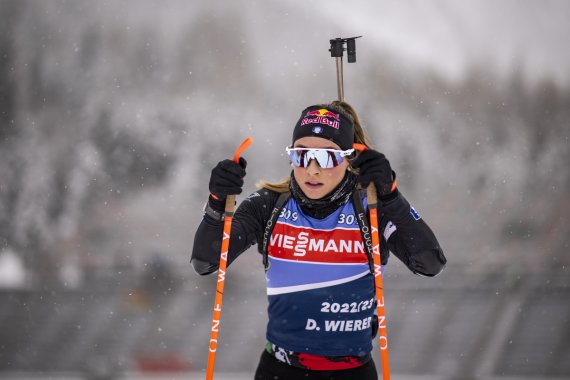 The media also often talk about catfights among women. What about the competition between men and women?
In professional sports, we all want to win, whether men or women. I would say there is equal amount of conflict in men and women and it depends more on the person or character of the athletes. With women, the competition is often created from the outside, even if they are perhaps a bit more complicated than men.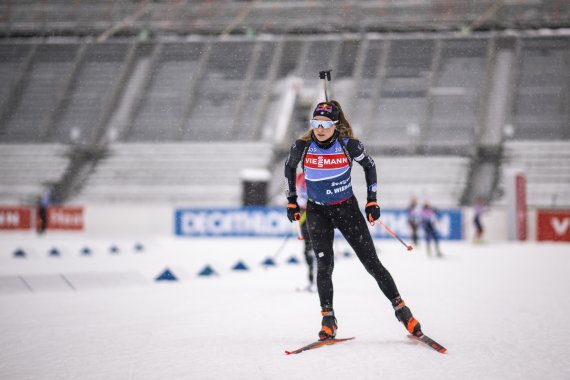 Are you more of a training guy or a competition guy?
I've always been ambitious and more of a competition guy than a training guy. As soon as I put on my race number, I just want to be the best. That still motivates me a lot. That's what we all want in top-level sport, of course. You have to be made for it. On the one hand, you have to be a competitive type, and if you have to grit your teeth, you also have to know how to deal with setbacks. It all comes down to strength of character.
I already said at 23 that I wanted to quit, but now, at 32, I still really enjoy it. I don't want to say when I'll stop, and I re-evaluate after each season.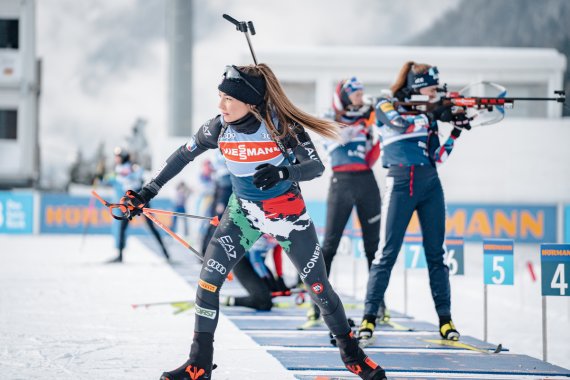 You have been in the World Cup for a while and are one of the more experienced athletes. Which time did you particularly enjoy?
I would say when I was 22 or 23, although I didn't win anything back then. Everything used to be a bit more relaxed and easy-going, I was out and about a lot in all kinds of new places, also partying. Sometimes maybe a bit too much (laughs). The boys today are a completely different generation and have been professionals from the start, so to speak, because there's a lot more money involved now, too.
Do you have a sporting role model?
Lindsey Vonn. She's already an extreme sports idol, also the way she's built up everything outside the World Cup circus, marketed herself and is still very present today, especially in the USA. If you also think about all her injuries, she's a tough bastard, if you can put it that way (laughs).