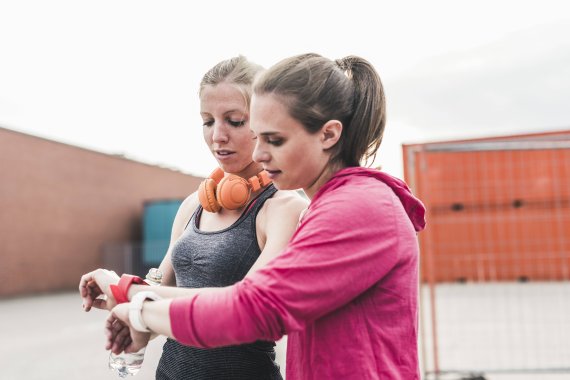 Wearables are still a relatively recent phenomenon. In 1997, computer science professor Steven Mann, who is generally regarded as the intellectual father of small devices, described in an article for the first time his vision of computer systems as a "second brain" on clothes and body.
Smartwatches, fitness trackers and earwear in particular did not really become economically relevant until 2014, when 28.8 million units were sold worldwide. Five years later in 2019, the figure was 336.5 million, more than ten times as high. And by 2024, this figure is expected to rise to over 500 million wearables sold - a very conservative estimate.
The smart companions have long since arrived in the mainstream. 71 percent of Germans, for example, have at least one pair of earplugs for listening to music, more and more of which work completely without cables via Bluetooth. Smartwatches and fitness trackers are also widespread and cause discussions.
For example, the German product testing group Stiftung Warentest recently found out in a test of Smartwatches and fitness trackers. It was found that only three out of 21 tested devices correctly determined pulse rate, distance and calorie consumption and could therefore be assessed with the test mark Good. So there is still room for improvement. On the other hand, the data from the small sensors are already so relevant that serious science wants to use them for the fight against the corona pandemic.
Many fitness wristbands and smartwatches not only measure the resting heart rate but also the heart rate and the oxygen saturation of the blood. They also provide permanent sleep and activity information. According to Bitkom, researchers - from the German Robert Koch Institute (RKI) with its Corona App to the German Center for Cardiovascular Research and Stanford University - are working on models of how this vital data can be used for the early detection of corona disease.
The Rockefeller Neuroscience Institute at West Virginia University is hoping to achieve spectacular success by matching werable data with AI models: The researchers hope to be able to detect a corona infection with 90 percent certainty three days before infected people notice the first symptoms. Such information could significantly slow down the spread of the dangerous virus.
A breakthrough in the fight against corona would undoubtedly also be the final confirmation that wearables can also be of paramount importance for the healthcare industry. And this is just one of the new trends for the use of wearables. The Fraunhofer Institute for Integrated Systems and Device Technology (IISB), for example, is working on a small sensor called "Elecsa" that constantly records body data about perspiration.
"This allows you to constantly monitor your training and health - without the need for a disturbing chest strap," explains Dr. Klaus Hecker, Managing Director of the Organic and Printed Electronics Association (OE-A) in an interview with ISPO.com: "There are many useful applications for these new technologies in the medical and health sector, just as in the sports industry.
This is called printed electronics, the integration of wearable sensors into clothing. Here are a few examples:
Professional clubs and TV companies, for example, use the data from smart insoles in sports shoes that measure distances run, speed, passes played or the use of force.

The shoe manufacturer Under Armour has integrated a chip into the sole of its new running shoe Hovr, which gives direct feedback on the cadence via the app "Map my Run". This allows you to make changes while you are still running.

Ski boots with sensors that permanently provide information about your own skiing style are also already on the market.

Heatable clothing that can be controlled depending on the temperature or via app becomes a success.

Intelligent moisture management - the removal of sweat from clothing controlled by sensors - is also gaining in importance.

Even Bluetooth underwear, which signals to the partner the degree of sexual lust, is already available.
In addition to textiles equipped with wearables, energy generation via solar cells in clothing or backpacks and innovative virtual reality swimming or ski goggles are also considered important future markets.
"One could, for example, use displays in ski goggles to show the current speed recorded by sensors or guide people to the lift where few people are queuing," dreams Klaus Hecker. The possible applications of wearables are therefore almost limitless - eleven percent of Smartwatch owners, for example, already use their wristwatch miracle to control smart home applications.
The corona pandemic further accelerates this trend towards digitisation. Even before the pandemic, it was predicted that sales in the wearables market would rise from 52 billion dollars this year to 63 billion dollars in 2021. Among the major players, significant changes have taken place in recent years.
Fitbit - at the start of the wearables boom in 2014, with a 37.9 percent share, still the clear market leader - is on the way to becoming insignificant. Apple is now the number 1 for this and is continuously expanding its leading position. Samsung and Huawei have also massively increased their market shares in recent years. An overview of 2019 (Source Statista):
Apple (market share 2019: 31.7 percent)

Xiaomi (12.4 percent)

Samsung (9.2 percent)

Huawei (8.3 percent)