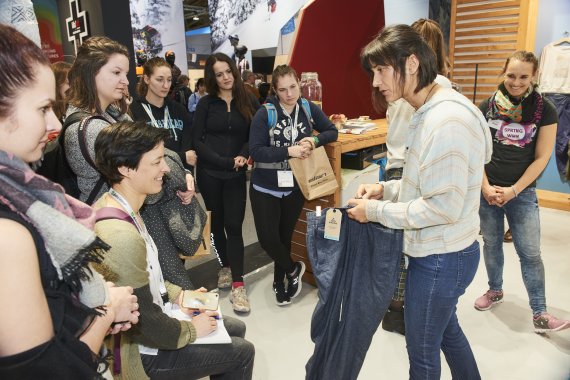 The sports industry has learned a lot in recent years about women. It has been clear for some time now that women and men have different consumer needs, from product design down to the final purchasing decision. Companies are therefore increasingly relying on gender-specific marketing. But what exactly do customers in the sports sector want?
We have five tips for product and sales marketing in the sports business for turning loyal customers into true brand fans. The first three in particular are fundamental nowadays and have been implemented by more and more sports brands.
Be creative. Women as a target group are also a topic at ISPO Munich 2020. On Monday, 27 January, the special evening about this topic will start at 6.30 p.m. with keynote speaker Oona Horx-Strathern on the role of women and current megatrends.
More information in the event schedule
"The biggest difference between men and women is natural and lies in the different anatomy. Successful marketing for the target group of women therefore starts with product development," explained product manager Julia Küppers from the bicycle manufacturer LIV, the only company worldwide that exclusively produces women's bicycles.
The product must be optimally adapted to the body shape of women and should take the anatomical characteristics into account. "If the fit is perfectly matched to the female body, then the comfort and handling increase enormously," Küppers explained.
"Design is at least as important as a woman-specific fit," said Katja Heinrich, Account Manager at sports underwear manufacturer UYN. The products should fit well and look great at the same time. For many women, the look is still the decisive factor when buying. "Athletes want a feminine design without this being reduced to a simple 'shrink it and pink it'," added Julia Küppers.
Classic designs and simple colours are at least as popular with sportswomen as the traditional "women's colours". Here it is important to find the right measure and weigh it up in each individual case. "The most important prerequisite for a successful, women-specific product design is in any case that women are involved in product development from the very beginning," explains Küppers. This is the only way to ensure that the product actually meets the requirements of the target group of women.
"Compared to men, women are much more demanding, but also more courageous customers," said Carolin Strauhal, Sales and Marketing Coordinator at the Scandinavian shoe manufacturer Icebug. While men are primarily interested in technology when buying outdoor products, women are much more complex in their purchasing decisions.
When choosing a product, sportswomen are not satisfied with technical details or beautiful looks alone. "For a product to inspire the target group of women, fit, functionality and design must be right," Julia Küppers emphasised.
The concept behind the idea is called the "3-F system" - short for "fit, form and function". In her opinion, women-specific product marketing can only work if these three factors meet and are well communicated.
Women need to be addressed differently from men. "While men are more concerned with top sporting performance and the technical finesse of the products, most women focus on the emotional experience when buying," reported Katja Heinrich. According to Julia Küppers, the topic of community is close to the hearts of many women when it comes to sport: "While men often focus on personal sporting performance, what counts for women is the shared experience, a beautiful view and the fun of exercise."
This is also reflected in product communication. The experts see the future in meaningful visual messages, strong visual content and women's events in which sport is practiced and experienced together.
"But not all women are the same. Gender-specific similarities must not hide the broad spectrum of the target group of women," Julia Küppers of LIV pointed out. Women from many sports brands are still too much generalized. "But the greater the demands and skills in sport, the higher the expectations of the product." Despite all physical differences, men and women have this in common.
Nevertheless, ambitious sportswomen have little or no choice in many areas. Women still resort to men's products when it comes to optimum performance. But the dealers' argument that such small quantities do not pay for production will not last forever, because demand is rising.
Get more information about women in the sports industry at ISPO Munich from 26 to 29 January in Munich.