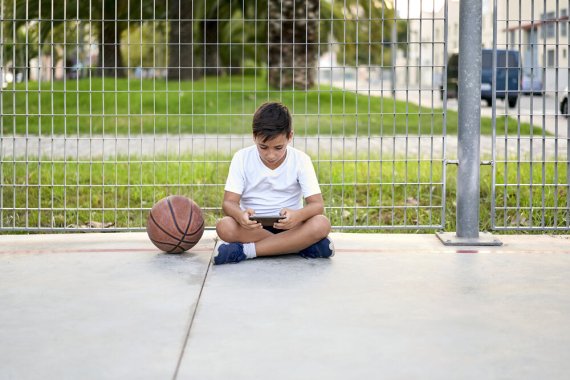 The recommendation of the World Health Organization (WHO) is clear: children and adolescents should be physically active for at least one hour a day. A WHO study now published in the journal "Lancet Child & Adolescent Health" shows that most students worldwide do not follow this recommendation.
1.6 million pupils aged 11-17 from 146 countries were interviewed for the report. Survey data from the years 2001 to 2016 were evaluated. The result: 81 percent of respondents do not comply with the WHO recommendation. In very many countries, between 80 and 90 percent of young people do not follow the recommendations for physical activity.
The situation is most alarming in South Korea, where 94 percent of young people show a lack of physical activity. Bangladesh still has the most physically active adolescents with "only" 66 percent of young people who do not comply with the WHO recommendation.
In Germany in 2016, 79.7 percent of boys and 87.9 percent of girls were not physically active enough. For 2001, the study comes to similar figures: At that time it was 79.5 percent of boys and 87.7 percent of girls.
Not only in Germany, but worldwide, the study comes to the conclusion that especially girls lack physical activity. Worldwide, only 15 percent of female respondents achieved the recommended level, whereas  22 percent of the boys reached that mark.
"The trend of girls being less active than boys is concerning," said study co-author Dr Leanne Riley, WHO. "More opportunities to meet the needs and interests of girls are needed to attract and sustain their participation in physical activity through adolescence and into adulthood."
The report did not examine reasons for the lack of physical activity among young people. Co-author Leanne Riley suspects, however, that digitisation "seems to have changed" the physical activity behaviour of young people.
"The study highlights that young people have the right to play and should be provided with the opportunities to realise their right to physical and mental health and wellbeing," says co-author Dr Fiona Bull, WHO. "Strong political will and action can address the fact that four in every five adolescents do not experience the enjoyment and social, physical, and mental health benefits of regular physical activity. Policy makers and stakeholders should be encouraged to act now for the health of this and future young generations."