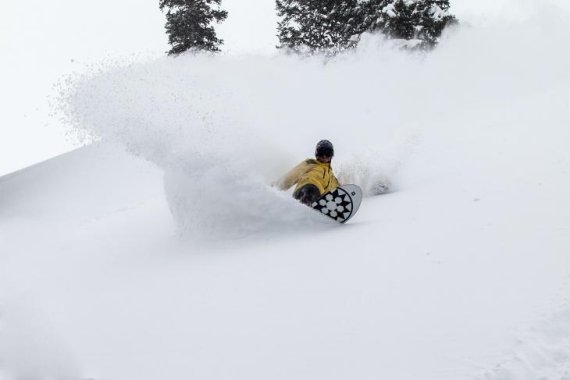 What will determine the future of snowboarding? These are our experts from leading brands and retailers:
Josef Holub, founder and co-owner, Goodboards
Tim Bielohoubeck, Head of the Strategic Brands department at Intersport Germany
Thomas Delago, founder of Nitro Snowboards
Xavier Le Guen, Vice President of Salomon Winter Sports Equipment
Thierry Kunz, CMO of Nidecker
Florian Estermeier, Director of Sales at Rossignol Germany
Espen Krogstad, CEO of Active Brands (Sweet Protection, etc.)
Ralph Letzing, Hardware Purchasing at Sport 2000
Goodboards is a German board company headquartered on Lake Ammer, near Munich. The company was founded in 2010, produces exclusively in Europe, and has more than 50 employees. Josef Holub is the founder and co-owner of goodboards.
Josef Holub: "In snowboarding, most boarders were all-rounders in the past and still are today. That means they ride on the piste, jump a little, and three meters next to the piste they call themselves freeriders. That is the reality. All the others are just trends pushed by the big firms that interest 10% of customers, max."
Intersport Germany has its headquarters in Heilbronn. The association group is affiliated with over 900 retailers nationwide, with roughly 1,500 specialty stores. Tim Bielohoubeck is Head of the Strategic Brands department at Intersport Germany
Tim Bielohoubeck: "The snowboard brands have now partially limited their freestyle range and expanded categories like all mountain and splitboarding. The topic of carving has also been 're'- issued in the past two seasons. The Nitro brand is even supporting the topic with a collection, the 'Carver Crüe' series. Otherwise the focus is going away from higher, faster, further, but rather to the pure fun factor on the slopes."
Thomas Delago founded the snowboard brand Nitro together with Sepp Ardelt in Seattle in 1990. Nitro AG is now headquartered in Switzerland.
Thomas Delago: "Right now the opening of the sport is playing a central role. The current carving trend is taking up one of the original strengths of snowboarding and reinterpreting it: 'racing' isn't the focus here, it's that having fun dealing with gravity and centrifugal force that can only be experienced on the snowboard. The young generation is taking up these techniques and creatively combining them with elements from freestyle and surfing.
At the same time, however, the 40+ generation – which is getting bigger and bigger in snowboarding – is feeling like they're being addressed again, which is reflected in a growing number of returners. An encouraging surge in kids can also be observed, which is also associated with snowboarding being considered less extreme, and rather more and more as a family sport."
Xavier Le Guen has been Vice President of Salomon Winter Sports Equipment since September 2017. Salomon has its headquarters with 400 employees in Annecy, France, is a market leader in the winter sports equipment sector, and is part of the Amer Sports Group.
Xavier Le Guen: "Snowboarding is definitely continuing to evolve. Every true snowboard brand is obsessed with the latest developments in the sports. That means that we need to keep up with the young generation and with the developments in freestyle. That's still the core of our sport. The developments are driven forward by influential pro riders and the snowboarding culture they exemplify. At the same time, there is a generation change that's opening up new possibilities.
The first generations of snowboarders are now mother and fathers. One idea connects them all: They feel more attracted by powder snow and untouched countryside than by parks and ski regions. This explains the 'powder craze' that we can see everywhere. This trend has definitely produced many creative products in the past year, and is likely to continue. New school carving is also on the march for this generation. Splitboarding is becoming an independent segment for the people who want to escape the ski regions forever. So much for the parents...
The next big thing are their children! There are more children learning to snowboard, and they are progressing faster. Brands need to concentrate on using intelligent and intuitive equipment to shape snowboarding in a way that's easy and entertaining for them. The future of snowboarding is in their hands!"
The Nidecker Group was founded in 1887 and includes Nidecker Snowboards / SUP, Yes Snowboards, Jones Snowboards, Now Bindings, and Flow Snowboards. In total, 50 employees work for Nidecker at the main headquarters in Switzerland and in the North American headquarters in Truckee, California. Thierry Kunz is CMO in Nidecker's board and marketing chief for Nidecker and Flow. Kunz was a professional snowboarder in the early 1990s.
Thierry Kunz: "Our strategy as a group is to have brands that are specialized in every type of "ride." For example, Jones Snowboards is definitely leading in the freeride and splitboarding businesses. The next trend is carving, and Nidecker has been one of the key players in this type of boarding since day one. We try to follow the trends and have brands that match the needs of consumers."
Rossignol Ski Germany is part of the French Rossignol Group. Ten employees work in Munich's Germany office, including Florian Estermeier as Director of German Sales.
Florian Estermeier: "Rossignol has already been active as a manufacturer of outstanding snowboards since 1987 and is thus one of the oldest brands on the market. At the moment, we're observing a mini-boom. The focus for us is very clearly on the all mountain and splitboard sectors."
Espen Krogstad is CEO of Active Brands. The Norwegian group consists of seven brands: Kari Traa, Dæhlie, Sweet Protection, Bula, Johaug, Åsnes, and Vossatassar. Here, Krogstad answers for Sweet Protection.
Espen Krogstad: "As we've seen in skiing, we believe in a continuous growth in touring. The proportion of snowboarders in North America is still high, and we can also expect a speedy growth in Europe." 
SPORT 2000 is a leading commercial association in the European sports market, with 1,000 independent specialty retailers and more than 1,300 specialty sports stores. Turnover in 2017: roughly €1.89 billion. The association group itself has 80 employees, among them Ralph Letzing, responsible for Hardware Purchasing.
Ralph Letzing: "Snowboarding has declined in the past. If the current level of sales could be maintained here, we would already be satisfied."