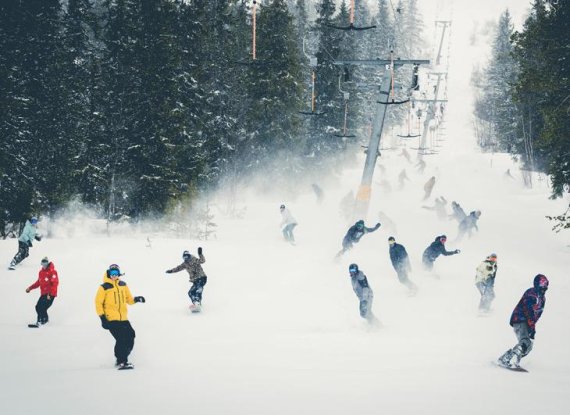 In comparison to many other sports, snowboarding places more emphasis on individuality. That is the charm of snowboarding. It's part of the sport's DNA and the source of its authenticity. On the other hand, however, the snowboard industry has also evolved tremendously in the past few years.
Three points really stand out:
It's undeniable that a few years ago, sales figures in the snowboard industry were falling. But in winter 2016/17 and the first months of the 2017/18 season, they recovered and started to rise again. As a result of the difficult years recently, there has also been a shakeout in the market. There are fewer of the discontinued models from last year being offered.
Warehouses with old stock are practically empty. Additionally, high-quality rental offers, including season rentals, are becoming ever more important. For example, for around €150, parents can rent a board, boots and bindings for a son or daughter, including first-rate support and care, for an entire season.
Offers like this make it much easier to get into snowboarding. Moreover, first- and second-generation snowboarders have long since grown up and want to pass the fun and excitement of snowboarding on to their own children (and grandchildren!). So the whole sport is expanding. It's about snow-loving sports enthusiasts - whether you're 5 or 75 years old. The dogmatism of former times and the setting of boundaries between snowboarding and skiing are totally absent now. 
After all, the kids themselves don't make any great distinctions between getting together for skiing or for snowboarding. This is partly reflected in the ski clubs, where free skiers and snow boarders often take the same routes.
You can also see this development in some snowboard brands, they've expanded their customer base too. The main goal is to make good equipment, regardless of whether it's used by a free skier or a snowboarder.
You can see this quite clearly in the snow sports section of ISPO Munich 2018. There, many freeride, snowboarding and free-ski brands are showing their portfolio in halls B2 to B6. They're all exhibiting their products together there and benefiting from it. Many of the products are aimed at both snowboarders and free skiers.
Another change that may be surprising at first glance is that snowboarding is now also part of a brand new, bigger outdoors movement. This industry has changed too and left behind its gruff mountain-sports image. Now, the emphasis is instead on the "joy of the outdoors."
Some board sports brands have recognized this. They're expanding in this field, and they've been offering corresponding equipment for a while now (clothing, sleeping bags, backpacks, etc.).
This "redefinition" of the outdoor market is reflected at ISPO Munich 2018 in a completely new outdoor hall (A4).
On the whole, therefore, things look good for the snowboard industry in 2018. After some difficult years, the snowboard industry is on the rise again: With healthy growth, without dogmatism and with new ideas for the future.