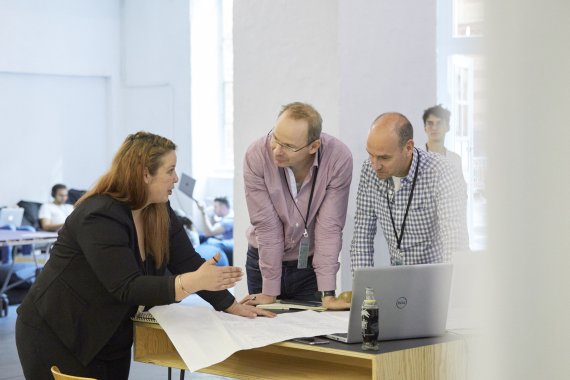 Gaming has always been part of Jacqueline Garrett's life. She has fond memories of spending over ten hours a day during summer holidays playing through Sonic the Hedgehog with her best friend in the early 90s. In the 2000s, she became a fan of Halo on the Xbox, secretly spending hours into the night playing. However, it was only later on in life that gaming became a central part of her life.
"Fast forward to 2013, my five-year-old son Max started playing VGC Pokemon, attending more and more casual competitions with his father on weekends," said Jacqueline Garrett. "Four years later he gained a World Championship entry and was invited to compete in Anaheim, California, at just 9 years old."
In order to make her son's dream come true, Jacqueline started a crowdfunding campaign to raise funds for the tournament in California. Jacqueline used this opportunity to build a personal brand for her son, growing his followers base on social media, contacting the gaming press, and creating a strong network in the Australian gaming market. Her hard work paid off. During the campaign, Max was approached by an eSports team, who signed him and paid for all his expenses to the US.
Now, 10-year-old Max is Australia's youngest eSports athlete, signed to one of Australia's top tier eSports teams. Gaming went from a pastime to a business - represented at the ISPO Munich 2019 eSports Arena. Not only for Max but also for Jacqueline, who after a successful first startup exit, founded GGWP, an eSports and gaming startup focused on revolutionizing influencer marketing with e-learning, AI and social listening. She merges 20 years of business and communications experience with her lifestyle to bridge a gap in the rapidly expanding eSports and gaming markets.
"eSports is most definitely still evolving and developing but that's what makes it so exciting," said Garrett. "Our bet is on a few emerging trends like eSports betting, athlete regulation and on products like ours that will develop the overall structure and education of both gaming and eSports."
Helping gamers and eSports hopefuls reach their goal of monetizing a career in gaming, as GGWP is doing, is one of the many ways of monetizing the booming and high-potential gaming and eSports market. Brands, broadcasters and media houses are all looking for opportunities to enter the eSports market. When it comes to revenue generation, sponsorship emerges as the main revenue stream in eSports, as major brands have recognized the potential of eSports sponsorship.
"There is one target group out there which is very hard for brands like Daimler, Alliance, to reach — male, between 15 and 30 that have very fragmented consumption of entertainment, a very short span of attention," said Stefan Zant, Co-Founder & Managing Director at 7Sports, the sports business unit of ProSiebenSat.1, and Mentor at leAD Sports. "The only area where these guys with a short span of attention are active longer than seven or 15 seconds is in eSports. This is actually why these brands are going in there. They reach the unreachables."
Despite the appeal to reach this audience, companies have to be strategic when it comes down to choosing the right partners, advises Tom Lemke,  an eSports pioneer and the General Manager of Business Development & Partnerships at Unikrn.
"League of Legends, DOTA2 or Fifa, for example, might have an easier time to attract sponsors like Adidas for example. With hardcore titles like Counter-Strike there will always be this barrier where brands have to think about whether the media echo could potentially be negative or not," said Lemke, who is also a mentor at leAD Sports. "However, Counter-Strike is the number one volume driver when it comes to eSports betting. For eSports betting operators, like ourselves, it makes a lot of sense to go straight to Counter-Strike and sponsor there."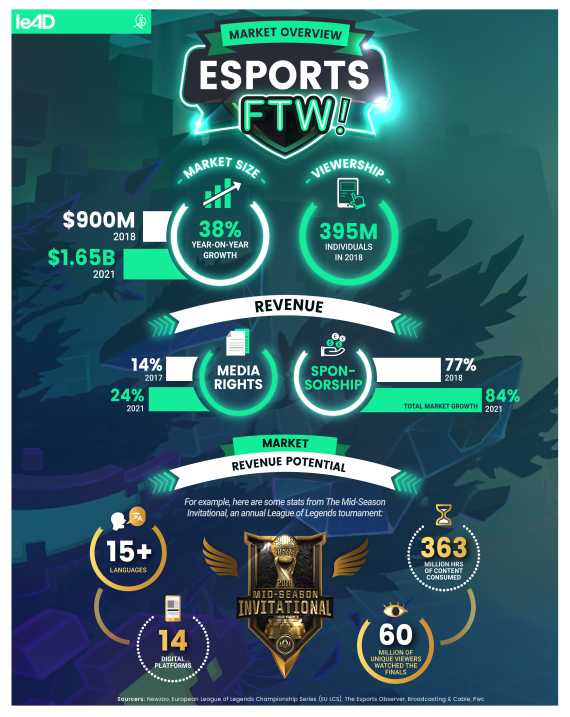 While sponsorships remain the main revenue stream within eSports, there are many other opportunities for monetization. For example, Unikrn, a global leader in eSports betting, diversifies its presence in the eSports industry, venturing beyond their core area of expertise. According to Lemke, content creation plays a key role in the company.
"We created our IP, our own tournament, so we are the ones giving licenses to others," said Lemke, referring to Unikrn's United Masters League which offers earnings of $290,000. "We are broadcasting in up to seven different languages. You know, when you are the center of the content, it gets a lot easier."
eSports media rights are forecasted to gain space in the industry, representing a bigger share of the market in the coming years. According to Newzoo, a market intelligence platform for games, eSports, and mobile, media rights is expected to account for one-quarter of the eSports market share by 2021. It is important to highlight that, from the media house or broadcaster perspective, there are some peculiarities and challenges in this space in eSports.
"To draw a comparison, as a broadcaster that is interested in securing the media rights for the biggest licenses, the process is much more complicated than to secure Bundesliga soccer rights," said Zant. "For Counter-Strike alone, for example, you have more than five different leagues or providers for events so you need to do a deal with many different players out there."
At 7Sports, Zant has managed to leverage on the fragmented nature of the eSports market by producing a weekly TV magazine-style show that recaps the week in eSports, offering a centralized hub for advertisers and sponsors to reach eSports' highly attractive audience in a premium environment.
This article is part of a series produced by leAD Sports, a global powerhouse for sports tech entrepreneurship and investments. Within sports tech, leAD focuses on three main verticals: connected athletes, fan engagement and derivative markets. For more information, visit leadsports.com"