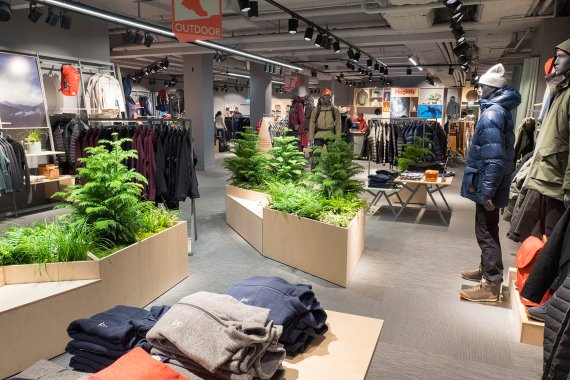 What began in the USA has long since become a worldwide phenomenon: on Black Friday - the Friday after Thanksgiving - retailers, shops and brands lure customers with special offers. Of course, sports and outdoor companies are also attracting consumers to bargain hunting.
But this also has its downsides: The increased online sales cause packaging and parcel waste. The return option, which is so convenient for customers, often ends in the destruction of returns and thus the waste of resources.
This is why some sports and outdoor brands are now using Black Friday to create awareness for sustainability with special campaigns in the midst of excessive shopping frenzy.
The Swedish outdoor brand Haglöfs continues its tradition and boycotts Black Friday. On November 27, the brand's own brand stores and the Haglöfs Webstore will be closed. Only the Stockholm Haglöfs store will be open, but there will be no discounts or even products from the current range. Instead, customers will be able to try and buy second-hand goods and get a foretaste of the "Haglöfs Restored" program, which will officially start in the autumn of 2021.
Fredrik Ohlsson, CEO of Haglöfs, says: "Our new Haglöfs Restored collection is as functional and good-looking as our regular collection, but has an added environmental benefit. By restoring items which would otherwise be neglected or discarded – and giving them a new lease of life – we're directly saving on waste, emissions and water in the manufacturing process, and keeping still-premium materials out of landfill. We're making the most of what we already have by providing second hand gear for first hand adventures."
The German outdoor retail chain Globetrotter proclaims the "Green Week" beginning on November 23. Anyone bringing used equipment to a Globetrotter store will receive a voucher offer from Globetrotter. Globetrotter itself will then start selling second-hand equipment in some of its stores from the end of November onwards.
In addition, Globetrotter will donate ten percent of sales of "A Greener Choice" products to the German Hiking Association. Globetrotter even donates 20 percent of sales of its own exclusive Frilufts brand.
The Canadian outdoor manufacturer Arc'teryx also opts for second hand and announced to go green for Black Friday: Customers can return their used Arc'teryx products and receive vouchers worth 30 percent of the original retail price. The "Used Gear Month" project has been running since November 1.
Katie Wilson, the company's senior manager of social and environmental sustainability, said, "As a brand, we are committed to minimizing our environmental impact and taking every action we can to operate responsibly and sustainably. With our Black Friday campaign, we hope to bring awareness to the importance of circularity in the apparel industry, and to encourage our guests to help us build inventory for our Used Gear program."
Ortovox enters the second round with its "Black Sheep Friday". This time the German mountaineering brand is closing its online store for the entire weekend from Friday to Sunday. At the same time, all Ortovox employees will be given a day off on November 27 to do something meaningful outdoors in nature, such as picking up trash.
The South Tyrolean outodor manufacturer Salewa has a Black Friday Sale, but donates 20 percent of its turnover for the renovation of an old shepherd's hut in the South Tyrolean Val di Funes.
As in the past five years, the US outdoor retail chain REI closes its stores on Black Friday and calls on its employees to go out into nature with the hashtag #OptOutside. And with a clear conscience, because the employees are paid for the cancelled working day.