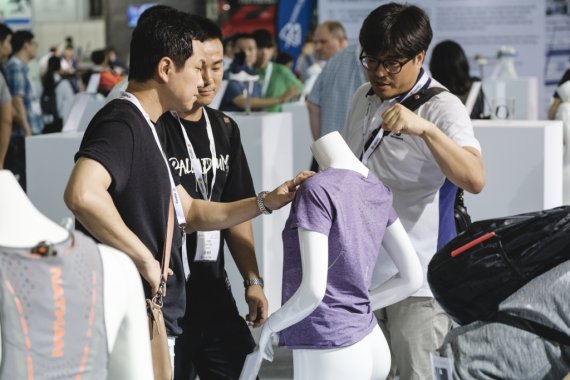 Nearly every piece of news on the Chinese market is characterized by superlatives. This is also the case in sporting goods retail. When it comes to Western brands, however, we usually talk about Adidas or Nike breaking sales or revenue records.
But a look towards China is more than interesting for small sports brands, as well. The Berlin-based label Arys, women's fitness brand Lorna Jane, and English premium fitness brand LNDR all prove this in their road to China.
"The Asian market has become a primary market for us in the past two years," says Frederik Sturm, CEO and founder of Arys. The brand "is, in some circumstances, still too progressive for Europe." It's been difficult for Arys to find retailers in Europe. It's easier in Asia. Why is that? "Europe still requires clear clothing categories. But we say that categories are old-fashioned." The decision-makers at Arys want their pieces to "cover everything sustainable." The customer in China is "further ahead in that regard." "You're immediately understood when you say that people can use the product for everything," Sturm explains.
The interest in award-winning products, with the ISPO Award for instance, is even greater in Asia than in Europe, the CEO says.
Sturm's summary is that Arys was just lucky in its step to China. A Chinese friend was present at their first appearance at ISPO Shanghai, which led to them finding a good distributor. This distributor accompanied the brand from the very beginning on, even though their entry into the Chinese market didn't take place until a year later. Sturm trusts his distributor, who takes care of communication with potential business partners, when it comes to Chinese interested parties. In the case of large retailers, there will also be English contact partners who talk to one another.
Arys is not yet represented on the major e-commerce platforms. "Tmall requires clear strategic goals in China and a budget to match," says Sturm. Planning is still going on.
Sturm's advice for the path to China: "It's practical to have someone familiar with the Chinese mentality and what's coming out of China, but also has a point of view from the outside." Rash entry into the market is the biggest mistake. "Step by step, and with a strategic approach," is motto, the Arys founder says. There really don't have to be any big stores in the beginning.
The global fitness brand Lorna Jane currently sees China as its most important market, and there is predominantly focusing on e-commerce. David Brown, Global Development Manager: "We make 20 to 25 percent of our global revenue with e-commerce." This number is substantially bigger in China, though he's reluctant to give precise figures. Their sales channels here are Tmall, Taobao, and Reshape for athleisure clothing.
Lorna Jane is a good fit for the mobile-loving class of customers in China, says Brown. The company offers 80 to 100 new collection pieces every month, "so there's always something new in the online store." This a major advantage, as Tmall – similar to things like Facebook – creates a personalized feed for customers. Lorna Jane thus generates automatic attention with posts on new pieces: "We also have new, relevant content."
Lorna Jane also uses KOLS (key opinion leaders/influencers) in China. These influencers play a far greater role than even those in Europe or the US. "Our philosophy is that we don't give KOLs any money, just the products," which Brown says is working very well, as this lets them gain especially authentic multipliers and increase the recognition and image value in a relevant target group.
"Now we know that e-commerce isn't just important; it should be the integral component of our sales strategy in China," summarized LNDR founder Joanna Turner, after she presented her brand at ISPO Shanghai. The English activewear brand focuses on functionality and aesthetics. China still isn't their most important market, but Turner says it does have the biggest potential for her brand.
China intimidated her, especially in the beginning. But, similar to Arys, the products that position themselves in the premium segment and are multifunctional are very successful.
LNDR has been represented in China for three years and "we haven't even scratched the surface," is how the owner explains her impression. In China, however, it's advantageous that the customers – in contrast to a large part of the US and European clientele – very much appreciate the technical functionality combined with LNDR's design standards. "Moreover," says Turner, "European quality is a top sales argument for the Chinese."