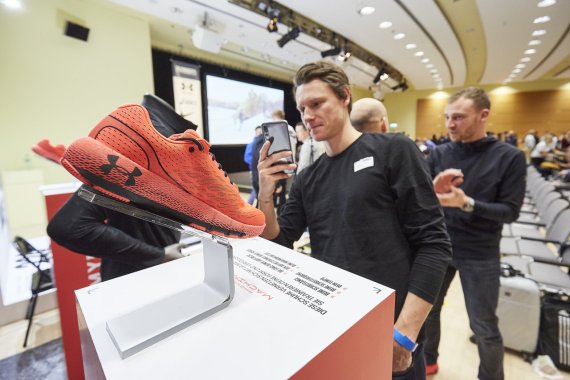 Wearable computing devices (wearables) are small electronic devices that are worn on the body, use one or more sensors to measure physical activity and other processes and transmit this data via an interface to a smartphone or similar device. An application then prepares this data and makes it available for the carrier. The respective wearable providers also have the possibility to collect, store and use this content.

But the technical progress in the wearable market is great. As was already made clear at this year's Wearable Technologies Conference, a conference for innovative wearable technologies, manufacturers are bringing more and more new technologies for recording a wide range of body and movement values onto the market. This is also reflected in the sales trend in the wearable sector. Experts expect worldwide sales of around 52 billion US dollars in 2020 and almost 63 billion US dollars the following year. This would mean an increase of almost 100 percent within three years from 2018 to 2021.
The best known and most successful devices in this field are Smart Watches and Fitness Trackers. For the functionality of the wearables and the apps, the operators usually record the following data for these models:
Time
Location (GPS)
Heart rate
Blood pressure
Sleeping behaviour
Calorie consumption
Pedometer
and many more.
In addition to Smart Watches, many fitness trackers also become smart and provide information about incoming calls, upcoming appointments, messages and notifications from social networks. With all this information a personal profile of a person can be created. In Germany this is not prohibited by law, only the automated processing of the data is restricted.
In addition to the type of data, the way in which the data is sent is of course also important. Logically, these are recorded in the wearable itself. These raw data generated by the sensors are then usually transmitted to the own smartphone via Bluetooth. There the user can then view them in evaluated form. But here the path is not yet over. Most manufacturers collect and store all captured data in a cloud.
Topher Gaylord, Kaitlyn Carpenter and Joshua Rattet from Under Armour spoke at the ISPO Munich 2020 about their project "Connected Fitness", which has grown more and more over the past few years and already collects two million running miles of data per day with the app "Map my Run". With a new running shoe, the Hovr, the company now even has a shoe on the market with a built-in chip in the sole: "This provides immediate feedback on cadence. As a runner, you can then adapt directly while running," says Carpenter.
With regard to data security and possible fears of users of disclosure, she replies: "This is regulated differently in each country. But in general, we don't sell data."
However, this can be different with other providers. So if you want to be on the safe side, you often have no other choice in such cases than to rely on the manufacturer's statements, or to study the general terms and conditions and data protection declaration in detail.
For almost no one is this health data as interesting as for health insurance companies. Not only when taking out the insurance, but also during the term of the contract. Therefore, some already offer rewards for members who provide their data.
Generali already offers such a tariff for occupational disability and term life insurance. The health insurance should follow soon. According to Generali Deutschland's Managing Director, the focus is on the health of the customer: "We really want to motivate customers to live healthier lives. It really is a win-win situation.
However, opinions on the subject are divided. Some see the elderly and sick at a disadvantage. Kai Vogel, Head of the Health and Care Team at the Federation of German Consumer Organisations, rejects such offers on principle: "According to the current principle, the young and healthy finance the old and sick. But as soon as health insurers have enough data to calculate the individual risk in each case, this basic principle is dissolved. Those who are sick or weak should not be punished for it."
Lawyer and data protection expert René Leimnitz explains in an interview with ISPO.com that it could happen in the future, for example, that you will not be able to get certain insurances because of your health data or that you will have to pay higher premiums if you are not tracked. Therefore, according to Leimnitz, it is important that companies remain transparent in this respect and show the users of wearables which data is recorded and what it is used for.
Despite concerns about data protection, wearables also offer great potential. It has long been obvious that the technology will open up many new areas of application in the future. Especially in the medical field there are many development opportunities. Sensors can detect diseases at an early stage and support medical care.
In addition, more and more companies are developing clothing equipped with sensors and smart fibres, which offers completely new possibilities. The smart garments can detect movements and touches in addition to the recording of classical health data. This offers ideal possibilities for recording and optimizing motion sequences in certain sports.
The wearable industry is still in the starting blocks. The potential is great, but with progress new data protection issues will arise. That is why it is important to always keep in mind what the data is used for.
"When buying a wearable, it is therefore worth taking a look at the general terms and conditions and data protection declaration," suggests René Leimnitz, a lawyer at the law firm Imdahl & Leimnitz. "Attention should always be paid to the possibilities for deleting the collected user data in order to avoid possible future discrimination. Furthermore, there is always the right to request the stored data from the manufacturers."