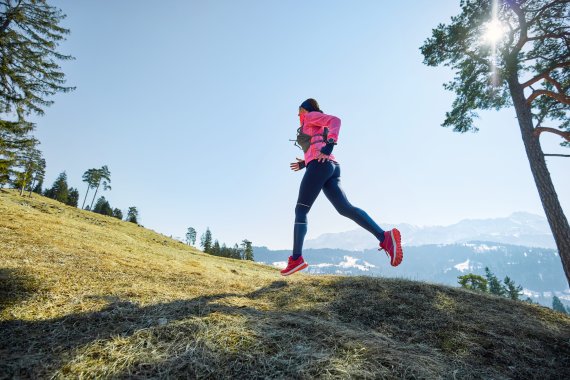 From June 12 to 14, the outdoor industry will meet in Munich for the OutDoor by ISPO. But how popular are outdoor activities and products in Germany in the run-up to the industry highlight?
A representative online survey by Innofact on behalf of OutDoor by ISPO now shows: The outdoor boom is unbroken.
Outdoor activities are strongly in trend since the Corona pandemic and the demand for corresponding equipment is still high. 76 percent of respondents have invested in new outdoor accessories in the past twelve months and the same number of Germans want to do the same in the current year. In particular, jogging and hiking equipment is in demand.
Particularly striking: Younger and middle-aged groups in particular are enthusiastic about hiking boots, functional clothing and other equipment and have either purchased equipment here or are planning to do so in the coming twelve months. For example, one in four people between the ages of 18 and 39 wants to buy a backpack soon. Over 40 percent of this age group have already bought a backpack in the past year.
Another finding: hiking and mountaineering are not an exclusive activity of the Alpine German federal states of Bavaria and Baden-Württemberg. Also in the northern states such as Hamburg, Bremen, Schleswig-Holstein and Lower Saxony outdoor activities are increasing.
The eastern federal states of Thuringia and Saxony are even leading: there - in percentage terms - most of the total 1042 respondents in Germany want to buy hiking boots and backpacks.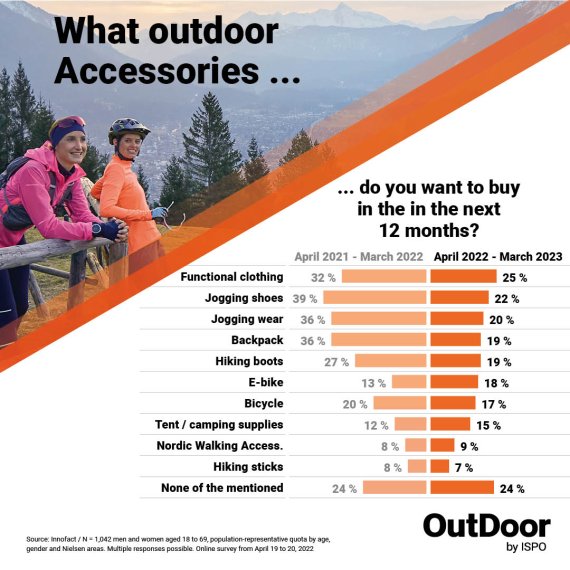 Even further in the trend are jogging and walking, probably also to reduce stress after months of restrictions and to seek relaxation outdoors.
The Germans are more active than ever: just under 39 percent of participants have bought new jogging shoes in the past year, 36 percent jogging clothes.
In addition to running, Nordic walking also remains very popular and is by no means just a women's thing: In the next twelve months, more men (11 percent) than women (7 percent) plan to acquire Nordic walking accessories.
The bike boom also continues: In the current year, according to the survey, more people want to buy an e-bike than a normal bike (18.4 versus 16.8 percent). Last year it was still the other way around: 20 percent bought a new bike, still already 13 percent an e-bike.
Men set thereby more on the support by electric motors (23 percent) than women (14 percent).
Continue to remain very popular camping and sleeping away from home: 15 percent of the consumers*in equip themselves for the vacation outdoors - buy new tents, transport boxes and other accessories.
"The pandemic has led to a real run on outdoor activities in recent months. Both in nature and on the doorstep in the cities. And the trend continues," comments Lena Haushofer, Exhibition Director OutDoor by ISPO and ISPO Munich, on the positive survey results for the outdoor industry: " The survey figures prove that Germans are willing to continue spending money on outdoor equipment. This is also evidenced by the sales figures of many outdoor brands and outdoor specialists such as Bergzeit and Bergfreunde. Corona has led, among other things, that we Germans have mutated from travel to hiking world champion."
So the best conditions for the approximately 300 outdoor brands that present their innovations and new products at the OutDoor by ISPO at the MOC Veranstaltungs- und Ordercenter München.