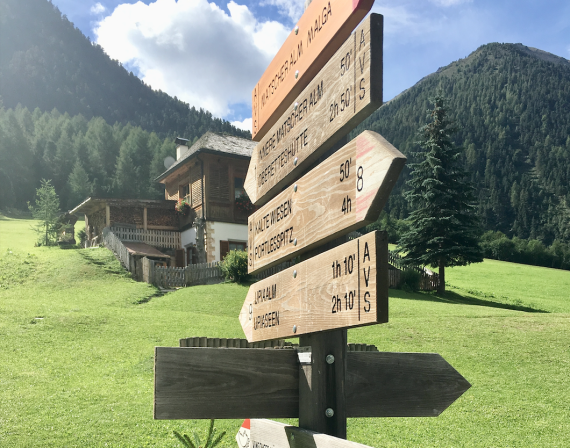 Various apps are suitable for initial research. Very well rated are Bergfex, Komoot and Outdooractive. Even if there is a free basic version of all three, the paid subscriptions are more extensive and offer more functions. Alternatively, books (for example from the publishers Rother, Bruckmann or Kompass) and magazines (in German: Bergzeiten, Bergsteiger or Alpin, in English: Trek & Mountain, Alpinist) are of course suitable for tour search. If the approximate area is known: many high-altitude or long-distance hiking trails have their own websites.
For multi-day tours, it is very important to be able to assess your own physical condition well. Therefore, be sure to train for day tours in advance and note the altitude and kilometres walked. In addition, go on at least one tour by the chosen author in advance. This is the only way to check whether the times given match your own speed. For example, if a route from a book is given as five to six hours, it can also take seven or eight hours. Regarding kilometres: Three to four kilometers can be done in an hour. However, this is of course only an average value and the altitude metres to be covered also play a role: so be sure to try it out.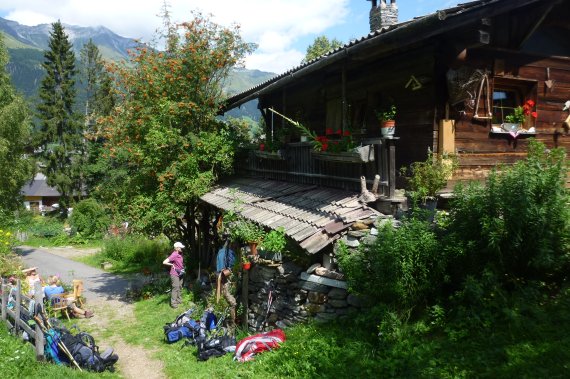 On some high-altitude or long-distance hiking trails there are no alternatives for overnight stays and some huts only have room for a few people. It is therefore essential to enquire about, reserve or even book accommodation in good time. Due to the increasing demand, it is advisable to plan well-known routes (such as the Merano High Altitude Trail) at least half a year in advance. Also useful: find out in advance about the best hiking month.
On a multi-day tour, relying only on technology can be problematic. Especially since there are not enough sockets for charging in all huts. A power bank helps when the battery is low. To make yourself independent of technology and the net: Fall back on hiking books and maps. So that you don't have to carry a complete book with you: Make copies of the respective tour and its stages. These can be folded easily and fit everywhere. It's best to put them in a small folder, then all the sheets stay together and dry. And if you want to know what can be seen all around: The PeakFinder app (approx. 5 euros) shows a 360-degree panorama with the name of all the mountains and also works offline.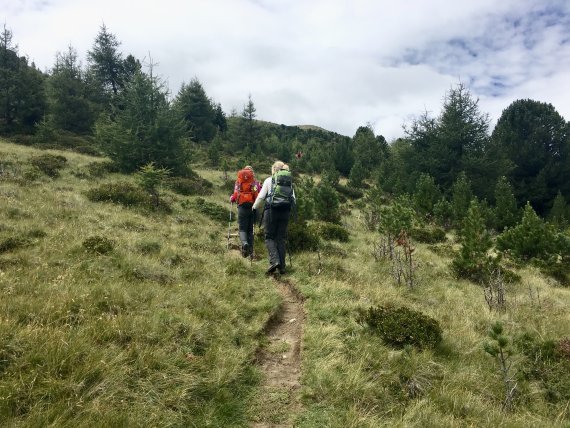 For multi-day tours, clarify where the car can be parked and what it costs. Tip: Organise the return journey by taxi or public transport in advance - this saves time and nerves. It is always most practical to park the car at the end point, travel to the starting point by public transport and plan the first and last stages a little shorter. It's also a good idea to give some thought to the possibility of aborting the tour suddenly and finding alternative transport. If the weather is no longer cooperating, it can make sense to break off a stage and continue the next day.
Spoilt for choice when it comes to drinking bottles: Either choose lighter plastic bottles, for example made of Tritan (1 litre from approx. 130 grams) or equally light aluminium bottles (1 litre approx. 150 grams). Stainless steel bottles are slightly heavier (1 litre approx. 230 grams) and thermos bottles a little heavier still (1 litre from approx. 350 g). The advantage of a thermos bottle (remember to bring a mug if you don't have one): a warming cup of tea gives you a lot of energy in the afternoon. Hot water is always available at the huts and tea bags are easy to take along.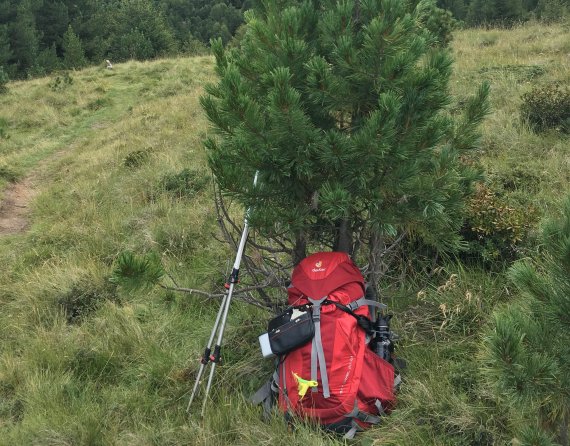 The luggage for three to five days fits well into a touring rucksack with a capacity of 28 litres, for example; ideally this will weigh around eight kilograms when packed - without drinks, but with bottles and thermos. For a longer tour, calculate with a larger backpack and more weight. A small fanny pack that can hold your wallet, ID, tissues and mobile phone (or a small camera) is always handy. Then everything important is together.
Laundry


T-shirts, underwear/bra, change of socks, scarf, hat, gloves, light fleece jacket, rain protection (trousers and jacket), long trousers for changing (ideally with zipper for shortening), thick socks, shirt/trousers for sleeping

Toiletries




Travel toothbrush, toothpaste (small tube), soap for body and hair, face cream/sunscreen, lip balm, muscle fluid

Provisions




Energy bars, nuts, sandwich/provision bags (for snacks on the way); possibly tea bags

Documents and money




Identity card, possibly alpine club card, EC-card, cash, currently: possibly

3-G-proofs (inform about rules)

Miscellaneous




small towel, earplugs, slippers (for shower) and possibly hut shoes, personal medication, small first aid kit, painkillers, magnesium (powder to swallow), hiking poles, possibly hut sleeping bag (obligatory in some huts), currently: masks and disinfectant for hands
On the Vinschgau High Altitude Trail, for example, there are 1600 metres of altitude and 17 kilometres to cover in one day, so it can happen that tired muscles make themselves felt towards the end of the stage. Even if it is extra weight: a muscle fluid does a good job. Likewise magnesium - but only take it after 4 p.m., then the body absorbs it better. And: make sure you drink plenty of fluids - the body loses a lot of water on a multi-day tour. It also makes sense to do a little stretching at the end of each day's stage.
A well-fitting hiking boot stabilises the foot and helps to prevent injuries. A good tread ensures a secure step. Be sure to break in a new shoe on several day hikes beforehand! Special hiking socks are a good investment - they are available in a wide range of lengths. Hiking trousers that can be shortened with a zip are also ideal. When it comes to outerwear, go for the two-piece look: possibly a thin T-shirt or top underneath and a long shirt (practical with a zip and thumb holes) or a thin jacket over it. A vest with a collar also does a good job: this has the advantage that the neck stays warm in any case. Also always with you: headband, hat or cap as sun protection. Therefore, leave some space in your backpack so that you can pack the long shirt or the vest, for example.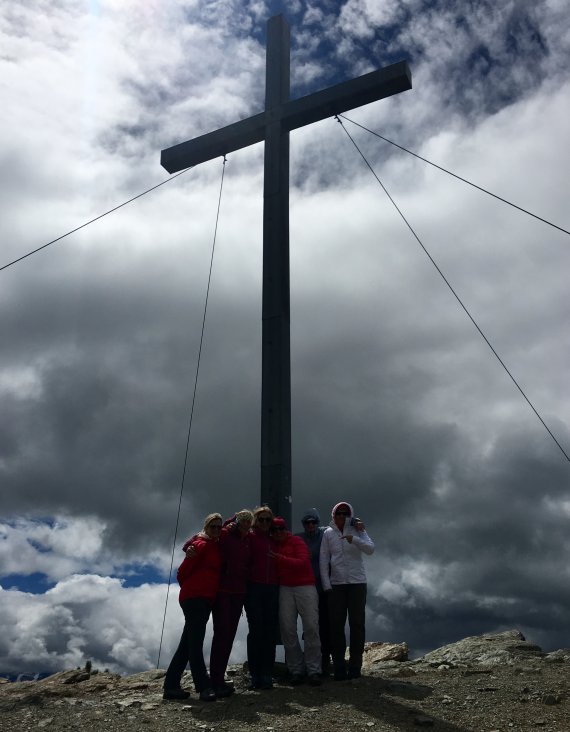 As the saying goes: there is no bad weather, only bad clothes. This is definitely true for a multi-day tour. It is better to pack a change of T-shirt less, but take both rain jacket and pants. In addition to regularly checking the weather app (WeatherPro, for example), simply ask the hut host in the evening about the conditions on the next day. Also, be sure to walk with hiking poles. They have several advantages: they reduce the weight on the joints - especially when walking downhill and with heavy luggage. They also provide safety on difficult terrain and in the rain, for example when crossing slippery wooden bridges and wet stones. However, if a thunderstorm does suddenly roll in: Put down metal objects away and hunker down. If possible, find a hut with a lightning conductor. Avoid exposed areas and water.
If an emergency does occur: In Germany and South Tyrol the emergency number is 112, in Austria the alpine emergency call is 140. If you have to resort to the analogue version, the alpine emergency signal: send an audible or visible signal six times a minute. Repeat this after a minute's pause. Rescuers respond with three signals per minute. And on multi-day tours it is very useful to take a signal whistle with you.