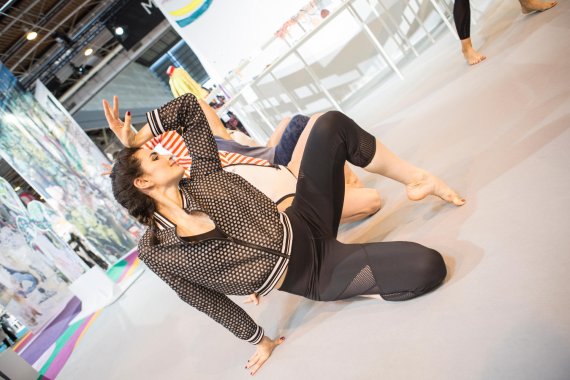 When 'TECH' enters the world of lingerie, swim, and activewear, brands take notice. Whatever the level of application, technology is no longer a problem: it's a solution.
On the fibre front Black Modal featured from Lenzing, a dope dyeing technique where the pigment is added at the extrusion stage of the yarn. Multiple advantages feature from a quality point of view, using the back yarn ensure blacks stay black, even after 50 washes. A sustainable aspect also features compared to other dyeing techniques.
Sustainability more and more Important
Spandex/elastane brand Roica from Asahi Kasei unveiled responsible innovation and creativity with its Roica Eco Smart range of spandex/elastane yarns, derived from recycled pre-consumer waste.
Iluna Green Label lace collections have incorporated this eco-friendly spandex/elastane into their range with mesh and lace fabrics. 
A combination of high quality, design and sustainability hits the target of what the end-consumer wants. Last year, the Iluna Group converted all their stretch yarns exclusively to Roica Eco Smart for its top range of jacquardtronic and textronic qualities, confirming a new and responsible dedication to resources in respecting the planet.
Sustainability is a key aspect of the entire textile industry and new developments from the fiber through to machinery and finishing are ensuring precious resources, especially water, energy and petroleum are reduced.
Lenzing Modal Black only uses 20 percent of the pigment required with spun-dye fibre. Additionally, research has shown that fabric made with Lenzing Modal Black fibre uses 50 percent less energy, has a reduced carbon footprint by 60 percent, and requires only 50 percent of the water typically used in production compared to conventionally dyed fabrics.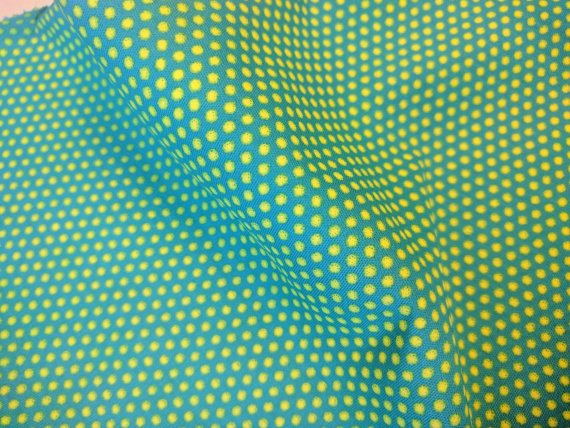 Clean Tech Textile Processes Push Through
This clean tech development is set to continue across the industry and also features in the Spring/Summer 2019 ISPO TEXTRENDS information, is the next generation of sustainability. Whilst the initial focus on sustainability was on the fibers, today the attention is on more efficient machinery, eco friendly chemicals and reduced water use.
Fabrics on offer for the active intimate apparel sector also pursue innovative construction, as zoned compression warp knits,  clean cut and selvedge finishes for a reduction in the garment manufacturing process.
As the intimate apparel market continues to cater for the continuing interest in the performance sector, the potential for established mills from outdoors and sports offers a big opportunity.
Tintex, an ISPO TEXTRENDS award winner, uses at least 60 per cent of sustainable ingredients including Tencel, organic cotton and wool, recycled and recovered synthetic materials including polyester and nylon.
The company also invests heavily in machinery and processes that clean up their production process and embrace both the sports and outdoor markets as well as pursuing brand developers from the intimate apparel sector.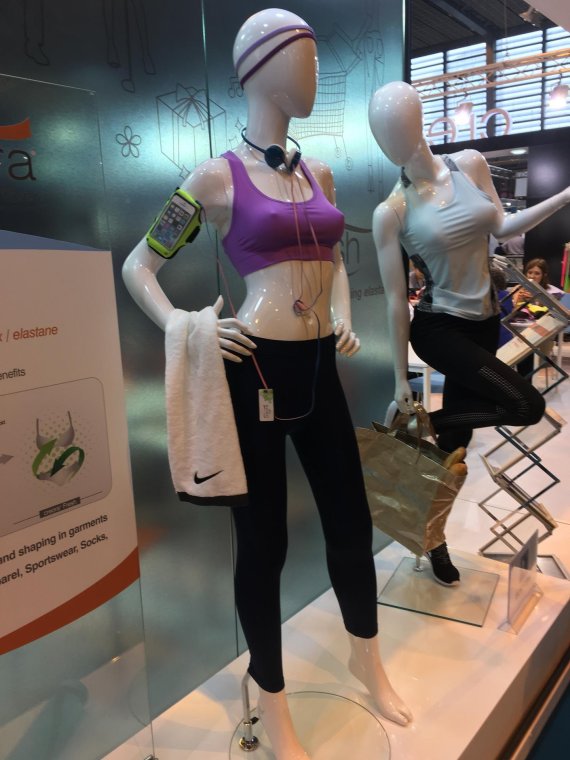 Active Glamor - A Sexier Look
A stronger direction towards femininity is a strong trend direction, as the consumer looks for a more feminine appeal for workout wear, in line with their traditional lingerie fabrics.
Nilit took its nylon 6.6 range to a new level with the launch of Sensil, representing both the performance and fashion yarns the company is renowned for. As well as a name change, a new development was also launched, Sensil Diamond.
This new yarn allows for varying degrees of modern sparkle through to metallic looks, the advantage being, a new development from their  established Black Diamond, the new yarn is dyeable. A wider range of colors can now have this glistening effect.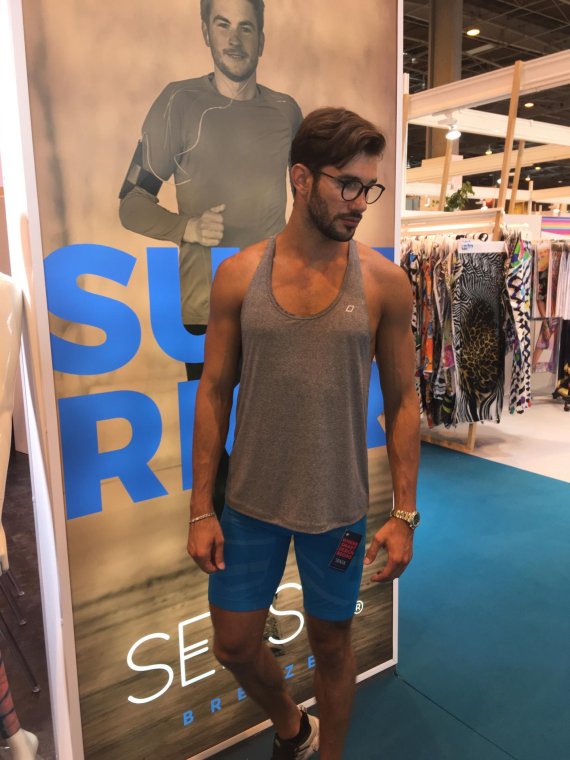 It is also a much softer touch than using traditional metalloplastic yarns to achieve the look and can be teamed with their performance yarns to link fashion and functionality for the activewear sector. 
Lace manufacturers are also pursuing the activewear market, with Tianhai Lace continuing its development with its TAS range designed specifically for the intimate and activewear market, teaming its jacquardtronic know-how for a fashion aspect with functional yarns.
This trend for a more feminine and elegant appeal, especially for the active intimate apparel sector is set to develop further, as the consumer is reaching out for more glamorous attire.
Performance and Decorative Detail
With cotton touch a major focus for consumers,  Gayou Lace has developed a new 'Cotton Feel' line, using a polyamide/nylon blend. This  cotton-touch range offers a soft and natural-looking openwork fabric, a more elegant appeal to typical mesh, with a wide range of patterns from geometric to floral.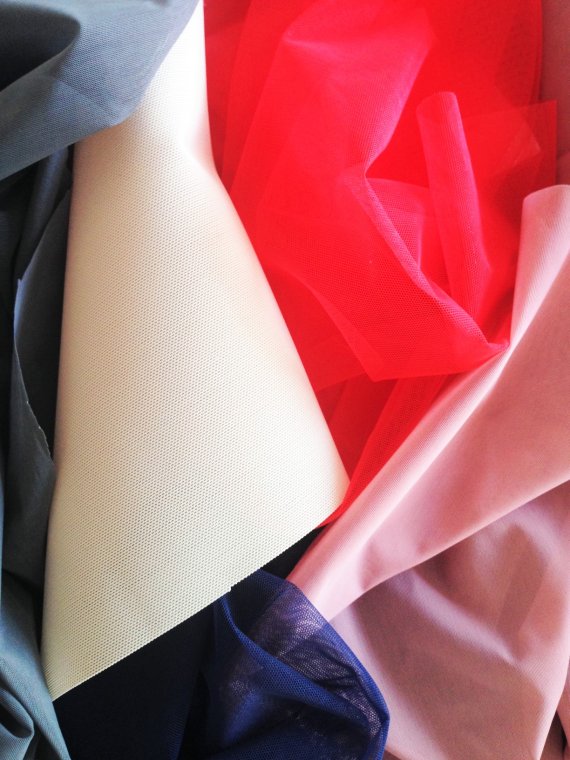 Piave Maitex launched a new range of extra light-mesh with excellent fit guaranteed by the high percentage of spandex/elastane. Performance combined with reduced weight and improved comfort, adapting to the latest technical solutions.  The range named Transparenze also offer a superior control, shaping and supporting as well as being suitable for molding, perfect for new developments in the sports bra sector.
For sports bras and activewear, consumers are demanding a more feminine appeal, but also need the performance especially through fit and comfort. Brands take note, as the healthier lifestyle is pursued, the look is no longer just for athleisure, these pieces are meant for use in achieving that much desired work/lifestyle balance.