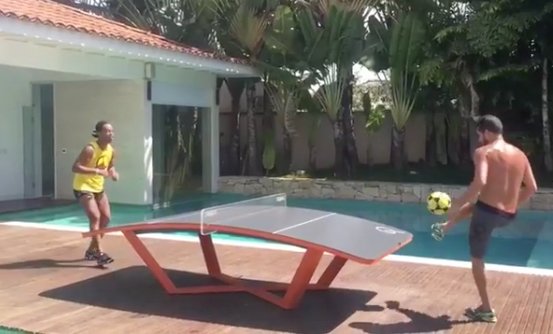 The specifically designed Teqball table has won an ISPO AWARD at ISPO MUNICH 2015 in the "Health & Fitness Products" category. It seems to be similar to Headis but this table is curved – so the ball bounces towards the player.

We spoke to Viktor Huszár, one of the founders and developers of Teqball, about soccer, high-tech and the love for the sport.
Interview with Viktor Huszár, developer of Teqball
Mister Huszár, isn't a soccer ball too big for a table tennis table?
Not at all! Teqball isn't played on a conventional table tennis table but on a curved table that was specifically designed by us, which makes the ball jump further and higher. It's great fun!
How did you come up with the idea for Teqball?
15 years ago my neighbor, friend and co-founder of Teqball, Gábor Borsányi, was playing with a soccer ball on a conventional table tennis table – a key moment that he kept thinking about for more than ten years. Then Gábor told me about his idea: He is a former professional soccer player but the sport had become too aggressive for him and he didn't want to take the risk of getting injured.
However, soccer was and will always be his favorite sport. This is how the idea for Teqball, the world's fairest type of soccer, came about. Gábor is the creative part in our team, while I'm a soccer-loving computer scientist. We started to build and test different tables in our garage – the start of Teqball.
It sounds like a pretty simple development process?
But it wasn't. Coming up with the specific design of the table and developing the Teqball concept took us four years. A lot of hard work was involved in this process.
Is Teqball only a game for professional soccer players or is it also suited to amateurs?
Players should know how to handle a soccer ball and children can get involved aged eight. Playing doubles, two against two, is very popular. Professional soccer players, too, are using Teqball during their training sessions. Some clubs in the English Premier League as well as in the French league are already playing Teqball.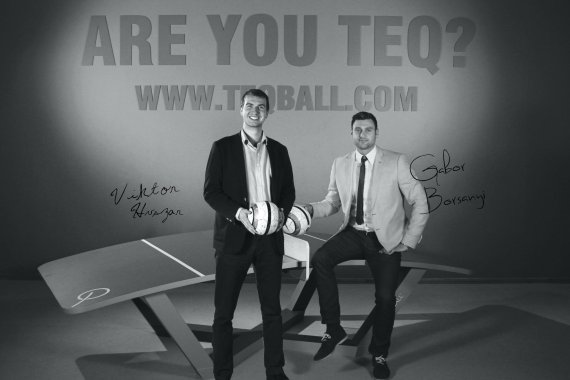 What do you need in order to play Teqball?
Not much. You only need the table (Teqboard), a ball and a feel for the ball. After 30 minutes you have the hang of it and are able to play the ball over the net – with the foot, head, chest or knee; using the hand is not allowed, just like in a real soccer game. We are also organize matches on sand, grass or stone. Our Teqball tables are easy to move and fit everywhere. If you want to watch a match or participate yourself, you can find the dates on our website.
Are there specific rules for Teqball?
The basic rules are simple: After a maximum of three ball contacts the ball needs to be played over the net. It is not allowed to touch the opponent or the table. Teqball can be played by two single players, four players or several runaround players. You will immediately fall in love with the sport.
What is the Teqbox?
The Teqbox is a technical gadget for Teqball that records the ball and player movements during a match. But it also checks on rule compliance, counts the score and reviews the progress of a player. The Teqbox is a package that consists of movement sensors and cameras as well as a data collection system that can be set up in any room in a few simple steps.
This combination of sport and high-tech was also one of the reasons you won ISPO AWARD in Munich. How important is this award for you?

Through this award our product gets acknowledged and credited by international sports experts. This gives Teqball a great authenticity.
Facts:
Weight: 161kg
Size: 1,5m x 3m
Price: EUR 2.400
All Teqball tables (Teqboards) are weatherproof.
Ambassadors: Ronaldinho, Jari Litmanen, Ronald & Erwin Koeman etc. 

More information:
Teqball website: http://www.teqball.com
Teqball on Facebook: https://www.facebook.com/teqball