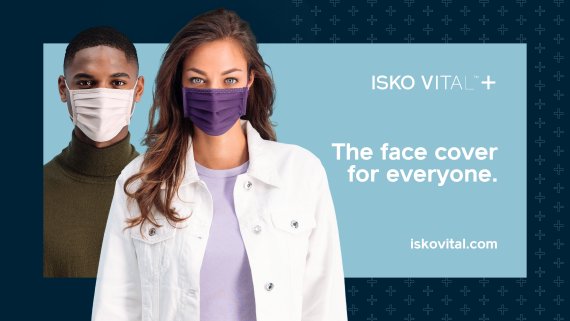 ISKO takes part in ISPO Re.Start Days, the digital conference taking place on June 30 and July 1 to deal with growth strategies post-Covid. Meant to be a solid answer to all those challenges that outdoor and sports industry are currently facing, the event sees the active participation of CEOs, industry associations and athletes from all over the world, coming together to share new ideas and visions while seeking new perspectives on the future. 
Internationally renowned as the global leading fabric innovator specializing in woven and denim technologies, ISKO is main sponsor of the two-day happening with its ISKO Vital™+ face covers, once again stepping up to support the industry with its innovative and responsible solutions.
Aiming to help the global community in the practicing of healthy habits, ISKO Vital™+ face covers are engineered with comfort and sustainability in mind. Following ISKO's commitment to the development of technologies and innovations oriented towards health and wellness, these ISKO™ products rely on the company's 100-year experience and know-how in the textile industry.
Made with organic cotton, these face covers are available in two lines – Premium and Supreme –, both developed with a unique 4-fold structure to improve their fit and adaptability. Washable up to 15 times, ISKO Vital™+ Premium face covers come in two colors – black and white – and 3 different sizes. The Supreme range comes too in 3 different sizes and can be reused up to 30 times featuring different colors as well as SANITIZED™ anti-microbial material protection. Both lines remain extremely breathable and flexible to grant an amazing comfort level to the wearer.
"We are a proud supporter of this event" explained Fatih Konukoglu, ISKO CEO. "Sharing knowledge, experiences and values is the most powerful tool available, nowadays. We feel that standing and working together, to rise and build a new, better industry, are key steps of the process and ISPO Re.Start Days represents a perfect occasion to provide our expertise and our results, i.e. ISKO Vital™+ face covers, for a better world."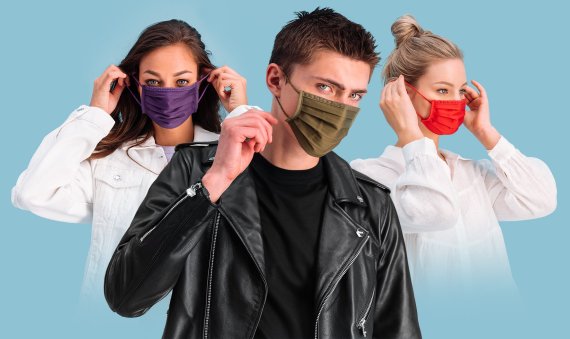 The project is part of the ISKO Vital™ platform, the first one in the world to deliver a woven compression product system and the culmination of a three-year development led by ISKO™'s research laboratory. Combining the well-known company's expertise in denim and woven technologies with groundbreaking innovation, the ISKO Vital™ platform is committed to ensuring wellbeing through textiles, creating advanced wearable health and wellness products to improve everyday life.
Resulting from the company's Responsible Innovation™ approach, a holistic vision stemming from the values of creativity, competence and citizenship, ISKO Vital™ concepts are manufactured according to the strict criteria of numerous international standard. Among the many, ISKO has the STANDARD 100 by OEKO-TEX® and the STeP by OEKO-TEX® certifications: the former stands for high product safety, making sure that products do not contain harmful substances, whilst the latter highlights improvement's areas, aiming at implementing responsible production processes in the long term throughout different areas. By recently partnering up with Bluesign, the company also commits to achieving bluesign® APPROVED accreditation for its denim textiles, attaining the strictest industry standard for consumers and environment alike. Finally, as member of SEDEX, ISKO makes sure that every operation is in line with responsible and sustainable business practices.