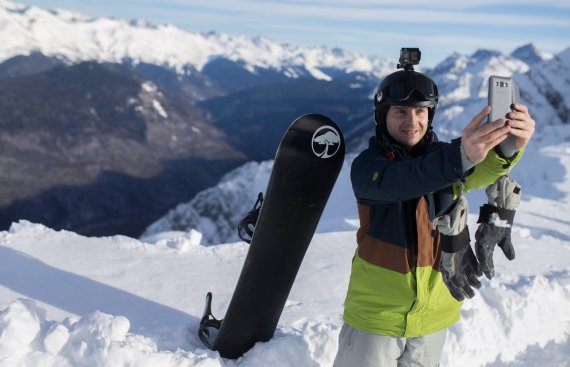 |   | Online magazine/blog Outville | YouTube/Vlog AlpineFex | Instagram Caja Schöpf |
| --- | --- | --- | --- |
| Cost of materials | manageable to very high | very high | manageable to very high |
| Knowledge/training | manageable | very high | manageable |
| Technology/material costs | from 600 Euro onwards | 800 to 3000 Euro | from 400 Euro onwards |
| Total working time* | min. 1 day | min. 2 days | min. 1 day |
| Durability | very long | very long | very brief |
| Visibility of the partner | very high as regards content | very high | very high |
*depending on article/post. As a rule of thumb: Duration of the tour/event + preparation and post processing
Before a blog entry, YouTube video or Instagram post can be produced at all, some preliminary technical work is required.
For a blog project or online magazine like the Outville outdoor project, this means that the website must first be created using a content management system such as Wordpress.
Today, the necessary technical know-how is manageable due to comfortable modular solutions for websites. But the implementation of new functions and the maintenance of the web and mobile presence should not be underestimated.
In addition there are operating costs of at least 100 Euro per year for hosting the site and the domain.
YouTubers or Instagrammers save themselves the latter, since their content is placed on social media platforms.
YouTubers like the video blog AlpineFex need to be well grounded in production and post-production considering digital video editing and sound editing. In addition, especially with platforms like YouTube and Instagram, continuous training and information acquisition around the current algorithm of the current platform are indispensable. After all, the content should be visible in the social media jungle.
And: With equipment such as GoPros for action recordings, external microphones or even drones for aerial photography result in 800 to 3000 euros of material costs for YouTubers. For Instagrammer Caja Schöpf it is much cheaper. She only needs a mobile phone starting at 400 euros of material costs.
In addition to the financial investment, the amount of time spent on ideas, production and post-processing should not be underestimated. Both AlpineFex and Caja Schöpf's Instagram account are one-person projects. Outville has about four constant editors, but even with that there is often only one person involved in the production.
For all three of them there is a tolerance for spontaneous stories, but most of it is planned in advance and of course coordinated with partners. Caja Schöpf for example only has a "rough content plan", whereas Outville has an editorial plan with a semiannual lead time.
The duration of the following production depends entirely on the topic: the reporting of a four-day bike camp in Davos lasts four days, plus writing, selecting pictures that fit perfectly, posting on the website, etc. The expenditure of time for post-editing alone can thus increase to up to two days.
AlpineFex states that for his YouTube production, the time spent on a mountain increases by approximately a third when carrying a camera compared to tours without equipment. In addition, he needs at least another twelve hours for post-production, i.e. editing, uploading the video material, texting and attaching affiliate links.
The working time for an elaborate Instagram post lasts up to one day for Caja Schöpf: for that she takes into account: outward journey, ascent, creation of the image material as well as editing, texting and posting.
Although an Instagram post can be created faster than both other variations, its durability is shorter. Because Instagram feeds change within seconds, a post quickly slides down. This makes it all the more important to post relevant content with the right hashtags in order to reach as many users as possible in a short time.
By contrast, YouTube videos of mountain tours can still be a valuable source of information in years to come - if approach hikes and routes do not change significantly.
Here, the most flexible medium is the online magazine, where Outville can update articles at any time and feature them on the top of their website. An article about a camping site, for instance, was updated several times and resent to the newsletter.
With all three variations visibility is very high: Outville cooperation partners are obviously in focus, there are no other banner ads in articles. In addition, the brands are also integrated editorially.
AlpineFex's partners profit from their products being shown in action. Also, there are hardly any comparable platforms in German-speaking countries.
Caja Schöpf's Instagram account is also attractive for partnerships - especially when message and brand fit the channel. And: With micro-influencers of up to 20,000 followers, companies can reach their target group with almost no wastage.