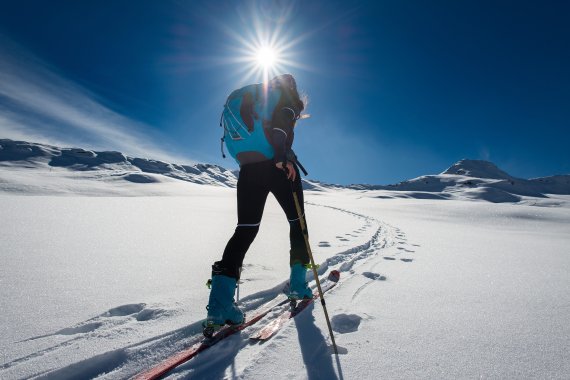 ISPO.com: What is the basic idea behind Outville and how long have you been writing for the blog?
Katharina Kestler: Outville is an online magazine with a collective of contributors around the founder Christian Wander. I've been on board since 2016 and was therefore able to get involved conceptually before we went online in May 2017.
What other channels do you use?
Clearly instagram. Both, for me as well as for Outville. Some readers also follow Outville through my private channel.
Do you have a favorite channel/medium? If so, why?
No, I don't have a favorite channel, I just use the channels accordingly. An online magazine is just great. I have the chance to produce high quality and long stories, I can have my fling in texts and know that the articles will never disappear.
What are the possible advantages/disadvantages of an online magazine compared to YouTube or Instagram?
It surely depends on the message. Instagram is more immediate and is basically more "live" and if it is well done, also a lot of work!
For me, a blog or online magazine has the charm to transport a message. Probably fewer people read a blog article, but it is definitely more sustainable.
At Outville we use both and are happy when people click on our website via Instagram.
ISPO.com: How long are you actively using YouTube as AlpineFex?
AlpineFex has been around for about 1.5 years, but I've only been really active for a year.
You've become very successful in a short time, you have videos with over 30,000 views, how do you explain that?
I think it's because I produce videos for mountain lovers, which in this form (almost) do not exist in German-speaking countries. In the beginning I made videos without talking and only showed my tours and afterwards I added info texts. One day I began to speak into the camera during my mountain and ski tours and noticed that I was offering a real added value for other mountaineers. I immediately evaluate the situation - without any time lag.
What other channels do you use?
None, my focus is on YouTube.
What are the possible advantages/disadvantages of YouTube videos compared to Instagram or an online magazine?
The saying goes: "A picture says more than 1000 words", well I would extend that: "A video says more than 1000 pictures". In videos you see a fluid movement and in my opinion it is much more informative.
The disadvantage may be that you get criticism faster. For example, in an ice climbing video, I instantly received comments that my location was wrong at minute 09:05. That surely happens, because I can't change or gloss over anything afterwards. Fortunately, the positive comments predominate.
And I have to say, mountain sports are not math; 1 + 1 does not always equal 2; a lot happens individually.
ISPO.com: Since when do you actively use your Instagram profile (> 18,500 followers)?
Caja Schöpf: Since 6 February 2012. Time flies...
What other channels do you use?
I have my own website with an active blog, Facebook and Instagram.
Do you have a favorite channel/medium? If so, why?
I use Instagram most regularly and frequently. On the one hand the handling is simple, the picture language beautiful and one can reach many people fast and simple. In addition, you can always share current situations using the Story function.
What are possible advantages/disadvantages of Instagram compared to YouTube or an online magazine?
I think it's mostly the simple handling. By posting an image with a short description, Instagram is much less time-consuming than writing a good text for a blog or editing a video for YouTube. Don't get me wrong, I still like to write a lot, but I mainly write for print media.