At the ski touring preview in Hochfügen (with ski tour to the hut evening sponsored by
by ISPO), retailers and buyers, brands, the media and the
community come together to exchange ideas about the latest trends - and we were
were right in the middle of it for you. Here are 4 trends in ski touring.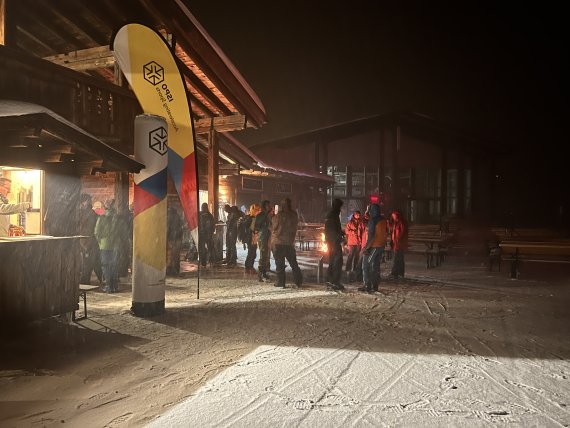 A few years ago still a niche sport for the early adopters, now arrived in the mainstream: Ski touring is firmly established in winter sports and will not disappear as a trend anytime soon.
"The touring trend sport of the last two years is stabilizing, even if this year the winter is a bit worse and sales are down. But the products in the ski touring sector are getting better and better and retailers and brands are still very satisfied with sales," confirms Ralf Jirgens, the organizer of SkitouringPreview.
What's happening: today there are different types of play, which are evolving in the respective communities. Shorter tours on the slopes are the ideal beginner's entry. With a little routine, piste tours at night and with a headlamp are also a popular weekday fitness session for many. The pros can be found off-piste in freeride touring or in the ascent- and competition-oriented light and speed touring.
The target group has also evolved and branched out: the communities are getting younger and younger, and women have discovered outdoor sports for themselves. Winter sports brands have adapted their range to this, for example with products whose fit and performance have been specially developed for the female target group. Another signal that ski mountaineering has made the leap out of niche sports? In 2026, ski mountaineering will be an Olympic sport again for the first time in 78 years.
There is a suitable product for every target group and every type of ski touring. However, since consumers are focusing on sustainability when it comes to equipment, the range is currently consolidating: away from special equipment and towards hybrid products. One ski and one boot for everything, whether on the slopes or in the backcountry, in all weather conditions.
And the industry is already getting close to this goal, for example with lighter bindings that can be adjusted according to the type of tour and athlete. Ski rental companies have also discovered these possibilities - making ski touring accessible to even more athletes. Another hybrid product: hybrid skins, which are particularly durable and feel like new even after years of cleaning and care. In addition, they are particularly easy to put on and take off and thus do not hold up on the tour.
And when it comes to handling, things have changed, too. With automatically snapping pin bindings and climbing aids that are particularly easy to adjust, the fun for tourers can start right away.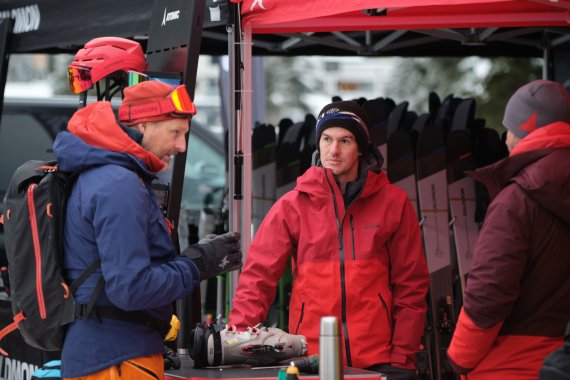 In which equipment has the most changed?
"In my opinion, the biggest development in the last five years has been in the shoes. It's amazing how well the light skiers can ski downhill and how well the downhill skiers can climb uphill," says Ralf Jirgens.
Tourers often come to the sport from different directions, whether from mountaineering or alpine sports - and bring with them very different perspectives and demands that brands have to adapt to.
One result of this development, for example, is a ski boot for touring that can be skied like an alpine boot with real 130 flex, but also impresses with maximum mobility in the ascent and a lightweight construction. For this purpose, different types of plastic are used in different places in the boot, heel wedges and inclination angle of the shaft provide adaptability, safety feeling and performance.
Tourers no longer have to decide between lightness and
performance or fun on the descent and stability.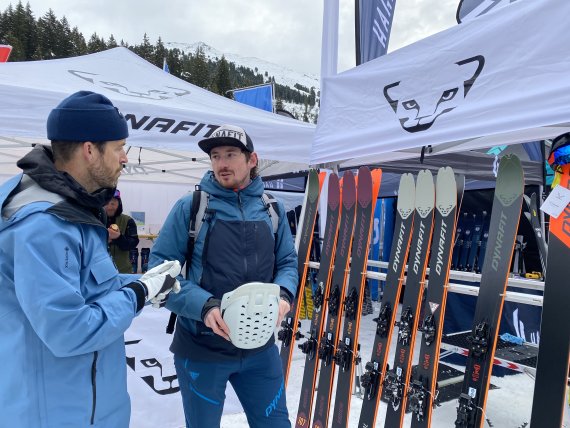 Ski touring has becomea sport for the whole family - and brands have also
recognized this. Children's and youth equipment includes, for example, pin and
bindings with lower Z-values at different price points to make it easier for young
make the ascent easier for the little ones and at the same time ensure safety on the descent.
safety on the descent. But also shoes, skis and clothing are already on
ski touring athletes of tomorrow, so that the whole family gets its money's worth on the mountain.
on the mountain gets its money's worth.