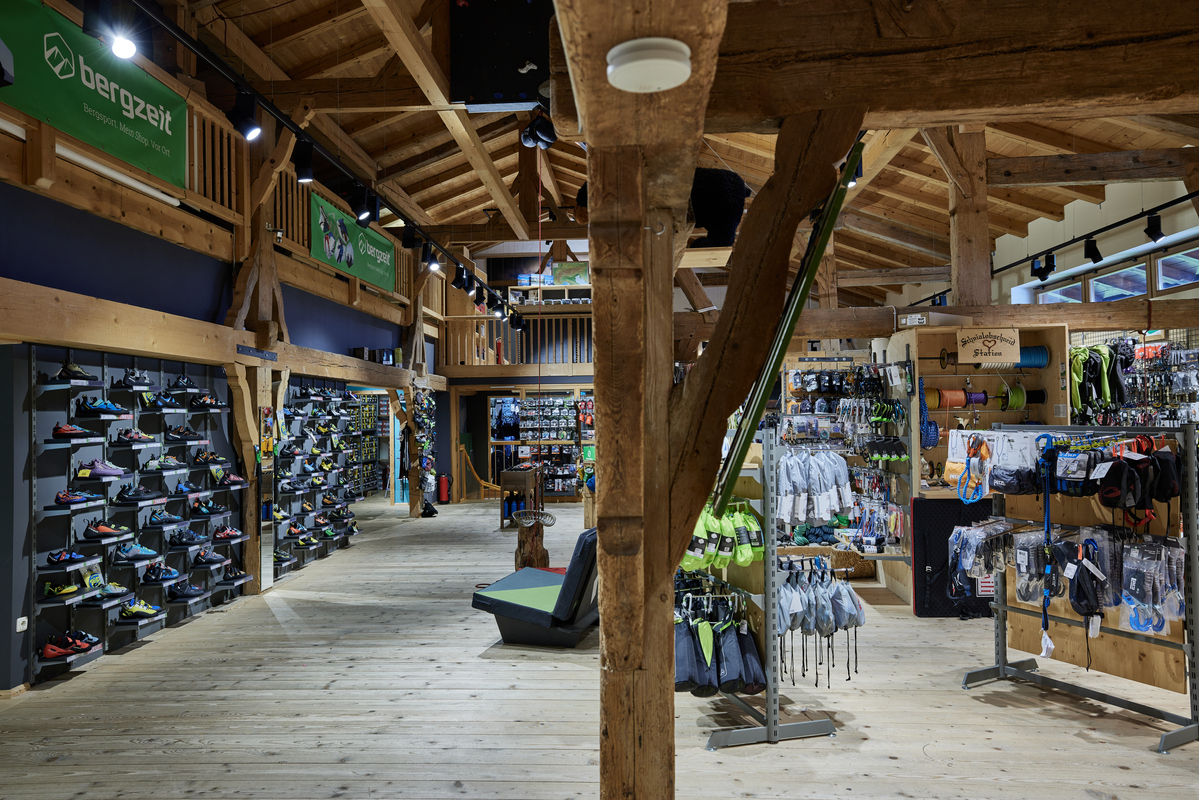 Brands can sell directly to consumers, have a wide variety of retailer strategies and thus partnerships to choose from. Retailers must choose their brand partners carefully, match them to customer preferences, and not lose sight of what is special about their own business. The requirements in this partnership are diverse and complex. Especially when inflation, uncertain supply chains, the aftermath of a pandemic, customer reluctance to buy and full warehouses make selling goods more than challenging.
Here, we have contrasted what Hofstetter and Horelt would like to see from their respective partners on the brand and retailer side. The two also explain what they see as the important function of a leading trade show like OutDoor by ISPO.
Retailer Christian Hofstetter, Head of Buying & Sales at Bergzeit:
We expect our partners to have an understanding of how retail works, especially online retail. To achieve this, it is important for us to have regular exchanges so that we can jointly identify the challenges and act accordingly. For example, the master data of the individual products is very important to us, such as information on fit and cuts. This information is crucial in terms of the returns rate: the fewer details we have about individual items, the more will be returned. We want to work on this, of course. This is where online retailing differs significantly from brick-and-mortar retailing.

It is also important to us that the brands attach great importance to the current needs of the

customers' current needs and never lose sight of them. In the end, it is precisely this

match decides which product sells best.

In addition, we naturally prefer to work with brands that - like us - attach great importance to and maintain constant partnerships with retailers, because in the end both sides benefit.
The brand representative, Herbert Horelt, Managing Director at Devold :
For us, working in partnership plays the biggest role. Within the framework of a partnership, we see it as elementary that we tackle problem cases together. In addition, loyalty is important to us in our cooperation.
What are the no-gos in collaboration?
Brand representative Horelt: Excessive demands are my top priority here. Because the manufacturer also has to calculate and needs - just like the trade - a certain degree of planning security. Another no-go for me is when the manufacturer is only seen as a supplier. Even if many product ranges and products are the same today, the brand core, brand orientation, the faces behind the brand and the cooperation are individual and should also represent an ideal value, be emotionally valuable. valuable.
Trader Hofstetter: Constant strategy changes do not form the stable foundation we need. We benefit from a high degree of planning security and want to avoid having to constantly readjust and familiarize ourselves with the fact that agreements no longer have any value after one season. It also becomes difficult when there is a lack of flexibility to deal with upcoming challenges in a solution-oriented manner. In corporate groups, the system is often rigid and the willingness to open up or rethink is missing in one place or another. Honesty and openness are important in cooperation. If this is not If this is not shown to us, for example with regard to our own sales strategy, we are faced with challenges. It becomes unpleasant, for example, when a supplier operates its own D2C business as a profit center and offers its own goods at reduced prices during the season or very early on.
Have you ever terminated a cooperation with a brand/dealer* even though the sales were right?
Dealer Hofstetter: Yes, we have actually done that. However, I'm not a big fan of it, because the customer is the one who suffers. At the end of the day, the buyers have a need and if we can no longer meet it because we have taken the brand out of the range, then they will shop elsewhere. Often we can offer alternative items, but with certain products/brands it is very difficult to steer online to another choice.
Brand Representative Horelt: To date, we haven't done that, but in tough economic times, I definitely see the opportunity. When we think in terms of territory protection, etc., it is obvious that we evaluate our partnerships and choose partners that are right for us.
Are there any brands/dealers you have remained loyal to because of good cooperation?
Brand representative Horelt: Yes definitely, we always try to overcome challenges and less profitable times together and solve problems in partnership. For me, that means communicating with each other early on, acting honestly and transparently, and extending deadlines and finding compromises when necessary.
Trader Hofstetter: That actually happens a lot. We carry some brands for several seasons, even though the KPIs don't meet the targets. We believe in the brand and trust that it has a future. But an important role is also played by whether the cooperation with the brand is going well. In addition, it is always important whether the brand has product relevance for us in the respective segment. In other words, can we strengthen our positioning with the respective brand?
How important are trade shows / is OutDoor by ISPO for a functioning partnership?
Trader Hofstetter: Basically, I hope to be able to exchange ideas with as many people as possible at OutDoor by ISPO in order to cultivate contacts and find out about trends and potential. This can concern the product itself, but also relate to current strategies. At OutDoor by ISPO, our focus is not on selecting the product range, but on being inspired by innovations and meeting our industry contacts. I am very much looking forward to that. I think this exchange is very important because we can all learn from each other and with many the only opportunity to meet physically on site. We talk about innovations, strategy developments, challenges, etc. - and that doesn't even happen quickly on the phone!
Brand representative Horelt: We want to make the brand tangible. This year we have the pleasure of welcoming 15 sheep farmers from our New Zealand partner farms to the trade show - they are passing through and we are planning a meet and greet with press representatives*. As these partnerships within the Devold Origin Program are an elementary corporate strategy for us, this is a highlight for us. At the same time, our goal is to show retailers the new products at an early stage and to look for At the same time, our goal is to show retailers the new products early on and to look for opportunities for in-depth collaboration - in my experience, these discussions work best in person and are indispensable in our industry. This exchange is important, but it requires a clear trade show concept. The focus should be on a leading trade show that finds the greatest common denominator. We currently see too many small local order fairs. This expense is difficult for us as a brand to bear.
Transparency

Long-term strategy

Loyalty

Requirements catalog with information that brands must provide to retailers: This should include, for example, customs tariff numbers, product descriptions, delivery times.

Possibility for individual brand descriptions, as brands differ too much at the core. This cannot be standardized, individual coordination necessary.

High quality product images delivered in a timely manner.

Trained staff leads to better sales.

Detailed online descriptions lead to better conversion rates.

Better too much information exchange than too little.

Personal exchange.

Experiencing the brand leads to better understanding.