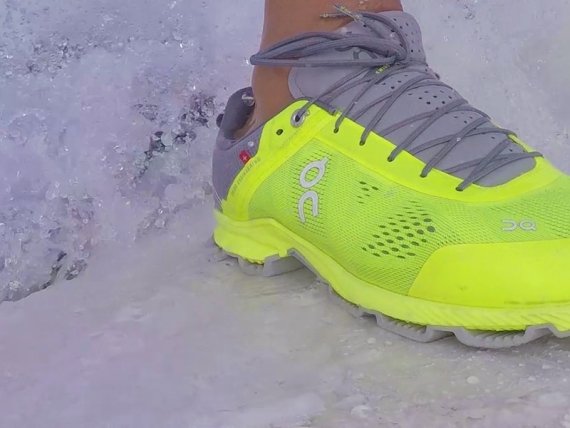 In an interview co-founder of the Swiss company On, David Allemann, talks about which Hollywood stars wear his shoes and what crazy ideas were already submitted to the challenge. 
ISPO.com: Mr. Allemann, you posted a video, in which a surfer jumps off his word and glides on the water with his shoe from On. Is this video fake? 
David Allemann: Absolutely not. We wanted to find out what crazy things our athletes can do with our shoe called Cloudsurfer. A wakeboarder put it to the test on Lake Como in Italy: He jumped off the board and actually surfed with the Cloudsurfer on the water. 
And now you want to know from people what crazy ideas they have what to do with running shoes. 
Our credo is: running should be fun. Running isn't just for the marathon athlete. Running is the first sport for all of us in life and stays an important basic training for different disciplines. As you can see in the first videos, the athletes developed a dynamic and created a challenge: there are cliff divers, sky divers and long boarders showing their stunts. 
Why do you need shoes to jump into the water? 
Well, the cliff diver was certainly happy about the shoes when climbing on that cliff. Sport lives from new exciting challenges and crazy ideas. This is how new sports develop. Running is the core sport to build up fitness and endurance for other sports. On is realising a new running sensation with the Cloud technology and that's why especially athletes in fun sports have fun with it.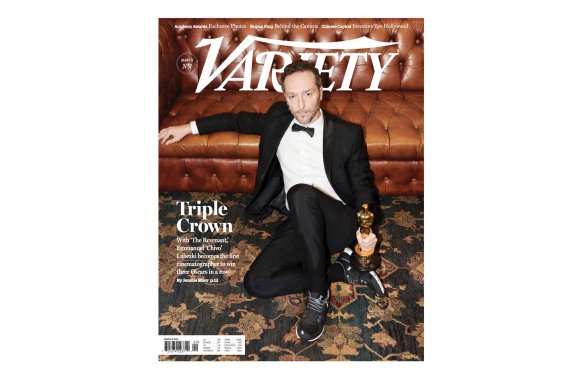 You already succeeded with Hollywood stars with this. 
Emmanuel Lubezki won three Academy Awards in consecutive for best cinematography with "The Revenant", "Birdman" and "Gravity" and wore our shoes at the last Academy Awards. The crazy story is that he wore them until the red carpet where he was asked to change into a pair of leather shoes. Straight after the ceremony he changed back into his black Ons. For us it was a great story, especially because it was no PR stunt or product placement from our side. Emmanuel Lubezki simply loves the shoes and even wore them on the cover of "Variety" for his Oscar photo shooting. Lubezki already passed his challenge. (laughs)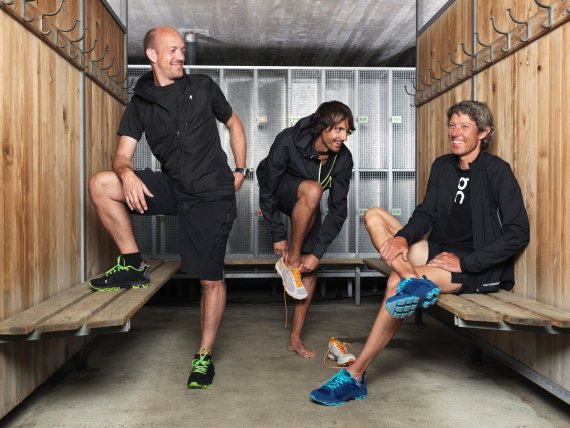 Who is your target group? Athletes? Cameramen? 
The athlete in each of us. Not just top athletes, but active people in general who want to live their life a bit more intensifly and try to challenge themselves on a regular basis. Speaking of cameramen: directors are our target group as well. Wim Wenders wears his Ons almost every day and Jennifer Garner is regularly being spotted running in her Ons. Academy Award winner Emmanuel Lubezki shot "The Revenant" with a small camera and performed an athletic and creative masterpiece in the wilderness. Always in his Ons. 
Six years ago you founded the company — today you arrived in Hollywood. 
On was presented to the public for the first time in 2010 at the ISPO MUNICH. Six years later On is present in more than 50 countries and excites more than a million people. Not only in Hollywood, but also the rest of the world. Particularly exciting: all these people didn't get to know On through huge marketing campaigns. Most of the time a friend recommended the On. 9 out of 10 people say after their first steps with the On: "Wow, this is different." 
Do you have to buy your shoe first to participate in the challenge? 
No, of course not. Everyone can post an already existing video or photo with a fun activity online. We then reward the 20 best entries, so they can do their stunts with the shoe. 
Why are they so special? 
The On provides a soft landing, but then offer a powerful push-off. This is unique. The advantages of a cushioned and soft training shoe and a fast competition shoe are combined. We call this Cloud technology and the running feeling is light, agile and fast. Athletes report less ground time and a longer flying period. 
How do you develop something like this? 
Preferably on the foot of top athletes. On developer Olivier Bernhard is a former top athlete and developed the original idea with more than 200 athletes and test runners who perfected it. His credo and the credo of On is not to develop a new shoe, but to develop a new running feeling. Apropos the test runners were responsible for the name for our technology. They romanticised about running on clouds. That's why we called it CloudTec.