Speed Hiking means fast hiking, and these two words hit the core of the new trend sport exactly. Because instead of walking comfortably through the terrain, the goal here is to be on the move as consistently as possible at a brisk pace. A speed hiking tour can last just an hour, for example as a start to the working day, or it can take a whole day. The speed is crucial, but should be adapted to your own endurance and can also vary along the way. The same applies to the altitude meters and kilometers covered. If you use poles, you take the strain off your joints and also get your arms moving. Speed Hiking is a perfect basic workout that can be done anywhere - in a group or alone.
And what should you look out for when it comes to equipment? That's exactly what we asked speed hiking specialist Salewa. Here are five important qualities that your t-shirt should definitely have:
Since speed hiking is all about moving as fast as possible, the weight of the clothing naturally plays an important role. "Speed hiking t-shirts are basically lighter than regular hiking t-shirts," says Giulia Gamba, product manager at Salewa. Salewa's Seceda Dryton t-shirt weighs just 85 grams for men, while the women's version weighs only 75 grams. The light weight is supported by a body-hugging, athletic fit with ergonomically cut sleeves for excellent freedom of movement. So it's clear that such a lightweight feels like a second skin. After all, clothing should never distract from what you're doing.
To achieve this light weight and improve function, Salewa uses different materials placed in different positions, "depending on which function is required on which part of the body," the product manager goes on to explain. For example, the back of the t-shirt is made of a particularly lightweight, breathable (85 grams per square meter) polyester mesh, while the front and sleeves are made of a slightly heavier and denser polyester material with 104 grams per square meter. This allows moisture to escape from the back, while the front is more robust and protects against wind. An additional shoulder insert made of a Durastretch yarn - consisting of polyamide and a high proportion of elastane - provides additional freedom of movement.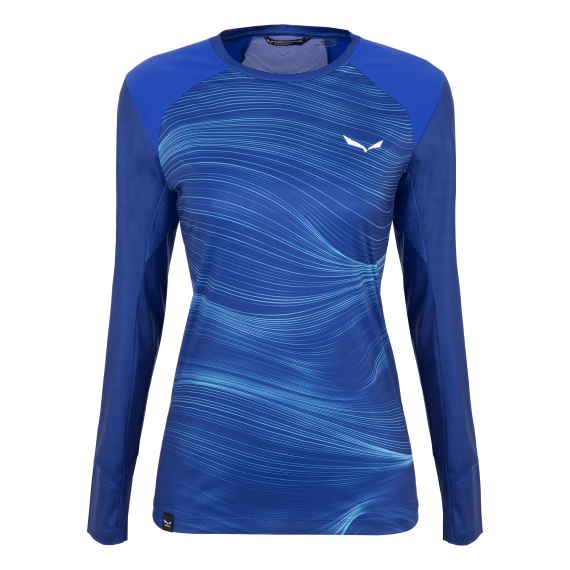 Speed Hiking is the new hiking, but more intensive and therefore more sweaty. Top performance is therefore required of the t-shirt in particular when it comes to transporting moisture away from the body. Giulia Gamba: "And only synthetic fibers can do that, because they don't absorb moisture." Unlike cotton or wool, synthetic fibers wick moisture to the outside, where it can evaporate. The result: the fabric doesn't feel wet and cold, and it dries much faster. The lighter and more open-pored the material, the better this process works - which is another reason why hybrid design makes sense.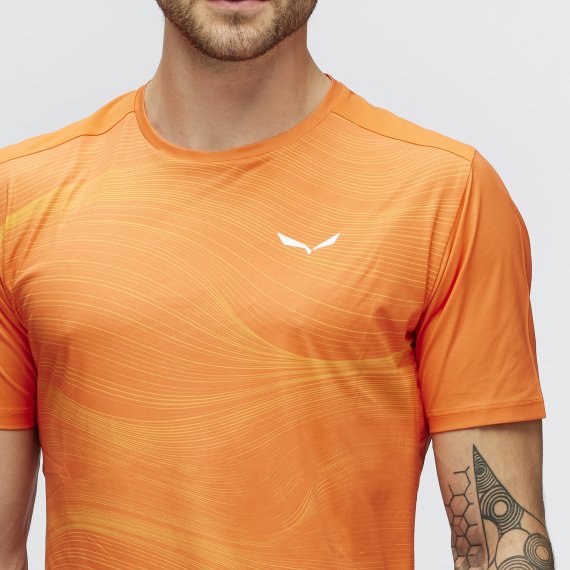 Anyone who frequently plays sports knows the problem: over time, unpleasant odors do not disappear from clothing, even after frequent washing. So your favorite t-shirt stays in the closet even though it still looks perfect.
These bad odors are caused by the growth of bacteria, which feel particularly comfortable in a moist, warm environment in the textile. Salewa uses Polygiene technology for its Speed Hiking t-shirts. The ingredient brand is the leading brand for Stays Fresh technologies which, thanks to its antimicrobial effect, permanently stops the growth of bacteria in clothing and thus the formation of odors. Other benefits: "The t-shirt needs less washing and lasts longer," Giulia Gamba sums it up. And less washing saves valuable natural resources and cash.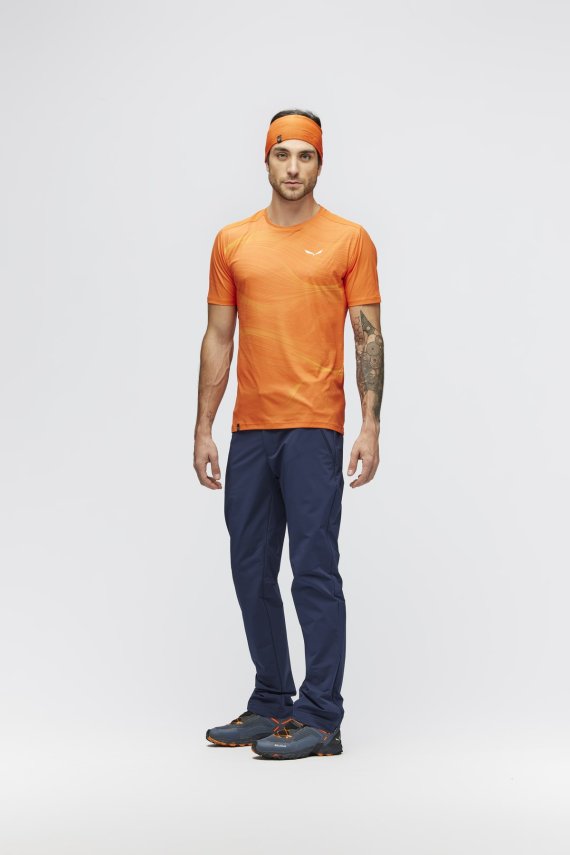 Which brings us to the last point: durability. It is important not least because of sustainability aspects. The odor-inhibiting finish is an important criterion for a long-lasting product. A speed hiking t-shirt should not immediately pull threads when you brush against rocks or bushes in the heat of the moment. Accordingly, the material must be lightweight and robust at the same time - two properties that are often not easy to reconcile. "It's therefore more about finding the right balance between lightness, durability, comfort and protection," explains Gamba. To find it, you need one thing above all: a lot of experience.