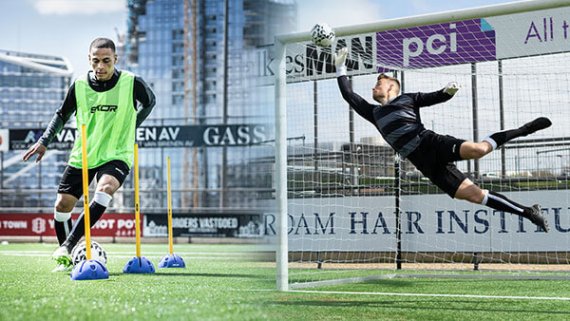 There is a lot to consider when building and equipping sports fields. Where do I get my materials, basic equipment and parts, who sets them up, where are they supplied from and what happens if something wears out or breaks? In the construction process or when it comes to new sports field equipment, there is a lot to think about, plan and consider. And of course, once everything is in place, you also need the training material for everyday sports operations. The Dutch manufacturer for outdoor sports equipment SKOR offers all services at first hand, works innovatively and reliably with its own production and development department and is therefore always approachable and directly available.
Since 2016, the shares in SKOR have been held by Marcel Schorn and Jeffrey Jonkman. Schorn has been one of the owners since the company was founded, Jonkman joined the company as an employee in 2007 and has worked his way up steadily since then. He became commercial director in 2014 and took on more and more responsibility in that role; buying half the shares of the manufacturer of premium quality outdoor sports equipment two years later was a logical next step. When you talk to Jonkman, you can tell that he is passionate about his job and the sport.
The company in Almelo is continuously developing. Special about SKOR is that all disciplines, from development and production to sales and marketing, delivery, assembly and service are united under one roof. The Almelo site also has an experience center and a showroom for customers.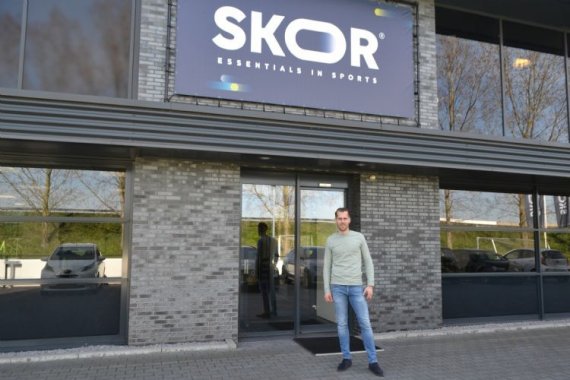 Founded under the name Erma Sport in 2001 the company has always had its own production of football equipment as a core competence. Twenty years ago this started on a small scale with the production of goals and dugouts. In the meantime, SKOR has grown into a company with 40 permanent employees, and as many as 60 during the peak summer season. The company has now been present on football and hockey fields as well as training grounds in Europe for 20 years. Goals and dugouts made by the company can now be found at major clubs such as Ajax Amsterdam, Feyenoord Rotterdam and PSV Eindhoven. But SKOR products are not only to be found in football. The manufacturer is also a partner of the European Hockey League (EHL). Further, dugouts, goals and other SKOR products can be found at amateur sports clubs and smaller clubs.
While under the name Erma Sport the focus was still on goals and dugouts, with the name change to SKOR 2019 also a strategy change was made to offer full equipment for outdoor sports facilities. "We were increasingly asked by clubs we supplied with goals and dugouts if we could offer more," explains managing director Jeffrey Jonkman. This led to the development of other products such as footballs and training equipment. "We've become a one-stop store for sports clubs," Jonkman says. From corner flags to captain's armbands, goalkeeper's gloves or referee's whistles, SKOR can supply anything a football club, for example, might need.
The in-house production of goals and dugouts remains SKOR's core business. At the Almelo site, the company has two halls with around 10,000 square meters. There are also the office and a hall where the materials are received, cut, machined and welded on the company's own premises.
A tour of SKOR's production halls shows: The processes are modern and largely automated. Jonkman explains that SKOR has developed its own software package and uses it for all logistical planning, i.e. sourcing, purchasing, warehouse management and, for example, stocktaking in the warehouses. "When a customer places an order with us today, he knows by tomorrow when he will receive it. There's a calculation behind that, so we know exactly when we need to start production to deliver the product on time. And if the club wants it on a certain day, we make sure they get it then. Overall, we know exactly how much we have in stock and what needs to go where and when. That's the reason customers like working with us."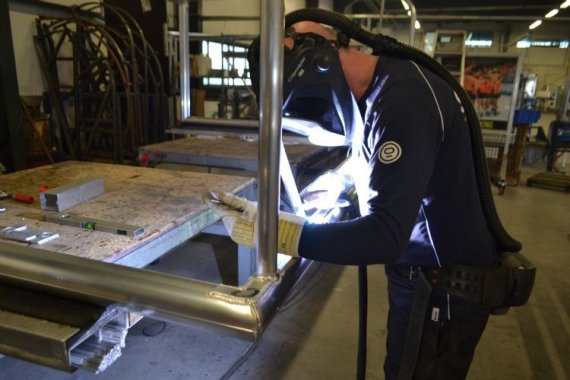 SKOR's outdoor area shows a large inventory of more than a thousand goals and dugouts in total. Some of them are ready for delivery, others in parts that can be assembled modularly as a system and thus adapted. For example, when an order comes in, a goal can be completed quickly. According to Jonkman, this is also necessary during high season, because in the summer it regularly happens that customers call and need something the very next day. "We then arrange everything so that it suits the customer. As a producer and at the same time also a supplier, we can control all the steps in a way that is easy to plan."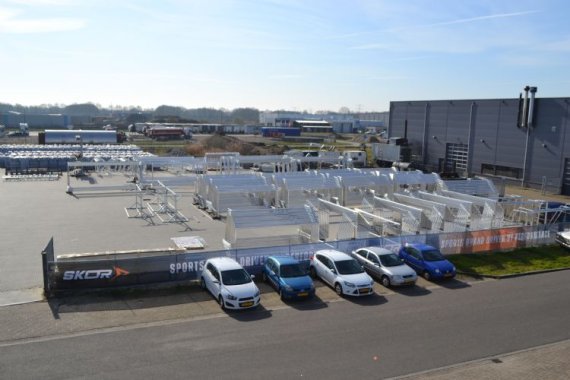 This is also SKOR's strength: because the company manufactures itself, it can act quickly when needed. Jonkman: "As the manufacturer, we are the origin of the product, and that makes a big difference. We have the entire process under control, from production to assembly, and if necessary, our service technicians can solve problems on site." At the same time, the company ensures good and fair working conditions. When things are going well, everyone in the company is paid a bonus, not just the colleagues in sales. Appreciation and being a fair employer are also emphasized because good employees are rare and factories typically have high turnover. That's less the case at SKOR, Jonkman says.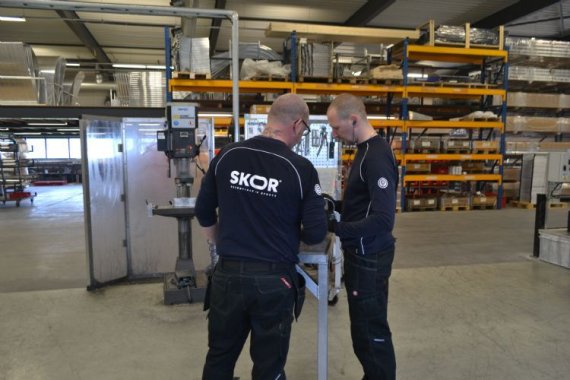 Sustainability also plays a major role in SKOR's business activities. There are around 600 solar panels on the roof of their own building. "This makes us completely self-sufficient in our energy needs," says Jonkman. On the company's premises, all waste is separated, production is done in a way that conserves resources as much as possible, and SKOR products such as aluminum goals can be taken back and recycled by 100 percent. Further, Jonkman is already thinking about setting up a SKOR foundation to give something back to sport and society, to make sport possible for people who can't afford it themselves.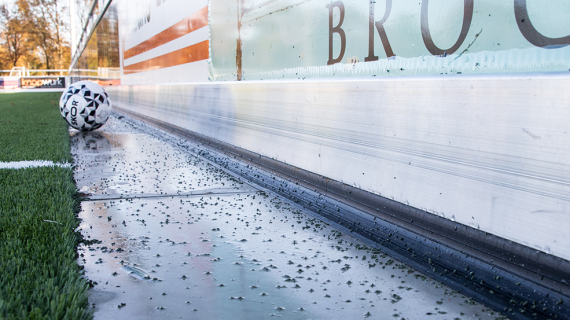 The products that SKOR offers also contribute to the sustainable actions of its customers, such as the SKOR Infill Guard, an edging for artificial turf pitches that ensures that the granules remain on the pitch and microplastics are not dispersed into the environment. As in Germany, but also in other countries of the European Union, subsidies can be obtained for the use of environmentally friendly and sustainable materials in the construction of sports facilities, SKOR's sustainability efforts are not only good for nature, but possibly also good for the sportsclubs' finances. And even better for the latter is the following offer: for new customers, SKOR offers a 20 percent discount on the first order.