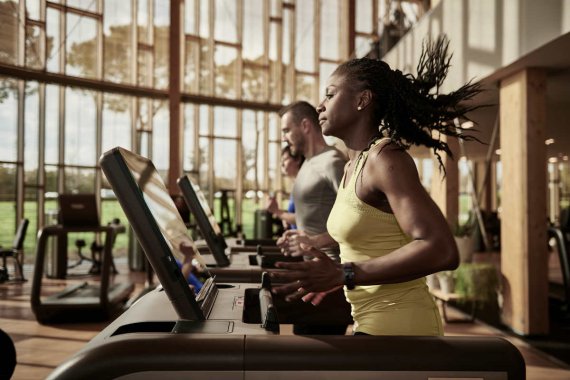 To forecast industry trends in 2021, the ACSM surveyed a total of 4,300 health and fitness professionals, including personal trainers, sports scientists, medical professionals and gym operators. They rated 41 possible trends defined by the ACSM on a scale of 1 to 10, with 10 representing 'most likely to be a trend'.
Under the influence of the Corona pandemic 2020 vividly illustrated how physical activity positively affects people's well-being. Accordingly, the forecast of the top fitness and wellness trends for 2021 is heavily influenced by the impact of the pandemic on everyday life.
1. Online Training
Virtual training experienced a pandemic boom in 2020, which will continue in 2021.
2. Wearable Technologies
Wearable technologies will remain a big topic in 2021, offering useful features for both end users and gym operators for customized training.
3. Bodyweight Training
Due to the closure of gyms, bodyweight training at home has become more important. Even if the gyms reopen in 2021, training with the user's own bodyweight is considered to be of high importance.
4. Outdoor Training
One of the growing trends is outdoor training, which was not in the 2020 top 10 trends list. Many active people combine it with indoor training and wearables and apps, such as the Mywellness app from Technogym, support this combined training.
5. High Intensity Interval Training (HIIT)
Interval training sessions, which consist of high intensity exercises followed by moderate to low intensity rests, were the top 2 trend in 2020. Since HITT can be performed in fitness clubs as well as at home or outdoors, it is also one of the top 10 fitness trends of 2021.
6. Virtual Training
Digitization and technological innovations increasingly prevailed in the fitness market. The Covid 19 pandemic has accelerated this trend, and workout options for the home gym or smartphone are becoming more sophisticated and popular.
7. Exercise is Medicine
Increased health awareness among the general population has been driving the medical fitness trend for several years. Specific offerings from equipment manufacturers for healthcare and injury prevention will also be in high demand for 2021.
8. Strength Training with Free Weights
This type of fitness training has firmly established itself among the top 10 trends in the ACSM survey in recent years. And, with the increasing availability of space-saving workout stations for home workouts, it will remain popular in 2021.
9. Fitness programs for older adults
Exercise is perceived as an opportunity to stay well, especially among older people who are living longer, working longer and want to stay healthier in retirement. Fitness clubs can capitalize on this growing market.
10. Personal Training
The role of the personal trainer has evolved under the influence of digitalization. Even those who use apps and wearables appreciate feedback from a trainer who can assess their fitness status, select the right training program and adjust their personal goals.
At the top of the ACSM survey list are online classes, wearable technologies and bodyweight training. For each of these trends, manufacturers of products for the wellness and fitness market offer smart solutions. Italian company Technogym is a pioneer in this field, as the following examples illustrate.
With the help of the Technogym Life platform, users can pursue their passions such as running, cycling, rowing, strength or functional training, feel part of the community and train with their favorite trainer, in their favorite virtual landscape. The live platform is available on all Technogym cardio equipment. Through the platform, users can choose the workout they want from an extensive on-demand video library, both at home or in the gym. Live classes with different trainers, 1:1 cardio, strength training sessions, as well as unique workouts and training sessions in virtual landscapes are all available. 
Many recreational athletes use fitness trackers, heart rate monitors and smartwatches during their workouts to track their performance and document their training success. Technogym's Mywellness app is compatible with many of the leading wearables from Apple, Samsung, Fitbit, Garmin and Polar. Data from Technogym cardio equipment can also be synchronized via the app, so all workouts, whether indoor or outdoor, are stored in one app and can be evaluated for workout management. The Mywellness platform also helps club operators with customer retention. They can upload their own video content to offer online classes for their members.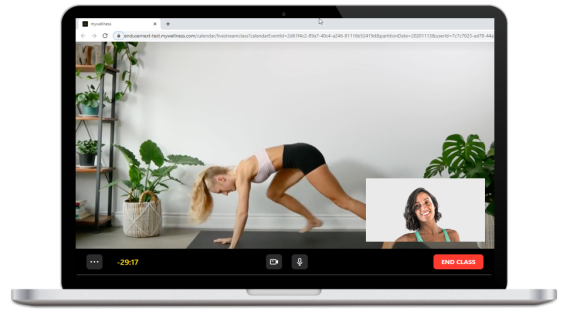 Those who want to do strength training at home often use the bodyweight training method, in which their own body weight is used as resistance. On Technogym's Mywellness platform there are numerous exercises and video tutorials with which such training can be performed correctly and efficiently. To bring additional variety to the home workout, the company has developed the Technogym Bench, which is a space-saving workout station, including bands, dumbbells, knuckle weights and an exercise mat that can be used for over 200 different basic exercises.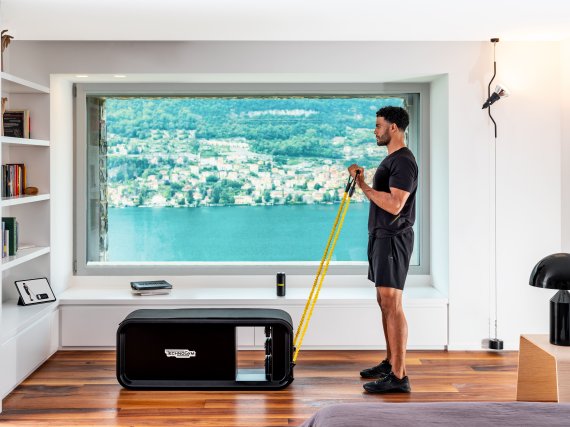 The immediate impact of the Corona pandemic is also forcing the fitness and wellness industry to make elementary changes. For Andreas Meyer, one thing is certain: "Fitness facilities must find a way to combine home training with their operations: A hybrid system, a new business model that transforms them from Place of Choice to Brand of Choice. That's the key to success."