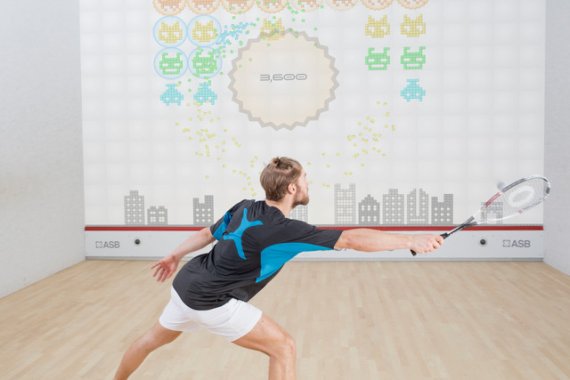 InteractiveSquash players are constantly monitored. Every movement players make is tracked – and can even be analyzed and evaluated. The result: professionals are given their very own training program and can have it projected onto the wall in front of them, and casual players can join in a video game using their squash racket and ball.
Have you heard of the world's biggest competition for sports start-ups? Find out everything you need to know about ISPO BRANDNEW and how it can help catapult your company to the top! >>>
There is no need for cables or for players to wear technological equipment – all you need to do is step out onto a court that has been linked up to interactiveSquash. There is something for everyone: those who simply want to have a bit of fun can join a game similar to Space Invaders and bring down aliens using their ball, and those who are looking to fine tune their game can use the wall as a target for more delicate strokes. Everything that takes place on the court is also documented and stored by an app.
"The world's first digital sports court"
Markos Kern is the CEO of Kern Innovations and a "repeat offender" when it comes to founding companies. Now he has made the leap into digitizing the world of ball games with Fun With Balls GmbH. ISPO BRANDNEW awarded a prize to interactiveSquash in the Fitness category. Find out here what he has learnt and what his next steps are.
Mr. Kern, what makes your product unique and how does it set itself apart from the rest of the market?
InteractiveSquash is the world's first digital, really intuitive sports court. Our sensor systems, software, and a projection allow players to completely immerse themselves in modern training methods and games. In general, digitization is a growing trend. Everything is being made fit for the Internet of Things. We are concentrating our efforts on smart spaces. No wristbands, no batteries that need recharging, etc.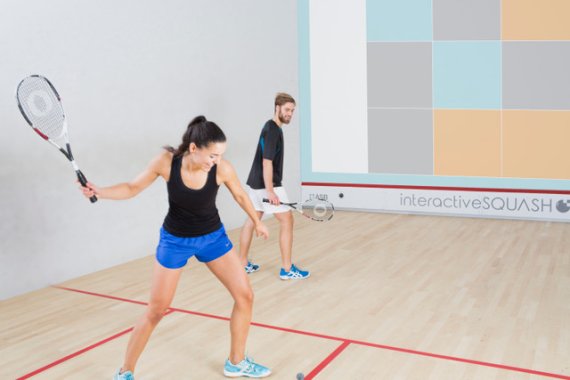 What is the interactiveSquash target audience?
We have quite a broad target audience, our product allowing everyone from professionals all the way to beginners to have fun and enjoy a good workout. Our system gives people the opportunity to practice a sport that is very good for you and can be incorporated into a game. Especially children are immensely enthusiastic about it. We always say "Focus on the fun, not the burn!", and after an hour on the court, everyone knows what we mean.
How and when did you come up with the idea for your product?
The first time I played on a squash court. That was pretty much exactly one year before ISPO MUNICH 2017.

What were the most important steps and biggest obstacles during the development of the product?
The development itself, patents, and entry onto the (in part) very retrograde squash market.
Founders should start by winning over the biggest partners
What were your most important findings and things you learned, from the idea all the way up to the award ceremony at ISPO BRANDNEW?
Speed and flexibility are the most important parameters, especially when you are tasked with solving big problems.
How did you proceed when setting up your network and on the search for partners/investors?
I'm a fan of the "top-down" strategy: Start working on the biggest and most suitable partners you could have and persevere. After that you can still contact the smaller ones, but we haven't had to take that route yet. 
What are your most important pieces of advice for other founders?
Above all: Never underestimate how much time and effort you will have to invest. The media often romanticize the process of founding a company and fail to mention what demands are made from the founder(s). My advice: Don't give up, no matter how difficult or hopeless things may seem.
Digitization is more than just a nice little gimmick
What are the special characteristics of your company?
Digitization is a key topic in sports. I think we are one of the few who really take an integrated approach to the topic of digitization and don't simply see it as a nice little gimmick. This also applies to our next products. 
What do people absolutely need to know about the market segment in which you're active?
Up until now, we have only been operating within the squash sector, which has hardly changed in the last 15 years. Where many see this as something negative, we see it as an area of huge potential.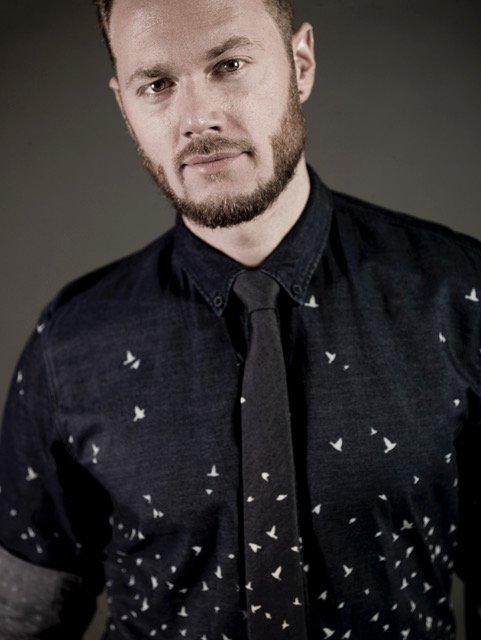 What are the next steps in the development of your product and company?
We are currently working on products for other sports that we plan to launch this year.
ISPO BRANDNEW facilitates a host of new contacts
To what extent have you benefited from ISPO BRANDNEW?
We have benefitted greatly from all the media attention. It is important to remember that we are working in an extreme market niche. In general, it is our mission to reinvent squash as a sport, and our award has definitely helped us on our way.
ISPO BRANDNEW offers contacts, insights, and new perspectives for your start-up! Get to know the world's biggest competition for founders in the sports business! >>>
What kind of effect has ISPO BRANDNEW had on your network? Have you been able to make new contacts for your further development?
Yes, of course: we were able to pick up a multitude of new contacts and projects from other sectors and industries on site on the day. 
Company information:
Name: Fun With Balls GmbH
Location: Munich
Website: www.interactivesquash.com
Founded: 2016
Employees: 7 (February, 2017)