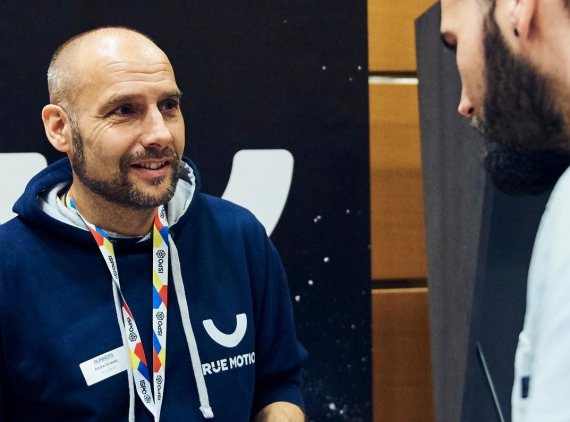 Andre Kriwet can look back on more than two decades of experience with renowned running shoe companies. He started his career at Asics, spent nine years at Nike and then nine years at Brooks, where he was chief product developer and vice president of Innovation & Strategic Concepts.
In summer 2018 Kriwet, together with Prof. Gert-Peter Brüggemannand Christian Arens, founded the running shoe company True Motion based in Münster. With the revolutionary concept of their first shoe, the U-Tech Nevos, they won the ISPO Award in Gold. The shoe will be on the market this summer - with an unusual distribution system.
ISPO.com:You want to handle sales via the homepage and selected specialist dealers. That sounds like artificially induced shortage. What other reasons are there for that?
Andre Kriwet: Our approach is completely different: no more categories, a shoe that is soft and stable at the same time and above all good for the knee - all these things are new, and we need partners who can to tell our story right. The specialist running trade is the ideal place to introduce runners to True Motion.

Our approach is not to use big marketing campaigns, but to convince at the foot of the runner. That takes selected, strong partners and time. We are not interested in conquering the market overnight, we want to grow healthily.
True Motion starts selling this summer - and very carefully: with only one shoe, the U-Tech Nevos, in two colors for men and women. In 2020, a second shoe is to come onto the market. Why this cautious entry - and how do you intend to become one of the leading providers in this highly competitive market? Or isn't that the goal?
During my time with Nike and Brooks, I learned that 20 percent of product lines generate 80 percent of sales. The goal must be to create absolute consumer favorites, so-called franchise models. These lead the market.
We'll have fewer models than other companies, but we'll put the latest in research and development into every shoe. Every little detail of our shoes is meticulously discussed, developed and tested.
It may be that this approach, as you put it, seems more "cautious", but we want to build the best running shoes in the world with real innovations and 100 percent focus on the runners. And we believe that this particular strategy will ultimately reward quality rather than quantity.
One of your predecessors as ISPO Award winner, ON, also started with "Cloud" at first, but now they sell many special models worldwide, for example for trail running, and also produces running clothes. Could ON be a role model for you? What is your long-term market strategy?
What ON has achieved is absolutely unique. Congratulations on this. However, our approach is different, we want to develop functionally biomechanical solutions for runners, coupled with a fascinating new running experience. That was precisely our motivation to found our own running shoe brand.

We have remained very curious in our career. How can we build a running shoe that is more comfortable, performs better and is healthier? These questions have driven us and will always drive us. Because our goal is to inspire runners. That is our strategy, more in terms of content than figures.