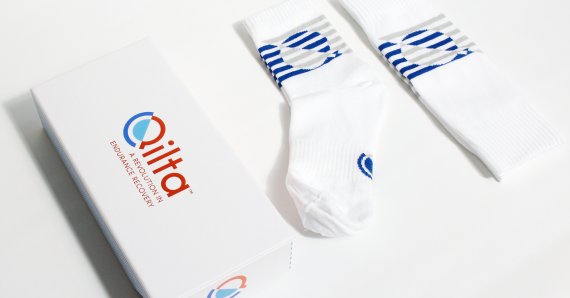 Probably every runner and endurance athlete knows the problem: The fitness is there, the head is ready, but the maltreated feet are unable to deliver. Swollen, sore and blistered by tough training weeks or extreme weather and underground conditions, they turn running, training and even everyday life into torture.
The problem: As much money and effort many athletes invest in their equipment, as often they neglect the care of their most important tools - their own feet.
The Irish startup Qilta starts right there with its recovery socks and calf sleeves of the same name for before and after the sport. "Qilta has been specially engineered to help soothe and relieve dry, tired feet and calves after endurance sports," explains Qilta CEO and founder Jim Dunne: "Our unique formula embedded within the twin-skin sock design provides immediate cooling for aching muscles, rehydrates tired, dry feet expediting the recovery process so that athletes can return to routine faster and fitter. Recovery starts from preparation and therefore wearing of Qilta a day or two in advance prepares the calves and feet for activity and then ensures a quicker recovery when worn immediately after!"
The inner layer of the socks and sleeves directs a regenerative formula directly onto the feet until it is completely absorbed by the skin. The outer layer protects shoes and clothing from leakage. After only half an hour of use, Qilta promises soothed and refreshed feet and calves. Within one hour the stockings have completely unfolded their regenerative effect.
The coating of the inner layer of socks with the desired formula is easily done in about one minute with the included Qilta Applicator (patent-pending). The materials are robust, durable, recyclable and can be washed easily at low temperatures.
The community of ISPO Open Innovation can experience the innovative concept of Qilta well before the official sales launch in 2019: Qilta is already looking for sports testers who can try out the Recovery Socks completely free of charge and perfect them with their feedback. Ultra runners are just as much wanted as team athletes or outdoor enthusiasts.
"We want to learn how each athlete benefits from Qilta and incorporates it into their training and competing regimens. We want to learn about the wide range of ailments that affect these athletes and impair their recovery and how Qilta can help them return to optimal fitness," says Dunne.
In a first phase, the community can provide important input to Qilta in a questionnaire until 9th September. Afterwards, selected participants will be allowed to put the Qilta socks through their paces and take an exclusive look at new developments from the Irish.
Qilta wants to work with the community on further formulas tailored to different sports and conditions.
Jim Dunne wants to come a step closer to his ambitious goal: No less than creating formulas that are "all tailored to respond to the unique needs of these athletes". Their feet should thank him for it.