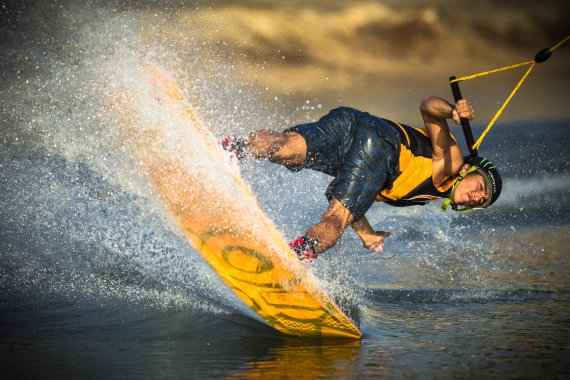 In his portfolio are victories at the 2014 "Cable" WWA Wake Park World Series, the 2010/2014 WWA "Cable" WWA World Championships, as well as at the "Wakeskate" WWA World Championships in 2012, 2013, and 2014.
In an interview with ISPO.COM, the first 18-year-old professional wakeboarder talks about the special challenges of big air events like those at Munich Mash, his day to day training, and the future of wakeboarding as an action sport.
ISPO.COM: Mr. Grant, on your website there stand in capital letters: TAO. What does that stand for?
Daniel Grant: That's my nickname. TAO means turtle in Thai. I got this nickname from my friends, because when I started riding I always wore a green lifejacket and a green helmet. In that outfit I really did look like a turtle. I held on to the name because I think it's cool to perform with your own nickname.
What are you expecting from the big air event in Munich?
It's going to be an awesome show, and I like the idea that each rider can only show one trick. That kind of competition is a great opportunity to present our sport to a large audience, and I'm glad that I get to be a part of it.
What is the biggest challenge at Munich Mash?
Since you can only jump one kicker and only show one trick, the biggest challenge is getting a clean landing. I'm already really looking forward to the training units – then we'll see what all we can get up to on the kicker.
"Sports or career? Decision made with 13"
There are no big air kickers in normal wakeboarding parks. How does one train for such events?
You can't train for big air events in everyday life. But all the same, I do try to do jumps when training in the wakeboarding park where I'm in the air for as long as possible and pick up enough speed to fly far. Only when we train on the kickers before the competition can we really work on our tricks and test out what's feasible.
So you don't have any plan about what tricks you want to show?
I decided that spontaneously, after the first training session. But in any case, I'm someone who doesn't like to plan very far in advance. If I had to make a plan for everything in my life, I would snap. I like surprising myself.
Here's the overview on the action sport of wakeboarding
What is your day-to-day training like when you're at home?
During the week I try to train at the wakeboarding park every day, because less is going on then. What exactly I do then always depends on who else is there on that day. I do wakeboarding and wakeskating. So when there are lots of people wakeboarding, I snag up my wakeboard too. But if I catch a day when not a lot's going smoothly for me, I switch to wakeskating and try new things out with that.
Do wakeboarding and wakeskating have the same importance for you?
Yes, I constantly switch between both boards – both are a ton of fun for me.
Your professional career began when you were just 13 years old. How did you reconcile sports and school?
When I got the opportunity to wakeboard professionally, I had already several accumulated several absence days at school. I then had to decide if I would keep wakeboarding in addition to school, or concentrate fully and completely on the sport. At 13 years old I then decided on my career as an athlete, moved away from home and into a house right next to the wakeboarding park.
In wakeboarding – as in other action sports – film projects are a second core focus of work as a professional athlete, next to competitions. Is there a project you're currently working on?
A filmmaker accompanied me for all of last year. This year I unfortunately didn't have as much of a budget, since Monster Energy's backed out of the sport. Therefore, I purchased my own camera equipment and film at home with my friends at our park and at other spots, such as Bali or in Europe. It's fun editing the films and learning something new doing it. Then when I finish editing the film at the end of the year, I'll see whether I'll go and get a pro to help me or if it'll work like that. My sponsors support the project and, after the successful film from last year , are completely behind me.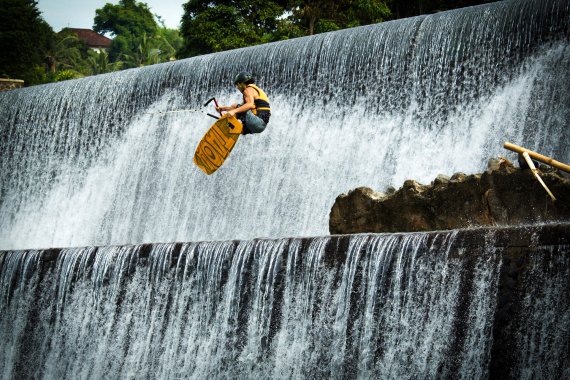 "Wakeboarding still has a lot of potential"
Action sports are also interesting as advertising platforms for major brands. Nevertheless, companies keep pulling back out after a short engagement, like with Monster Energy. What do you as a professional athlete think about that?
We athletes can only accept the situation as it is. Of course, the sponsorship by Monster Energy enabled me to do a lot. Now I'm my own man. I have the feeling that brands from the USA especially display this "hire and fire" mentality in sports. We as athletes just have to live with it.
Get your full dose of action sports on ISPO.com
How do you assess wakeboarding's development? With the sport continue to grow and stay interesting as an advertising platform?
I think that, at the moment, the sport is continuously growing. Events like the Red Bull Rising High are important because they present the sport professionally. There everything's just right: from the organization to the support of the riders, all the way up to producing first-class photos and videos. That isn't always the case at WWA events, unfortunately. There is definitely still potential here to improve communication and thus make the sport even more popular.
Wakeboarding was on the shortlist of new sports for the 2020 Summer Olympic Games in Tokyo, but still got a refusal from the IOC. What does this mean for the sport?
A presentation at the Olympic Games would definitely have been good the sport's popularity. But only if the competition format would have been at the level of the X Games. The best athletes have to compete in the best competition format, otherwise it's not an advertisement for the sport. For me, Olympic boxing is a negative example – compared to professional boxing, it's a completely different world.
A forecast of the future of wakeboarding: In which direction should the sport develop?
I think there'll continue to be all disciplines of wakeboarding and wakeskating. With the technology of System 2.0 , more and more events can take place where you can reach a large audience. This development will definitely continue to advance – and our job as athletes is to present the sport as well as possible.