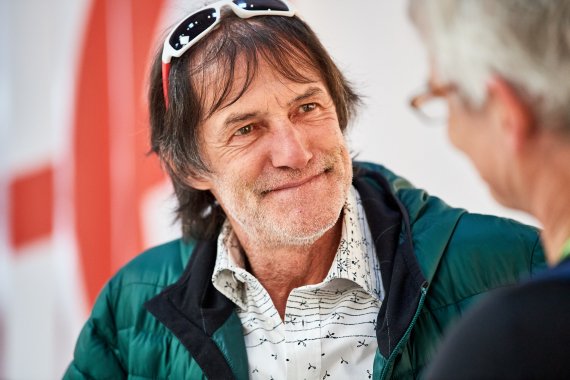 Even though Hans Kammerlander has officially completed his summit hunt, he still visits Nepal at least three times a year. This has to do with the fact that the trained mountain guide leads groups through the beautiful summit world of the Himalayas. Also with the fact that the now 63-year-old South Tyrolean wants to convince himself on site that his projects are making progress.
For a quarter of a century, Hans and his friends from "Nepalhilfe Beilngries" have been working to make sure that the children in this bitterly poor mountaineering paradise are a little better off. During this time, 26 schools have been built with donations, two of which bear the name Hans Kammerlander.
The world-class mountaineer is particularly proud of three orphanages and the only school for children with blindness in Nepal. In addition, there is a women's and children's hospital as well as practical help for the people, such as micro-credits or fire engines.
If I am in Nepal, my visit to the schools is always an absolute highlight. When the children sing and laugh, it's better than all the eight-thousanders put together," says Hans at ISPO Munich 2020, a statement that says a lot about today's view of his climbing career, in which he has climbed twelve of the 14 eight-thousanders on this planet.
He became legendary by attempting the first complete ski descent from Mount Everest and the fastest ascent of the highest mountain in the world. The ascent and descent took only 23 hours and 50 minutes. In addition, there is the first ski run from Nanga Parbat and over 100 first and solo ascents in the Alps. Today Hans Kammerlander is committed to a gentle approach of the alpinists to the mountain world.
Reinhold Messner's former companion wouldn't go down this road again the same way if he could turn back time. "I lost many friends on the mountain, this wound always remains", says Kammerlander.  The expedition on Manaslu in Nepal in 1991 was particularly tragic when his friends Karl Großrubatscher (crash) and Friedl Mutschlechner (lightning strike) died within a few hours.
It was also these losses that repeatedly encouraged Hans Kammerlander to create something that will last. He feels that helping the children in his second home Nepal, which was devastated by a severe earthquake years ago, is the perfect way. "Sir Edmund Hillary was a model for me in this. His first ascent of Mount Everest has made him world famous. And he has used this fame to give something back to the country. Many other alpinists didn't do that."
In addition, Hillary repeatedly emphasized in public that the Nepalese mountaineer Sherpa Tenzing Norgay was crucial to the historic ascent. The New Zealander Hillary also founded the Himalayan Trust, which in addition to expanding the infrastructure also built numerous new schools and hospitals. Hillary later said that this was "the most important task of my life".
Hans Kammerlander sees it in a similar way. Again and again he calls for donations during his lectures or makes charity events. He is supported by his sponsors for instance Lowa. "When I told them that the construction of such a school in Nepal only costs about 40,000 to 50,000 Euros, they immediately said that they would finance the next project", reports Hans. He wants to continue using his famous name to help the disadvantaged children in Nepal: "This is something that makes me really happy.