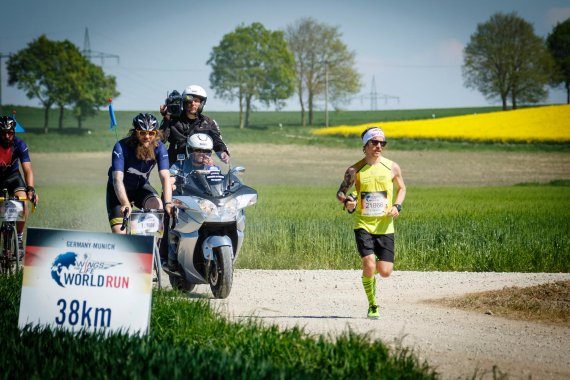 ISPO.com: Florian Neuschwander, you're starting at the Wings for Life World Run with the slogan: "We run for everyone who no longer can."
Florian Neuschwander: When I imagine not being able to run anymore: that would be a catastrophe! Running is my life.
How did you come to this life?
My first run was a two kilometer school run; I went with my mother, quickly got my bib number just before. I still had tennis clothes and tennis shoes on. My mom said, "How do I find you afterwards?" I answered, "Your best bet would be right at the front. I'm going to win this thing easily." It actually worked. After that it kicked off. I was 16 then.
Youth team, German B team, DLV team, training courses. Everything look like a classic running career, as is common in running . Until you'd had enough of the lane track.
I wasn't in to systematic training anymore. If you want to achieve something with that, you have to really train hard. Two, three times a week on the lane, dully demolish your rounds, always show discipline. It was too monotonous to me. I already knew that you can't keep up with the Kenyans, it's not enough even for the top of Europe. Fun was always in the foreground for me, and then I just decided: I'm just going to run how I want to. 
How Florian Neuschwander became an ultra runner: he read a book
Then you switched to long distances.
Running through the terrain for so long fascinated me. I wanted to run wild through the countryside. Then during my sports studies I got a hernia; I took half a year off. Just partied. And then came a day when I realized: I miss running. I went for a casual jog in the forest, and then suddenly I felt up for competition. I jumped right into a city run, 10 kilometers. That's when I knew: okay, now I'm always going do things how I want to. 
And how did you come to long runs, the ultras?
I lived in London for a year and read a book there: The Ghost Runner.
Bill Jones' story of the former boxer John Tarrant... 
...who wasn't allowed to start on any amateur run, since he had earned a little bit of money as a boxer. He was blocked from all competitions. Then during ultras, he always hid behind a tree and secretly ran along without a bib number. The guy fascinated me, and that's when I knew: I want to do something like that too. Then I ran 50 kilometers through the terrain for the first time in 2011. 
What's the allure?
You never know what's going on. It's more varied in the countryside. I just run off, I never have a look at the route. Just run ahead of me, look around at the landscape a bit. And when getting in the flow works, then it rolls. Just 'Run with the Flow,' that also what my website's called (laughs).
But you do run for accomplishments very well. You've been ninth place at the 100 kilometer world championship, were vice-world champion in the ultra section, and have even just beat the German record for 50 km. That doesn't just happen without any systematization.
I'm one of the few who can combine the two: fun and thoughts of performance. Many people say: Flow, how is that supposed to work, always running for fun and then cracking records – that just doesn't work! For me, it works really well.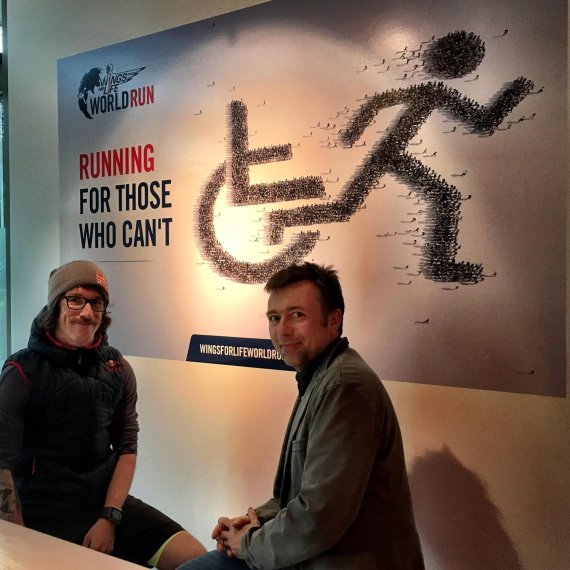 What is your training like?
I have two, three core units a week that also require discipline. I have to do that so I can reach my times or break records. But the rest is true freestyle. And I do that just how I feel like doing it.
Florian Neuschwander's training plan? Freestyle!

What's an example of a Flo Neuschwander core unit?
Let's take a 30 kilometer run from a typical training week of late: that's when I need 1:19 hours for the first 20 kilometers. Then knock another one out the last ten kilometers, in about 31:20, so one more hit on that. Or something different: 30 kilometer endurance run, of that eight times 2,000 meters in marathon speed, so 3:15 minutes per kilometer.
And what about your freestyle?
When I don't feel good in the morning, and first a 15 and then a 10 are on the schedule, then I first skip the 15, sleep some more, laze around. Then eventually I think: now you've wasted the whole day away. And in the evening I feel better, and instead of running two 15s, I run one 30 at night. Anything can happen on that sort of freestyle day.
How many kilometers do you get to then?
In the past few weeks, I've done an average of 175 kilometers per week. Per year, with regeneration, it's about 6,000. However, I do see to it that I always fit rest days back in. I usually take a break two days a week, where I just go jogging for a bit. 
What does jogging mean to you?
Totally relaxed, so about 4:30 minutes per kilometer.
Many find that a passable competition time. Of course, they don't run 100 kilometers at a stretch – like you. Where are your limits?
Limits? I don't know any. I've run 100 kilometers three times already. My dream is the largest hundred mile runs in the USA, the Ultratrail's Big 5, starting with the Western States 100.
How do you keep fit for these distances? Do you also do regular stabilization exercises and strength training?
Stabilization and even strength are the worst! I'd rather run on the lane. Before, my trainers always said: 'stabilization and strength, if you'd do that, Flo, you'd be even better.' I say: that's not true. Then, namely, I wouldn't have any fun anymore, and wouldn't even run anymore. Eventually they gave it up. I have my own ideas. And they say: if it's not fun, I'm not going to do it. I don't have to do anything.
No stabilization at all?
Nope. None. Nada.
And strength?
Nope. None. Zero. 
Stretching?
Zero.
That's against the training lesson.
But it does work for me.
Just running?
Just running! And majorly relaxing when I'm tired. When I'm not running, I'm really lazy. Then I just hang around the couch and don't move. Or just enough right up into a cafe.
Neuschwander's nutrition plan? I just eat everything!

And you don't have any problem with injuries?
I've been running since age 19 with no injuries. Sure, a couple of booboos. It's normal for it to hurt sometimes. But I always know exactly what goes off in my body that way. It's different with hobby runners who only have one, two, three years of running experience; they quickly do something ill-advised. When I notice something's twinging in my foot, then I know right away if I can keep running or if I need to take a longer break once in a while.
Do you have a nutrition plan?
Sure! 
Namely?
I eat everything!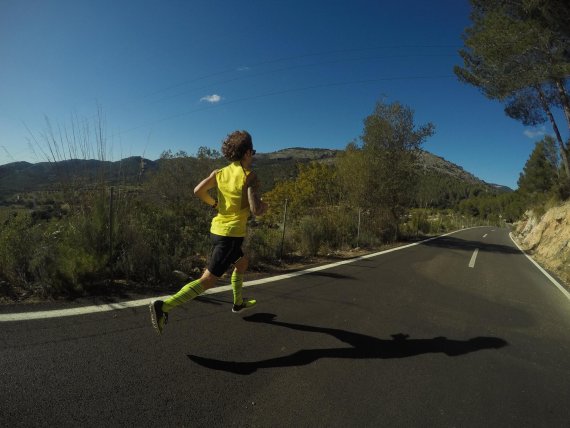 In training camp, you posted about food. There were fries, steak, red wine.
That was a giant piece of meat! With fries! And sure, a glass of wine or beer once in a while. I do the same thing eating as I do running. I keep it how I feel like.
People like you for this distinct style. You have 25,000 fans on Facebook, a large following on Instagram.
That went off last year after the Wings for Life World Run. It went off like crazy on Facebook! People said, "How's that for someone who runs so far! Crazy dude with this schnauzer!" Lots of people who saw me on TV or read the reports said afterwards, "I haven't been running for forever, but now I'm doing it again – because I saw that Flo." That's fun for me. Motivating people to go back out there and run. Sometimes it gives me goosebumps. 
The Wings for Life World Run 2015 was your breakthrough. As a professional as well?
Yes, I can live off of it, if that's what you mean.
Sponsors: what makes Neuschwander attractive for Brooks & Co.

You haven't just accumulated kilometers, but indeed also sponsors since then.
Sure, I have Red Bull. And Brooks as a shoe sponsor. Garmin is along as a running watch partner. And Gore for clothes on top of that. And Led Lenser, they make headlamps. They all support me, sure, but it's work, too. I'm a bit of a business man now, too, and I'm on the road a lot, for the companies as well. Sure, it's fun, but it also work. A film here in Mallorca, shooting there in South Africa.
What makes you attractive for sponsors?
That I'm always different. Not a vanilla runner. That I look different, that I run sick routes, I'm kind of a sick guy. That we can do cool things together. It's the same way for me with freestyle. I propose something, they want it.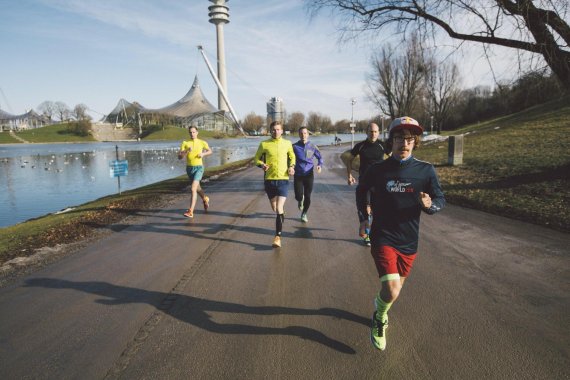 You've even acted in a movie:  "Der geilste Tag" with the German actor Matthias Schweighöfer.
Well, that I didn't find that exciting: the whole day on set, standing around for ten hours, and then in the evening I was allowed to scurry through the shot for one second – no one will recognize me. I wouldn't necessarily do it again – unless, I get the leading role.
You do have talent, as your videos on Facebook Live show.
Oh yeah, the one live video or other was well received. When I ran through the forest while my mother waited at home with some schnitzel, over 47,000 people were watching. I'd like to upgrade that. Facebook and Instagram are my thing. I also have a couple of ideas for Snapchat, but that takes so much time. 
You don't hire an agency?
I've had a couple of inquiries, but then that wouldn't be me anymore. Right now it's me 100 percent. I also answer all the messages myself. I don't have a manager, either. I don't need one.
And you make dates to go running with your followers on Instagram. 
Yes, I did that at ISPO MUNICH: Called up on Fridays for a run through the Olympic Park on Sunday, then suddenly there stood 60, 70 people in my hotel lobby. 
You also have an online shop.
It's called: Shop with the Flow. Oh yeah, I also have a lot of ideas there for how you can make something creatively. A real collection, designed, stylish, surfer and skater style, a distinct line. Urban running, high-quality, preferably fair trade or something from the region, designed together with artists, something creative. 
It seems as though you still have a lot of ideas for the future.
I'm 35. As an ultra runner, I can't run ten years at a good level. And I do have lots of ideas for later. I'd most like to open up a hipster cafe or something. Everything that's fun for me in a business model. A shop with my own collection plus craft beer, with good coffee, good food, and from there running meetups go off in all directions.