What distinguishes great sports careers from very great ones is a sense of ideal timing when it comes to quitting. Three months after her surprising double gold-plus-silver triumph at the 1976 Winter Olympics in Innsbruck, after a season in which she also wins the world title in the Alpine combined and the overall World Cup, Rosi Mittermaier says goodbye to the ski circus. Her enormous popularity remains unbroken decades later, as she continues to leave her mark on new slopes.
Certainly, the physically small (1.59 m) but great Rosa Katharina Mittermaier will continue to have an impact for a long time after her death—both personally and athletically. "You don't find a person like that again," says soccer legend Sepp Maier on behalf of many who now miss Rosi Mittermaier very much. Tobias Gröber, Head of ISPO Group, writes in his letter of condolence to Rosi Mittermaier's family: "Rosi Mittermaier will always be remembered by us and the entire winter sports community for her lovable, open and cheerful manner. Her joie de vivre and enthusiasm were downright contagious and an inspiration for millions of people in Germany and far beyond." Not only did she help the megatrend of Nordic Walking achieve a breakthrough in Germany, but her ski gymnastics exercises on Bavarian television have become a cult favourite. Her lifelong credo: Modern man should move, get out into nature, instead of wasting away sitting.
"She was a prime example of how to remain down-to-earth and accessible despite breathtaking success. She stood in exemplary fashion for love of one's homeland, sportsmanship, tolerance and fair play," said Bavarian Prime Minister Markus Söder in praise of the ever-radiant Rosi Mittermaier, who was so much more than a ski racer. Namely, she was also a symbolic figure of the former Federal Republic; for the once ridiculed agricultural state of Bavaria, which has matured into an up-and-coming winter sports location anyway.
Rosi Mittermaier was a representative of the new, self-confident Bavaria, the female counterpart to Beckenbauer, Hoeneß and Müller, the nation's bomber. As an Olympic ambassador, she later promoted the Winter Games in Munich, and the CSU asked her to stand for the election of the Federal President in the Federal Assembly. A picture-perfect figurehead, this "Gold-Rosi".
She celebrates her greatest sporting triumph in 1976—and suddenly everyone knows "Gold Rosi". Before the Winter Olympics in Innsbruck, no one had her on their radar; others were the favourites. That's why people in Reit im Winkl are all the more excited when the then 25-year-old is escorted through her home by the police, with her three medals around her neck. Only the letter carrier named Steff sighs because he has to lug Rosi thousands of fan letters and packages up to the Winklmoos Alm every day. As a thank you for the delivery, there's always coffee and "a nice" snack from Rosi's mother. The Mittermaiers passed on the endless bouquets of flowers to hospitals in Traunstein and the surrounding area.
She achieved a total of 41 podium finishes in the Alpine Ski World Cup, including ten victories. Among other things, she made it to first place twice on Copper Mountain in the USA in 1976: in both the slalom and giant slalom.
Even ABBA was no competition for the Olympic champion. Despite their successful title "Dancing Queen", the pop group had to settle for a bronze "Bravo-Otto" (German accolade awarded to of performers in film, television and music) in 1976, while Rosi Mittermaier, of course, took home the gold. The very first female "pop star" of skiing was born. The New York Times christened her "Miss Smile", and "Rosi, we kiss you!" was the headline of the German Bild tabloid. "With this success, Rosi has made a significant contribution to women's sports being perceived differently," says Maria Höfl-Riesch, who won one more Olympic gold medal as a ski racer than her idol, but was not celebrated nearly as frenetically. No one after Rosi Mittermaier achieved that.
Perhaps there were a few too many kisses for Rosi Mittermaier's modesty and her idyllic home: "There was no more grass growing in front of the house because there were so many people," was how she explained her departure from the professional circus. Again and again, encroaching fans climbed over the fence to take a peek into Mittermaier's dining room.
The medals changed her circumstances, but Rosi remained Rosi. The snow ("When it snows, it's a jubilant day for me. Everything ugly was covered up."), and skiing, she kept affirming, were her most beautiful things, "total freedom." Because of the hype surrounding her, she gave up what she said she loved most of all.
The skier was as happy about her comrades' victories as she was about her own. She never radiated an Oliver Kahn-like obsession, instead: Cheerfulness and warmth of heart. As if the pure joy of gliding down the white splendour had won her the gold at the 1976 Olympic ski races. "She did not seek success, but perhaps that is why success found her," surmises the "Tagesspiegel" in its obituary.
Mark McCormack also recognized that the golden Rosi had potential beyond the purely sporting. The US American, legendary founder of the International Management Group, is considered the inventor of modern sports marketing. Alongside tennis ace of the century Björn Borg and other top international athletes, he signed Rosi Mittermaier - the only German athlete who is no longer active.
The deal brings her two million marks for a three-year term, a huge sum at the time. She designs a winter sports collection, advertises skiing products, performs at advertising events, all over the world. In context of the time, Jet-Set-Rosi, at the end of the 1970s, was quite a modern woman for a girl from the Winklmoos-Alm.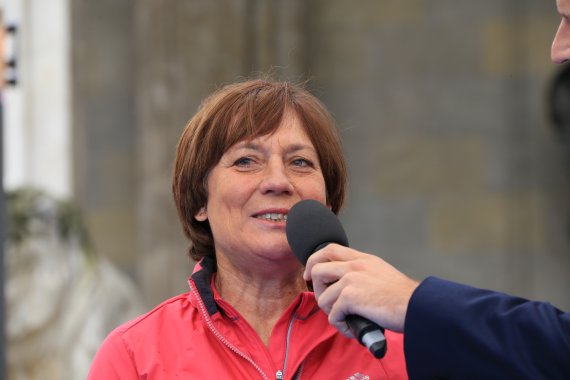 This was the beginning of "a second life" for her, writes Rosi Mittermaier in 2011 in her book "Fröhlich bin ich sowieso " (I'm happy anyway), an upbeat mix of autobiography, life and cooking recipes. "All of a sudden I was a businesswoman, although money was never important to me. I immersed myself in a completely new life, was able to discover new things and expand my horizons. I was constantly on the road. Whether in America or in Japan, across the world, everywhere I went … I was passed around with extreme pressure to keep appointments, as if I had done something extraordinary." The latter would come across as pseudo-modest with many a star, but with Rosi you buy it.
She said she was grateful for New York, Rio, Tokyo, but the longer this journey lasted, the more she longed to return: "To my roots, to my Bavarian origins, from which I never wanted to move away." Her parents and her siblings, her eternal great love Christian Neureuther, whom she met when she was 15, and her children meant everything to her; she also missed her friend Traudl's Kässpatzen (traditional German noodle dish with cheese) and the professional sewing machine her mother gave her as a wedding present.
She goes on to write: "When I see what influences children have to cope with nowadays, I realize how lucky I was to have had a childhood in simple circumstances." Her parents had emigrated from Munich to Chiemgau. The Mittermaiers first ran an inn, later a student dormitory. Father Heinrich taught the guests how to ski, and mother Rosina took care of their meals. Rosi's family didn't need much for their happiness in life: "Harmony in the family, time for each other, health, and nature."
For young Rosi, exercise was abundant: right outside her door. In this environment, she "casually acquired her need for movement and coordination for the rest of her life through fun and games. That's what the Playstation kids of today lack, she says. Rosi Mittermaier therefore publicly complained that sports were on the cross-off list of kindergartens and schools. "We parents also have a responsibility to do justice to these fundamental findings of human biology. We must provide our children with play and exercise," she urged.
She also brought sport and nature closer to her own two children, the fashion designer Ameli Neureuther and the successful ski racer Felix Neureuther. 
In the preface to her life story, she advises her readers to get up from the sofa between chapters and gently do squats or stretching exercises. Rosi Mittermaier's credo is that people need to move. Movement is the basic human instinct, which is in danger of atrophying in our civilized world.
With numerous books such as "The Healing Power of Sports: More Health with Fun and Enjoyment" or "Stable Bones - Mobile Life" she immortalized her appeal and inspired her readers. When the Hollywood megastar of the time, Jane Fonda, triggered a worldwide workout boom with aerobics videos, Rosi Mittermaier countered with ski gymnastics exercises on Bavarian television, which have since enjoyed cult status.
Together with Christian Neureuther, she helped Nordic Walking, which was initially unknown, to achieve a breakthrough in Germany. They published books and DVDs about this sport, which originated in Finland in the seventies, and they also delighted fans of this sport in many places with their "Nordic Walking Days". Rosi and Christian, who already entertained an audience of millions in the early eighties as a feel-good couple, unusually equal for that time, as permanent guests on the TV show "Dalli Dalli," are considered in this country to be the most important midwives of this megatrend.
For this, too, ISPO is honoring Rosi Mittermaier in 2005 for her life's work. "With Rosi Mittermaier, the sports world is losing not only an exceptional athlete, but above all a personality who was warm, likeable, and down-to-earth beyond all measure, despite all her fame," said Tobias Gröber, Head of ISPO Group. "It was a great honor and pleasure for us to award Rosi with the ISPO Cup for her unique athletic career and her multifaceted social commitment."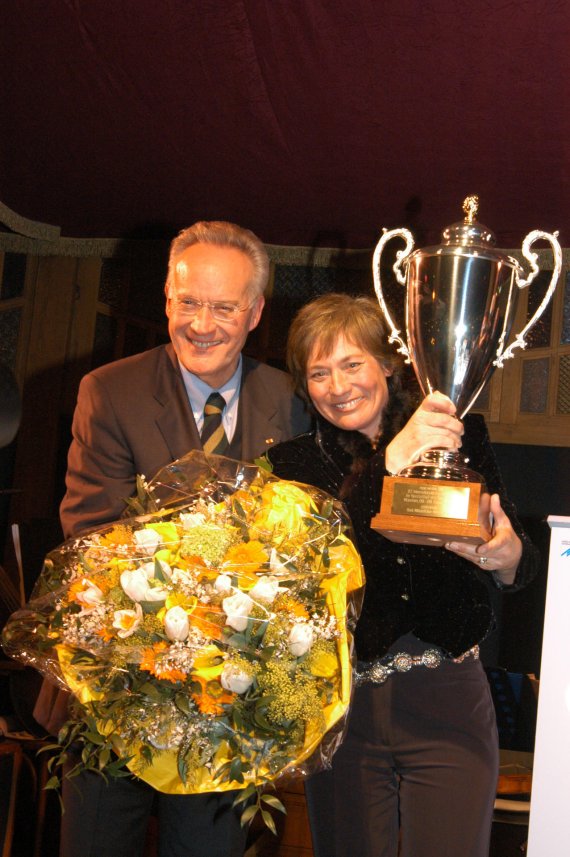 Her commitment to people who need help was indeed extraordinary. Among other things, Rosi Mittermaier contributed as patron of the Children's Rheumatism Foundation. "What hype is made about our top athletes, every little ache is worth a headline and is widely discussed," she states in her book. Her heroes are the children in the clinic, "who fight for themselves and their health every day anew. My heroes are the doctors, caregivers, and parents who sacrificially care for the future of these children, who beam at me positively and tell me how well they are doing. The German Children's Rheumatism Foundation also expresses its condolences: 
Rosi Mittermaier also got involved with the initiative against bone loss and as a sponsor for the initiative "Wir helfen Kindern" (We help children), which works to improve eye care for blind and visually impaired children in Nepal and Zimbabwe. She preferred to talk about these things rather than about her successes as a racer, which for her were no more than a nice episode in her life.
A longtime companion, actress Michaela May, sums up in one sentence what Rosi Mittermaier is most about: "For me, she wasn't 'Gold-Rosi' because of her medals, but because she was simply golden." Many colleagues and athletes also mourn the ski racer, for example former Italian ski racer Paolo De Chiesa, who finds touching words on his Instagram profile: "Farewell to Rosi Mittermaier, the gentle super champion!"