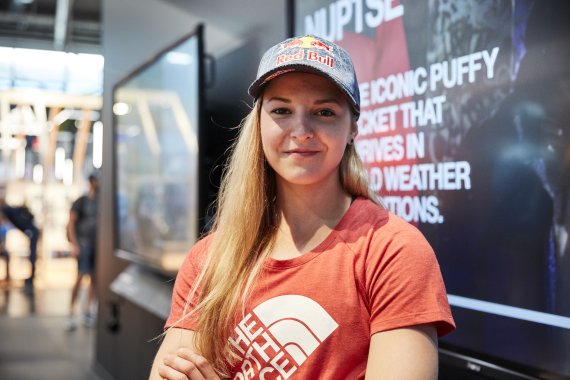 Jessica Pilz is Austria's biggest climbing hope. In 2018, the 22-year-old became world champion in lead climbing and won bronze in the combination in Innsbruck. So it's a good thing for the world-class athlete that climbing will be Olympic for the first time in 2020.
ISPO.com spoke to Pilz at OutDoor by ISPO, where she visited her sponsor The North Face and the Indoor Climbing Hub in Hall A6, about the finish in Tokyo, the climbing competition and the climbing boom.
ISPO.com: Ms Pilz, with North Face, your sponsor and that of the Austrian national climbing team, you have been supporting the "She moves mountain" campaign for two years, which aims to get more women to climb. Is this omnipresent man/woman thing a topic in climbing at all?
Jessica Pilz: When it comes to climbing, it's actually quite balanced. In the competitions both sexes are equally important, get the same amount of attention and the same amount of prize money - at least since I've been there.
Despite being only 22 years old, you have indeed been in business for quite some time - and most recently as successful as never before: last year you won gold and bronze at the World Championships. And now the next major event is already scheduled for next year: Olympia in Tokyo...
My short-term goal is the World Championship in Tokyo in August. There will be three individual disciplines and the Olympic combined format. The top 7 can already qualify for the Olympics, and that is of course my big goal.
Where do the strongest competitors come from?
Two from Japan, Slovenia has also very strong athletes, one has just won all six World Cups in bouldering. Here in Austria there are two ladies with me who are eligible for the combination for the Olympics.
In which disciplines would you like to compete in Tokyo?
My special discipline is Lead, but because of the Olympics I have started to train all three disciplines.
So, how do you like this eventing training?
I've actually always done a lot of bouldering and climbing on ropes, so I'm pretty good at these two disciplines. But speed was completely new for me, I started from scratch. At first, of course, it didn't go so well for me. You don't have a good time, but you should be among the world's best... But now I'm under ten seconds, a reasonably good time.
And it has become fun because you want to get better and better and you notice progress - that makes it more easy-going. It's just a completely different discipline. It's more walking than climbing. You need your legs to do it. But I can't really afford that because that would mean just too much training.
Does that mean you have to train differently?
Speed climbing is in any case faster and more powerful, you have to be more explosive. It's not that technical.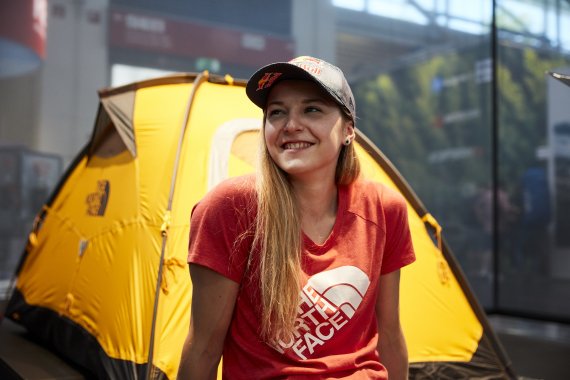 How big are the Olympic Games for you?
I can't really say that right now. When you're there and you see 20 different sports at once - I think that's pretty cool. But I am not an athlete who has always dreamed of the Olympics. The subject has now simply arisen because I am reasonably good at two disciplines. It would be stupid not to try to be part of the Olympics.
Have you been in Tokyo before?
We already had a training camp there in February. The people are extremely friendly, helpful - and the food is extremely good. I like being in Japan.
You get around the world quite well anyway with all the competitions around the globe, but you're still studying sports science in Innsbruck, right?
I let that go after two semesters. This is simply not compatible with sport. Now I'll focus on making it to the Olympics and then we'll see what comes next.
Climbing is the latest trend, they say. Are you aware of this increased interest as well?
Absolutely. Since the Parkour style came into fashion two or three years ago, climbing has also become extremely popular. Especially at my home in Austria it is noticeable that the bouldering halls sprout out of the ground like mushrooms.
How's that?
Climbing is very easy: you need climbing shoes and a chalk bag, and you can start bouldering. A relatively inexpensive sport.
Which you also rather accidentally slipped into...
Right. When I was eight years old, I took part in a holiday program in which you could try out different sports - and climbing was what I liked most.
Do you climb rocky outcrops in addition to the hall?
Very rarely.
Not your thing?
No, not yet. During the competitions there is no time for it. You prefer to train indoor, because you have to prepare specifically for the disciplines. When the competitions are over in November, I will go onto the rock for a while.
But none of those spectacular big walls like Yosemite Park?
No, no, up to 20, 30 meters.
An extreme wall like the El Capitan: Doesn't it itch you?
No, not yet. But it's extremely impressive.