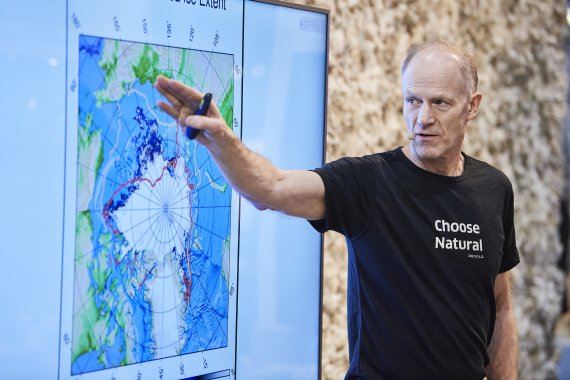 Just when Borge Ousland thought his trip to the North Pole will be over, he made a video so he tells the audience at ISPO Munich 2020 standing at the stand of outdoor brand Devold in Hall A2 and clicks on the image on the TV screen behind him. He then starts the video with another click and lets the viewers watch for a few seconds.
On the screen you can see the outline of a person who ventures through the polar ice cap, which doesn't seem to be a permanent "cap" anymore, as Ousland had to learn. Another person stands in front of the camera and in front of Ousland on the ice and suddenly disappears. Ouslands companion Mike Horn crashed into the polar sea. The movie's stopping.
"That's when I knew it couldn't go on any longer," Ousland said. He had fished Horn out of the sea quite quickly but he was completely soaked. "But then he was back on his feet in five or six hours." The journey could go on after all. Together with the South African companion living in Switzerland, the Norwegian Ousland was already on his way to Russia through the North Pole in 2006, so both knew what they were getting into.
Nevertheless it was a special trip that the two of them took in September last year. They were on the road at the North Pole for 87 days one month more than planned. "We have seen firsthand how the ice declines and the effect of climate change." Sometimes they made their way on a small snow path around the thin ice, a surprisingly large part of which they had to do in their little one-man-boots. "Again and again there were obstacles or open water in front of us. We didn't really know whether we should go left or right", says Ousland.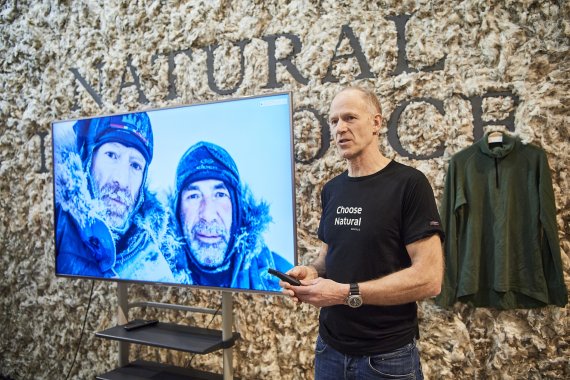 "And the weather played tricks on us too." Unusually thin and drifting ice caused delays again and again and made the small travel group drifted back 20 kilometres overnight. The food stock slowly ran out until two helpers brought more supplies. That was again the most beautiful moment on his way, reports Ousland.
You can see how the current state of the Arctic has taken the 57-year-old. So the first thing you think of is what lessons Ousland has learned from this and you find out that he already lived sustainably before. He mounted solar modules on his roof, he tries to use public transport as often as possible otherwise he drives an electric car. In everyday life he wears wool clothing instead of clothes with microplastic. On his expedition he therefore also relied on functional clothing from Devold.
The super-user in terms of sustainability promotes a change in thinking even on a small scale: "Everyone thinks that climate change is a big problem. But I think if we all do just a little bit for the environment, we can really make a difference." That's a bit of the unbending North Pole explorer talking.
Ousland and Horn consumed 6000 calories per day. "This is also the limit of eating enough on the one hand and performing on the other." On the extended journey he nevertheless lost a total of 15 kilograms. "I'm still working on getting them back on," he says. And right now he enjoys the simple things in life: like taking a shower every morning, having lunch or simply sitting on a chair.