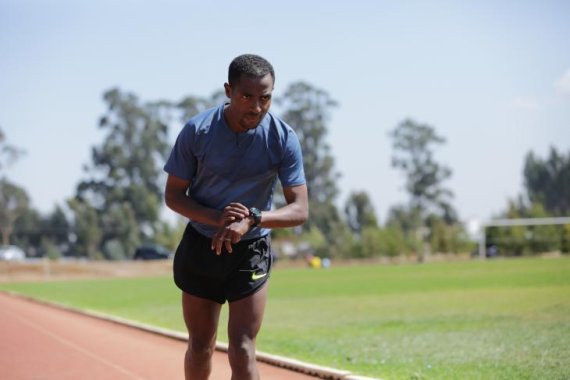 The goal is clear: Yannis Pitsiladis and his team at SUB2HRS aim to push the marathon record below two hours – without doping or prohibited aids. Rather, they seek to do so through technological means: the latest wearables.
In an interview at the Wearable Technologies Conference 2018, he explains his 360-degree monitoring and training approach, talks about the Sub2 attempt by Nike, and details the next steps on the path towards the world record.
ISPO.com: Professor Pitsiladis, the current marathon world record comes from the year 2014. Is it even possible to get under the two-hour mark in the first place?
Yannis Pitsiladis: We're at a point where it's no longer about if we can do it. The question is when we can break the two-hour mark. For that reason, SUB2HRS is bringing together scientists from all kinds of fields, elite runners, and strategic industry partners. The countdown is running.
Wearables weren't invented by SUB2HRS. What's different with you?
There's already a lot of excellent technology. But it's often been developed by people who, while they do understand technology, they don't know how the human body works. They can put sensors all over a Formula 1 car and get real-time data anytime during the race. But that's not easy to carry over. The human body is significantly more complex, after all.
For me, it comes down to combining technical developments as presented at the Wearables Congress at ISPO Munich. We want to see in real-time what's really going on in the human body – without influencing daily life.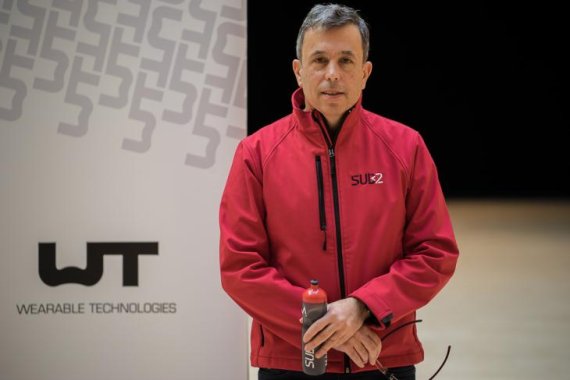 And what exactly does that mean?
We develop and utilize digital technology to record all relevant information at any time. For example, the athlete's body temperature is an important variable during training and competitions. We can measure and plot it very precisely, but thus far we can only evaluate it after the training unit. We're currently working on a sensor that can be easily swallowed and sends data in real time via Bluetooth.
Better data alone isn't enough to make you faster.
But precise data allows for much more precise training direction. Our project goes much further; we're looking at the marathon as a whole. In the current world elite, we need an increase in performance of two to three percent. We can achieve that as a sum of several small changes. We're taking the approach of optimally adjusting even the smallest setting screw in the system.
Take a barefoot runner from Africa. If we stick him in normal running shoes for a marathon in Europe of the US, he's going to lose about one percent in energy. That is why we're working with our partner On Running on modified, special shoes that can balance that out.
Nutrition and, ultimately, bioenergetics, are also important – that is, the question of how energy can be absorbed, transported, and converted. Here we're utilizing a new beverage that releases glucose only once it's in the intestine – much more energy can be absorbed there than the stomach, for example.
Doesn't the sport lose a lot of its allure when records are planned on the drawing board?
It's always planned and worked out very purposefully. A marathon is a marathon, even at SUB2HRS. The world record remains a fantastic individual achievement by the athlete. We just want to ensure the best possible conditions and leave as little as we can to chance.
World record-holder Dennis Kimetto was just three minutes short in Berlin in 2014. Since then, nobody has run faster in an official race. Why is that, exactly?
Dennis is an interesting example. He's one of those athletes whose career our project could have saved. He's probably one of the most talented long-distance runners of all time. But since his record in Berlin, he's hardly ever successfully completed a race.
Dennis would like to be on board with SUB2HRS; he also uses some of our innovations. But he chose the money after his world record, and his sponsor won't allow any closer cooperation. That's understandable, but it won't make him any faster. 
Your project is about people – how important is the psyche?
The many small changes I talked about depend very heavily on the athlete's mental capabilities. Athletes today concentrate on improving the world record by a few seconds. That's what their brain is committed to. In interaction with the body, this programming is then called up in the race. So we're also doing research in the field of psychobiology to find out how the mind and body interplay at a high tempo.
What does an athlete need to bring with them to achieve the great goal?
The athlete who breaks through the two-hour barrier will have a special physiology. Specifically, it's about the ideal combination of running economy, VO2 max., and sustainable oxidative metabolic rate. Lastly, it requires excellent coordination of lung circulation, heart circulation, and the muscular metabolic system. We're looking for athletes who can bring these abilities, and then promote them very purposefully.
Sounds as if only very few top athletes could benefit.
What works for the pros should also help the Sub3 or Sub4 runner, albeit in a simplified version. Digitization and new wearables make it possible for us to develop custom training concepts for each individual athlete. The new technologies show very quickly and precisely what effects various training measures have on the respective runner. That then helps us optimize the training process for the individual.
What you're describing would also facilitate applications outside of the sport.
Of course. We're working very intensively with some of our new partners. For us, the first step will be monitoring pre- and post-operative care. The system always keeps the treating physician up to date on how the patient is progressing in her own four walls. That way, home sweet home becomes part of the clinic. The patient still shows up for the operation, receives treatment, and then after the operation goes back home.
Thanks to digital technology, we can continue to monitor health status from a distance. These very difficult experiments around the marathon also help us here. That's because the biggest challenges are implantable sensors that work in real time and, for example, measure blood pressure.
SUB2HRS is focused on high-tech; information is everything. Will your project make coaches obsolete?
Absolutely not. Our technologies and methods provide coaches with information they can use to make well-founded decisions. For me, right now the weakest component to preparing elite athletes is the fact that coaches fundamentally take a trial-and-error approach. They try something that could work. But it usually doesn't. And that is the problem.
As long as they operate according to trial and error, they're always going to fail. We hear about great successes, sure. But you don't hear anything about the many failures.
Despite this, many prominent runners have left the project.
That's true. In the past two years, we've lost all of the athletes we supported. That's simply a matter of money – the big sporting goods manufacturers pay successful top runners twice or even three times the amount we can offer. In addition, these big players also claim to have similar projects and can support the runners accordingly. But when you take a closer look, you'll see that's not true.
These are decisions that the athletes need to make. But what really annoys me is that, in some cases, we have lost some of these athletes over a laughably small amount of money. And for almost every one of those athletes, their performance has weakened since.
They make runners fast, and then the big money beckons. What can you do about that?
We're going to found our own Sub2 team. Our model in doing so is going to be very clear. The athletes know that we work exclusively for them. We don't want anything to do with the modern-day slavery you can see around the marathon scene. All the knowledge and all the money that comes in via sponsors, we invest in the record – that is, in our athletes.
Your project is often linked to the Breaking2 project by Nike. Officially, however, you've never worked together.
That's right. When I kick-started the project in 2014, I was on the hunt for sponsors all over the world. I also spoke with Nike back then. In the end, however, they preferred to only use certain parts of our overall approach.
How should we picture that?
We were still negotiating in Rio 2016, while Nike had already enticed athletes and employees away from us in the background. That was irritating, of course. But I can't get hung up on that. In the end, they launched a marketing-driven project to promote a new shoe. With which they were also very successful. They achieved their marketing goals, and now they don't need the project any more. We're taking a scientific approach. I think that, ultimately, the Nike experiment even helped us – our idea has been taken out of the corner of weird science. By now, the two-hour mark is a recognized goal.
Where could the two-hour mark fall?
When it comes to the existing big marathons, I'd pick Berlin. Not just because of the course, but also due to the way it's organized by a young group of forward-thinking decision-makers.
But maybe we also need to create our own course. We have a lot of plans. It's also about an innovation where the course could be flexible. But I'm not saying anything about that yet.