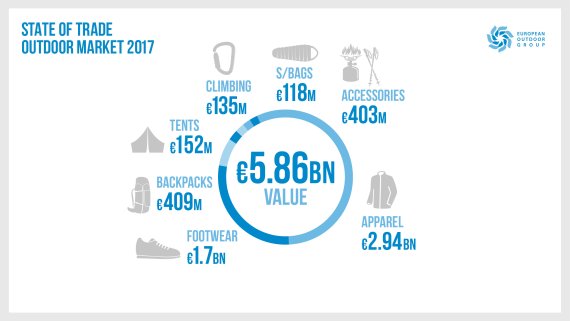 The EOG estimates the industry's total 2017 turnover at €12.3 billion, not including discounts and special offers.  The strong results in its State of Trade 2017 report, which is based on data from 115 companies from all over Europe, are in stark contrast to the stagnating market of 2015 and modest growth (3 percent) of 2016.
"Our industry is now worth €5.86 billion. That is a huge figure," said John Jansen at the EOG press conference in Friedrichshafen. "Even we were surprised how good these figures are, how strong growth has been," said the President of the EOG, the association of leading European outdoor companies, which has extended the contract of General Secretary Mark Held by a year.
Jansen: "Of course we benefitted from the weather. It was a good winter, but summer also brought growth of 5 percent. Altogether we can be very pleased. We have developed our industry further."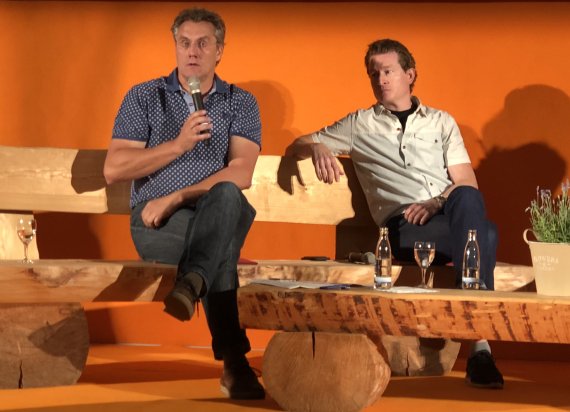 The total value of the European outdoor market has grown by €600 million in just 2 years. "That is the strongest growth we've seen in the industry since 2010, and we're very proud of that," says EOG President John Jansen. "We have achieved a very high level. We're very pleased to be able to announce figures like these."
Shoes recorded the highest rise, at 13.4 percent.  But it was also positive news for the industry as a whole as all segments recorded growth – tents were the only area to fall in 2017, and at almost 10 percent this was significant. This drop was caused by poor weather last spring, a key period for tent sales, especially in the UK.
Segment overview:
Clothing: €2.94 billion (up 5%)

Shoes: €1.7 billion (up 13.4%)

Backpacks: €409 million (up 5%)

Accessories: €403 million (up 6%)

Tents: €152 million (down 9.8%)

Climbing accessories: €135 million (up 6.7%)

Sleeping bags: €118 million (up 9.7%)
"The results of the 2017 State of Trade are hugely encouraging and show how successful our industry is," says Pauline Shepherd, EOG Head of Market Research, who produced the State of Trade report.

Read here: These outdoor products won the ISPO Award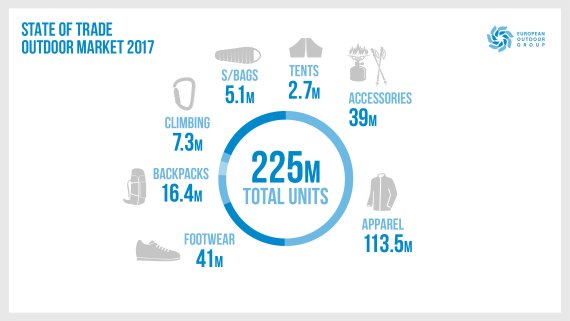 The three biggest outdoor industry markets covered by the EOG are Germany, France and the UK. Together they are worth €2.95 billion, more than half the total market volume.
With 37 percent of the total market, Germany is the market leader and it recorded growth of 3 percent – similar to the previous year. "It's a stable market," says Pauline Shepherd.

France saw negative growth: down 2 percent. "Things then recovered a little in summer. We expect further rises in 2018," says Pauline Shepherd.

The UK market is experiencing above-average growth of 8 percent, with particularly strong growth in autumn/winter (14 percent). The North Face, Columbia and the Fenix Group enjoyed growth in the double digits.

In Scandinavia, Norway is the market driver.

In Eastern Europe, Poland led the way with significant growth in turnover.
In terms of the seasonal distribution, Pauline Shepherd happily reports that, "both seasons were good. The strong figures are based mainly on the autumn/winter business." After two weak winters in 2015 and 2016, business grew by 8 percent in winter 2017  to €3.2 billion. The comparative figure for spring/summer was €2.65 billion, up 6 percent.
Accordingly, industry sentiment is positive regarding winter 2017/18: "73 per cent say it's better than expected," explains Pauline Shepherd. However, she also identified a challenge for 2018 in the company survey: "The market is positive – but the spring season wasn't quite as good because we had a very good winter and we skipped straight into summer. Spring business hardly got off the ground."
The industry will continue to focus on the topic of sustainability, says John Jansen: "The companies that are successful now are the ones that were laughed down 10 years ago for working on sustainability. But now they're the most successful because they found their place, their brand essence. The industry must lead through example. We have to give something back to nature. Without nature there's no outdoor sport."
The role of traditional trade fairs in attracting these target groups was also discussed at the EOG press conference in Friedrichshafen, where OutDoor 2018 will be held for the last time before moving to Munich, and continued in 2019 as OutDoor by ISPO. "Trade fairs have an important function in the outdoor industry. 80 percent of our members want a trade fair," said Jansen. "But trade fairs will change too, we have to move with the times."
The concept for OutDoor by ISPO, which was chosen by a majority of EOG members after a pitch by five applicants, will be presented in Munich on 27 June.