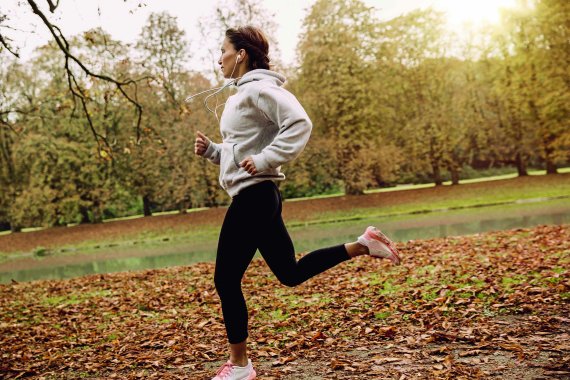 There is no better time of year to start running than autumn. Running trainer Susan Baumbach also knows this: "Especially for beginners, autumn is the perfect time", says Baumbach. "One does something for one's health by moving around regularly in the fresh air at this time when it's so popular to sit on the couch at home."
However, the positive effect of walking is not limited to the time directly after the unit. Because according to Baumbach, anyone who runs in autumn lays the foundation stone for an all-round sporting year.
So you start into spring with the first positive running experiences in autumn and winter. When the first road races over five or ten kilometres are due, the first steps towards becoming a year-round runner are a thing of the past.
As it's the case with many sports, running becomes more comfortable with the right clothes. The cold conditions when running in autumn can be annoying but high quality running clothes keep you dry as well as they remain lightyl insulated. Get yourself a good pair of running shoes as well as headgear, pants, shorts, Shirts, jackets and vests. 
If you run through autumn and winter, you will not only train your running legs - the rest of your body and above all your soul will also benefit from spending time in the fresh air. "One goes through this time with a completely different power. The classic feeling of being bloated and sluggish at Christmas time is missing, and the probably most frequent New Year's resolution to do sport and live healthier has already been implemented before January 1st," says Baumbach.
In this way one could also counteract the New Year's bacon. "Exercise in the fresh, cool air automatically increases your desire for a fresh, healthy diet." So get into your running clothes, even if autumn is still so dreary and grey.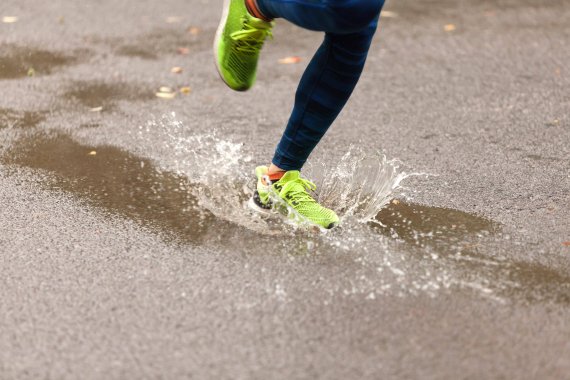 In autumn it is important to choose the right running outfit. It must be breathable, water-repellent, but not too warm. The expert swears especially by a good running undershirt that fits snugly to the body, a thin, warm intermediate layer and - very important - a wind- and water-repellent, tight jacket.
With the latter it is worthwhile to dig a little deeper into your pocket instead of investing in several medium-quality jackets. Important: Don't wrap it too thick.
"If you run off in such a way that you don't freeze, it takes about 15 minutes until it's too warm," says Baumbach. "So always dress in such a way that you freeze for the first five minutes and shiver for another ten minutes. Then it usually fits, and you feel comfortable running in autumn."
A headgear is also important to avoid catching a cold in autumn. At the feet Baumbach pays attention to high-quality shoes for good step security. "Goretex shoes guarantee warm, dry feet and usually also have a different profile, which also increases surefootedness on snow," she assures us with a view towards winter.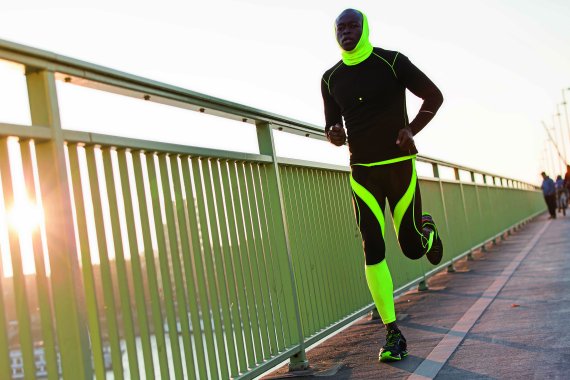 Choose the right running clothes: Breathable, water-repellent, but not too warm - these are the key words for the autumn running outfit. A tight-fitting running undershirt, a thin intermediate layer and a windproof and waterproof jacket.
Make sure you wear the correct shoes: High-quality shoes are a must for good surefootedness. The footwear should provide the necessary profile on muddy surfaces or snow-covered stretches.
Drink even more: If the air is very dry in the cold, joggers lose a lot of fluid through breathing during training. Therefore: Drink a lot before training and replenish your fluid balance quickly afterwards.
Apps as motivation: Especially in the dark season it helps to motivate yourself with running apps. The gamification of running units and the virtual race with friends via app overcomes the laziness.
Trails for new impressions: Trail running not only brings variety and lots of fun - you also get to know the surroundings from a completely new side.
In spite of all these positive running aspects, there is always one or the other reason to stop putting on your running shoes in the evening. Maybe the working day was long and exhausting? It's wet and cold outside? Even then, there are some tricks to outsmart the mind.
Running expert Baumbach praises running as a personal time-out: "Running clears your head, and then there is room again for the essential, for the beautiful and the positive," she says. If you still don't like running in the dark, you can also choose an illuminated running track, which is often found in Europe.
Autumn running is good exercise and especially beneficial as the cold days often make people sick. With the right running outfit you don't have to worry about getting a cold - instead, you will stay in shape during times when most people sit back and don't do nothing for their health. 
At last, we will answer some of the most asked questions about autumn running.
Jogging is primarily beneficial for your cardiovascular health. It might help you with weight loss as well but in comparison to other sports (e. g. HIIT or weight lifting) jogging burns less calories.
The average jogging speed is between 4 and 6 mph. That is a bit faster than walking but still slower than running. However, speed varies and depends on level of experience.