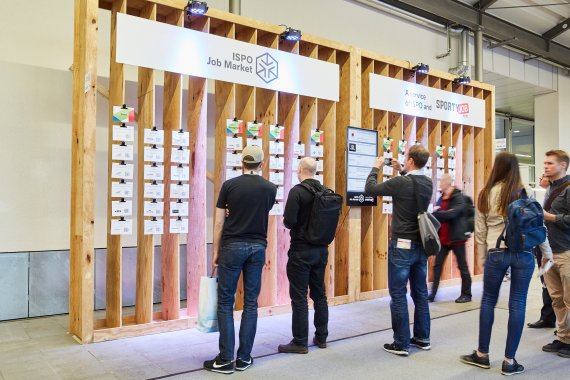 ISPO Munich 2018 is the industry highlight of the year. For exhibitors, buyers, the specialized press – but also for people who want to reorient themselves in their jobs or get their foot in the door. So many interesting companies in the smallest space, so many company representatives that are also on the look out for new employees – there is no second time in this industry. So it's ideal to sound out your own career opportunities, or even initiate conversations for a job switch. Our careers experts Andy Gugenheimer (head of sportyjob.com and cooperation partner of the ISPO JOB MARKET) and Gunther Schnatmann (recruitment consultant with daily insight into demands made by HR) reveal how applicants can find their dream job at a trade fair like ISPO Munich.
At a specialized trade fair like ISPO Munich, only a professional audience that knows the industry is going to attend. That's right. But if I'm a young professional or a student in a sports degree program actively seeking job opportunities, I also have to devote myself very intensively to the exhibitors that are interesting to me as future employers. That means I have to go through the list of exhibitors some time before the trade fair – not just the day before. When doing so, I need to check: Which company is interesting for me, where would I like to work?
Once you've limited the circle of your contact partners, then you need to pay more attention to the their companies and products and to do some serious research on their respective websites: In which sector is the company seeing strong growth? What new products is it offering? How are the company and its products discussed in individual sports forums? What's my own opinion on it – are people on the right track with their new running shoes? Do current decisions raise questions, like why a new testimonial was ordered?
"People who intensively prepare in this way can impress with their knowledge and questions in conversations at the booth. Company representatives happily jump at precisely these kinds of qualified conversations. And then they don't just pass you along to HR's staffing@xy address, they'll name a specific point of contact or happily forward your application contact data," says staffing consultant Gunther Schnatmann.
The second part of the preparation process is this question: How can I get my former experience and my very special expertise to the point that it makes me an attractive candidate? So I can't wait until the conversation at the booth to figure out what experience and successes I've gained so far! I need to work that out ahead of time. It's comparable to an "elevator pitch," where I have about 1-2 minutes to convince a stranger that I'm exactly the right person for their company.
A visit to the trade fair booth is also an elevator pitch because the company's people are usually stressed and don't have a lot of time. So, I need to briefly describe what I do and what I've done. And then, above all else, I need to work out: What has been my greatest "success" so far? A new sales strategy? An internship where I gained totally unique experience? And finally, I need to prepare for both my own "presentation" and for follow-up questions on "where" I want to go – what are my goals, where would I like to apply my experiences, what position do I specifically see myself in?
Staff expert Schnatmann: "So, a clear picture of what a potential applicant can do and what they want to do will always make an impression. But most of all, as an applicant I gain confidence in the conversation because I know what I'm saying and I am prepared for questions!"
Good preparation is half the success. But none of that will help if I don't get to the right contact person or let myself get dismissed at the booth. One way to successfully initiate a job talk at a trade fair like ISPO Munich is contact in advance. Conventionally, via the contact information in the exhibitor index. But it can also be done via business networks like Xing and LinkedIn. Here, managing directors of smaller exhibitors and HR managers of larger firms can be contacted directly. Even if they may not be at the fair themselves, they can name a colleague who'd be happy to talk about job options.
If you don't succeed with this route, take the classic path: Just ask the booth employee responsible for staffing or recruitment. These points of contact are usually already in the middle of talks, or already have several appointments. Don't let yourself be shaken off! Instead, insist: 'I would really like to speak with your supervisor. I'm very interested in your company! If an opportunity comes up, can I ask again by phone about the appointment or would you want to call me, if that works?' "People who are persistent, aren't annoying, just showing their strong interest in the company. That can definitely earn you plus points!" says application professional Andy Gugenheimer.
Once you've nabbed the right contact person and done serious preparation, you'll usually notice: your conversation partner, who really only had a little time, is suddenly interested in you. The brief introduction and question-and-answer game is turning into a real conversation. It's important to stay on the ball. Don't just answer questions, ask some of your own. About the company's plans, its new products. Or about specific application possibilities or career paths. That shows true interest and establishes a good relationship with the other party to boot. If you actively participate in the conversation, give your own opinion, and show interest in several things, you'll be remembered! It's also important here to go from tense "applicant mode" to a more laid-back chat on equal footing. That shows control and leaves behind a huge sympathy bonus!
A trade fair like ISPO Munich is also like a big country fair. You can let yourself drift and discover something new and interesting everywhere. This should not be forgotten as a job seeker in all the discussions at the booths, whether they're initiated or the result of happenstance. Many decision-makers also gather at the events in the exhibition halls or at the fringe events. Or simply at the snack bar for a hot dog, or in the trade fair restaurant. That is why it's important to be on the look out for lots of events that you can access. Watch, be amazed, and have a conversation with the person next to you. Oftentimes you'll just get to know nice new people, but sometimes also employees of companies that might not even have been on your radar. And they, in turn, can recommend a contact person for jobs or may even be a contact themselves. Those who don't always carry the "job seeker flag" in front of them, but casually mention that they already had interesting job interviews at the trade fair, can score points in a smart way and often even have better chances than during official talks. "I got almost all of my jobs in a permanent position at ISPO Munich, mostly in talks on the sidelines," says sportyjob boss Gugenheimer.
A trade fair like ISPO Munich is the perfect job market. Of course, it's still important to stay on the ball after the trade fair. Thus, networking with interlocutors via social networks and business networks like Xing and LinkedIn. And be sure to say thanks again via email for the initial contact at the fair. Then, in the best case, the seed will grow: You can send your resume to the company by now at the latest or you can already get an offer for a meeting at the company. Anything is possible – at a trade fair you can be hired on the spot or you can gain network contacts that will contact you later on about a job. Or, as the saying goes at the Munich trade fair location: "A little bit of something is always possible!"
An article by Gunther Schnatmann, personnel consultant (schnatmann media), application coach, and media trainer