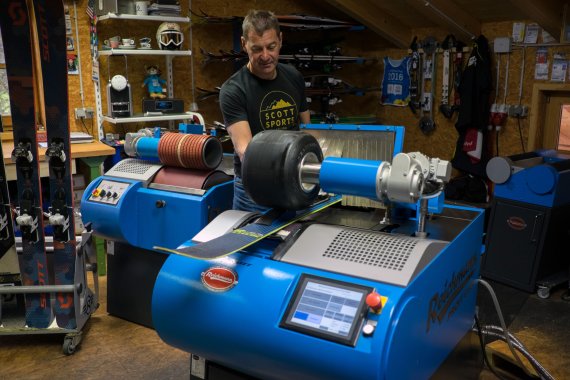 In an interview with ISPO.com, the ski service expert explains when skiers and snowboarders absolutely need to maintain their boards, what they can do at home, and when it's worth a trip to the service specialists. As an insider in the ski business, however, Reichmann also knows what skiers are valuing more and more and what effects bad weather has on the business.
ISPO.com: What is the difference between DIY ski and snowboard care and a professional service?
Stefan Reichmann: When doing your own ski or snowboard maintenance, there's the risk of unpracticed winter athletes often doing more harm than good to their own sports equipment. Applying wax by hand is harmless, and those with practice can also run a diamond file along the side edge to remove the lateral ridge that appears when you ride. This helps maintain edge definition for as long as possible.
However, if in doubt, you should probably leave edge treatment to a professional. It's generally recommended to take a look at your skis or snowboard after a run to check if service is necessary, then seek out a service workshop.
What does a good ski/snowboard service look like?
The quality of the service can be seen as early as when they accept the skis. Ideally, the service specialist will talk with the customer about what work steps are necessary for the skis or the board to lend the equipment the optimal driving qualities.
The following work steps will be carried out by a professional ski service, based on the requirements:
Handover of skis, assessment, customer recommendation

Reset side panel

Derust side panel in the tip & tail area

Pre-grind side edge for end angles

Clean surface (wash off/degrease)

Fuse surface

Plane surface

Detach lower edge

Plane surface (remove residual structure)

Smooth surface

Structure surface

Grind side edges (87–90 degrees)

Grind lower edge (tune, 0.75–1 degree)

Wash surface

Brush out structure

Quality control/Processing success (condition, residual burr)
In many cases, winter athletes will only notice whether the service was done professionally or not when they're on the slopes, testing the drive properties of the skis or board. Features of optimally prepared skis and boards: high turnability with simultaneously low effort, excellent gliding properties, and optimal grip in all snow conditions.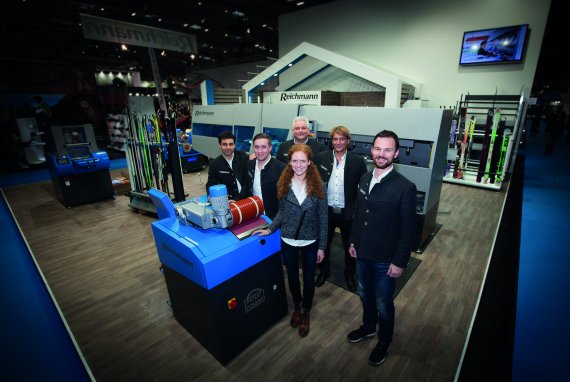 When should winter athletes get their skis or snowboards grinded?
Before the first descent of the winter

After approx. every 4-5 days on the slopes

Maybe at the end of the season
New wax is necessary after every day of skiing. Even well-maintained skis usually lose their optimal condition after five days of skiing, and should be re-prepped. A full service isn't always necessary, however. A good service supplier won't ask, "Big or small service?" Instead, they'll offer winter athletes precisely the service steps their skis or boards really need. Ski service doesn't always have to be expensive; small "brush-ups" are often enough to get skis or boards properly prepared for the slopes again.
You get your practical experience from your time among German snowboarders, among others. You've been "Official Outfitter" of Snowboard Germany for ten years now. What's that cooperation like?
We provide the service technician for the national snowboarding team with the stone grinding machine PROFI S350, for professional race service. 
To further develop our machines, we're in exchange with both the German Snowboarding Association and other national and international organizations, partners, and World Cup pros. Structures successfully tested in races are incorporated into the standard equipment for our machines.
Your company will celebrate its 100-year anniversary in 2018. You've been in the ski business since 1966. When you look back and compare, how has the business changed in the ski service sector over the decades?
Over the years, the subject of safety in winter sports has gained substantially in relevance, and has become more and more of a focus for winter athletes. Skiers and snowboarders have recognized that regular servicing is important even for winter sports equipment, in order to benefit from optimal drive properties and high safety on the slopes. Professional edge tuning has also gained a lot of importance, thanks to the development of carving skis.
For some time now, the winter sports industry has had to fight poorer weather, high competitive pressure, and often higher prices for the customer base. What needs to change in the industry?
Our experience shows that sales in service remain relatively constant, even in poorer winters. If only a little snow falls, the skis get more worn out on the artificial snow slopes and therefore will need service in shorter intervals, or require expensive surface repairs; in good winters, the number of skiers goes up, and thus too the number of services.
Thus, we as manufacturers and the service sector of our customers are less affected by these developments. However, the winter sports industry needs to place higher importance on convincing service for customer loyalty.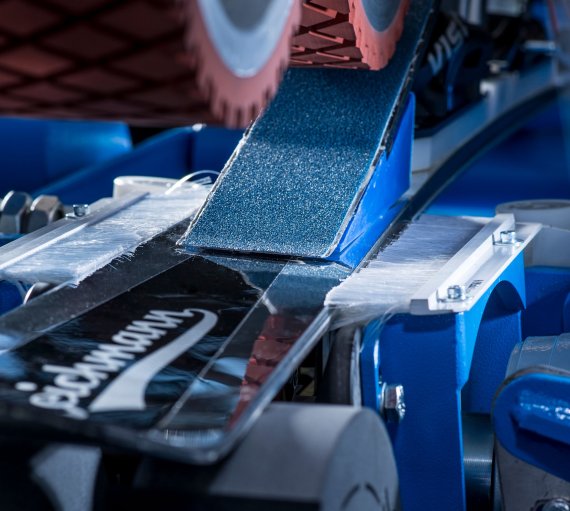 You manufacture custom ski service machines for customers all over the world. What was the greatest challenge in your company's long history?
The Italian ski racer Erwin Stricker, who passed away in 2010, was a long-time friend of the Reichmann family. In addition to his career as a professional athlete, Erwin Stricker was also an imaginative inventory and foresighted businessman. Together with his wife Linda, he built things like 20 rental operations and sports stores in Italy with high service quality.
He had the vision for his shops to shorten the working hours of his employees and increase service quality for his customers to the top level with an especially high-performing service machine. That is why Erwin Stricker approached us several times with his vision. After an intensive development period, Reichmann produced the SF-1 service machine in the year 2010. It has an innovative one-way transport to move the ski through the machine, which means significant time savings. The patented circular feed system in the SF-1 guarantees the highest possible output while still processing the skis sparingly. Seven years after the first appearance of the SF-1, the machine concept is still a market leader, successfully implemented for customers like Migros in Switzerland.