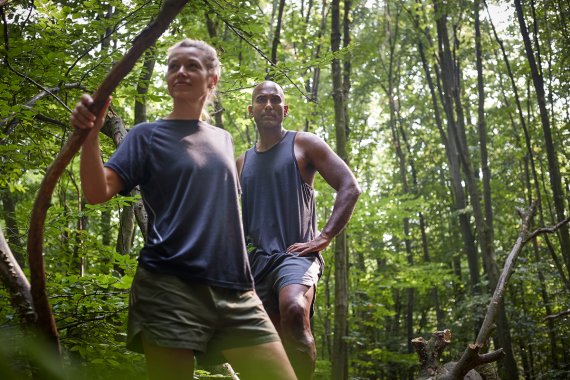 "How clean is my running gear?" "Uh, pretty clean. After all, it's freshly washed." "No, I mean in terms of manufacturing and for the environment." "Oh, good question..." "And speaking of laundry, what about microplastics when I put my sweaty running outfit into the machine later?" This, or something like it, was probably Steffen Otten's internal dialogue with his sustainability consciousness while running. When the longtime recreational runner came across the topic of microplastics, the subject never left his mind. From then on, his guilty conscience weighed much heavier than his lightweight plastic performance gear during every running session.
"There weren't really any alternatives for athletes. In particular, there was no clothing aimed at runners that was completely free of conventional poly materials", tells Steffen. The idea for runamics was born, a sustainable and environmentally friendly running brand as an alternative to conventional sportswear made of plastic.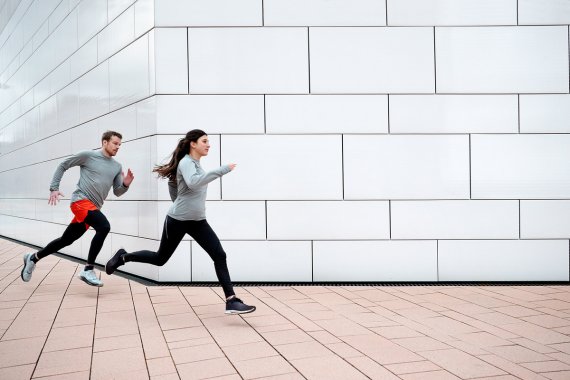 Steffen goes on to explain that poly-materials are chemically produced synthetic fibres, based on petroleum. Polyester, polyethylene, polyamide, polyacrylic... familiar terms from the labels on our sportswear. They have various advantages, are often breathable, quick-drying and light. Even more so, they are incredibly cheap to produce in Europe: In Germany, for example, mineral oil for industrial processing is not taxed. This also includes the production of textiles. And many athletes are not aware of how harmful their clothing is for the environment, even if, at the same time, they have been doing without plastic shopping bags and paying conscious attention on their diet for years.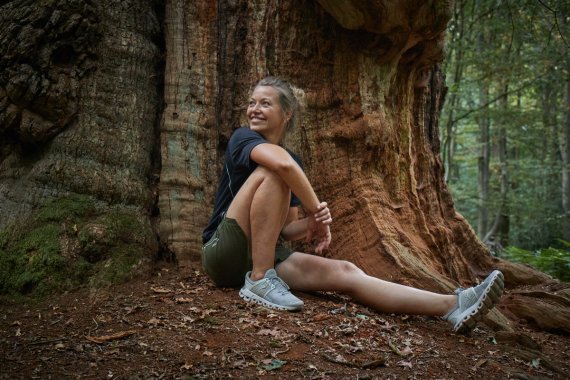 When you talk to Steffen, you realize that the trained business economist has acquired a huge amount of knowledge in an industry he doesn't actually come from. He spoke with many scientists and universities to find other materials that were just as suitable and fulfilled the requirements for functional clothing.
He also brought additional fashion know-how on board in the form of Lena Rix, a designer and industry expert in the field of functional clothing. The first goal was to develop plastic-free sportswear and bring it to market. Together they wanted to solve the problem of microplastics, which, with every machine wash, float into the sea in the form of very fine particles. After all, these particles are often too small for treatment processes and therefore cannot be filtered out.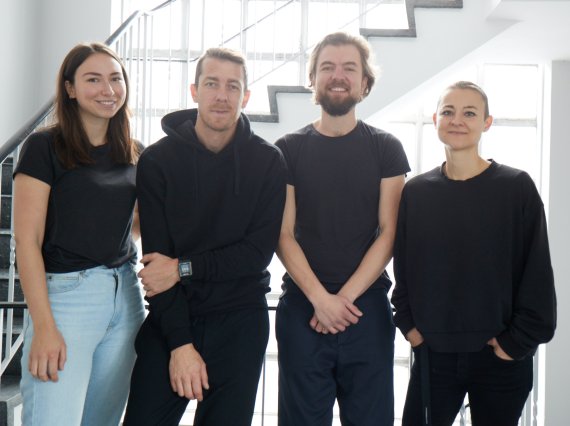 In 2019, the time had come: The two presented the first runamics collection, which consisted entirely of plastic-free merino wool and Tencel-Lyocell fibers, on Kickstarter. Through the crowdfunding campaign, the duo was able to collect 40,000 euros. Enough to launch runamics and finance the production of their first collection. Shortly afterwards, photographer Henning Heide joined runamics as the third member of the team, who is now responsible for marketing and PR for the brand.
The more the three became involved with the topic of sportswear made from synthetic fibres, the more aware they became of the extent of the problem. "A garment made of synthetic material outlives its wearer many times over.", says Steffen. The use of questionable chemical substances in dyeing, which you should and would not like to wear on your sweaty skin, is a whole other issue.
It quickly became clear that they had to find new, better materials to make sustainable running clothes. runamics products are now made from natural fibres and regenerative fibres, such as merino wool or the wood-based Lyocell fibre. In addition, runamics uses synthetic fibres that have been modified so that they do not contain harmful substances and are biodegradable: For example, biodegradable spandex or polyester. And of course, cotton is another one of the sustainable natural fibers. "Our fathers ran their marathons in cotton T-shirts. And they ran well below our best times while doing so."
Honestly now, is this a trade-off? Do I, as an environmentally conscious person, have to choose between sustainability and performance? "Definitely not", says Henning. The products should still fulfil their function, which may be different for cotton than for polyester. "The absorbency of cotton, for example, provides significantly less skin irritation than polyester, where sweat stays on the skin longer (...) Perfomance disadvantages simply are a matter of definition", Steffen continues.
Scepticism is more due to the fact that we have learned over the last 40 years that sport is done in plastic. "After all, people like to look athletic, like the athletes they are inspired by." Henning explains that shiny material is also often visually equated with athleticism, because that's what athletes have been wearing on billboards for years. So runamics running tights also bring the athletic shine and stretch of spandex, but at the same time they're biodegradable and better for the environment.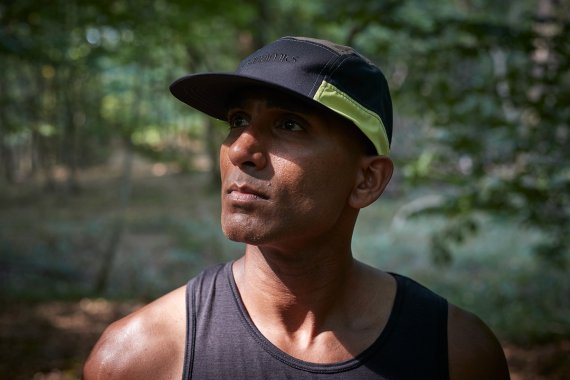 Basically, runamics also sees sustainability as a mindset. "We try to offer a complete set for every runner, so long-sleeved and short-sleeved versions, shorts and tights." The company also promotes conscious consumption; new sportswear every year doesn't have to be, according to the founders. The design is casual and timeless, in neutral colors.Thus, the start-up also wants to set an impulse against fast fashion and a flood of constantly new products with only different color variants.
Instead of thinking in terms of collections, runamics continuously improves its products. Longevity is the goal. Special: the brand also offers a repair service for its own products. "I personally rather have seven athletes who have one of our shirts than one athlete who has seven shirts. Simply because we try to make it clear that slow fashion is the most sustainable thing. Even though for financial reasons, of course, I would be happy if someone wears our shirts seven days a week", is how Henning formulates the basic idea behind runamics. Steffen adds: "We want to reach as many athletes as possible and make them think about the fact that consumption in sports has implications that are not always positive."
The team is also interested in sharing the knowledge they have accumulated over the last few years and creating understanding. An important goal in their sustainability thinking is the concept of cradle-to-cradle.
The term cradle-to-cradle refers to the principle of the circular economy. Instead of disposable products and waste at the end of a garment's life, it is managed in such a way that there is no end of life: Either products are fully biodegradable or can be endlessly recycled without loss. The result is a closed cycle in which resources are reused many times over. runamics relies on the approach that products are completely biodegradable and thus become new resources again. "So you can bury our products at home without any problems. In principle, every material is biodegradable, but for every material it takes a different amount of time and it is not always sustainable due to pollutants in the material. But with our materials it definitely is sustainable", says runamics founder Steffen Otten.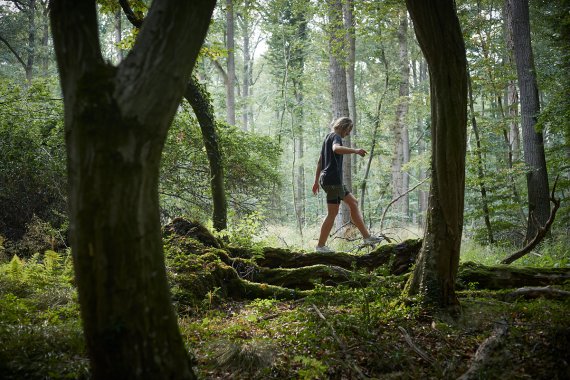 Cradle to Cradle is also a certification. Five criteria are decisive for the award: First, material health, meaning the chemical composition of a product is analyzed and examined for pollutants. Second, the amount of energy needed for production and how much of it is based on renewable energy. Thirdly, water consumption and wastewater cleanliness. Dyeing processes for example, can release pollutants into wastewater. Fourthly, social fairness in working practices and production. For example, if a production facility is certified by the Fairwear Foundation this is also recognised for Cradle to Cradle. Fifth and finally, the recyclability of materials, i.e. the extent to which they can be reused, plays an important role. The plan is to gradually get all of the brand's products certified, and thereby making runamics the first complete cradle-to-cradle sports brand in the world.
"Oftentimes brands take the shortcut and decide to reuse bottles that float in the ocean. What sounds good at first often is not the right solution, because it also creates new plastic garbage", Henning Heide, brand strategist, explains. runamics sees itself as a small challenger brand that wants to challenge larger companies to rethink.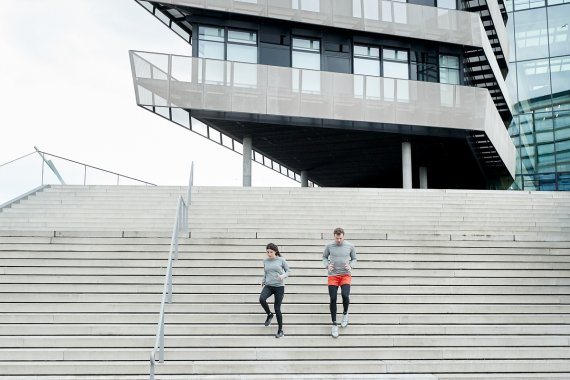 What's charming about the northern German start-up is their relaxed approach: The founders are not interested in pointing the finger at others and eco-shaming. It doesn't matter if it's big brands, the sports industry itself or the fashion fans among runners. Instead, runamics is taking it step by step, they are meticulously researching and working on their own products. For now, it's parts like the cotton running shirt and the tracksuit that have already been Cradle to Cradle certified. Soon to follow is the world's first cradle-to-cradle athletic shorts. The brand's goal: "Our ambition is that at some point, when the industry talks about cradle-to-cradle, people will think of us."
For more on runamics, the brand's background and the materials it uses, visit runamics.com.