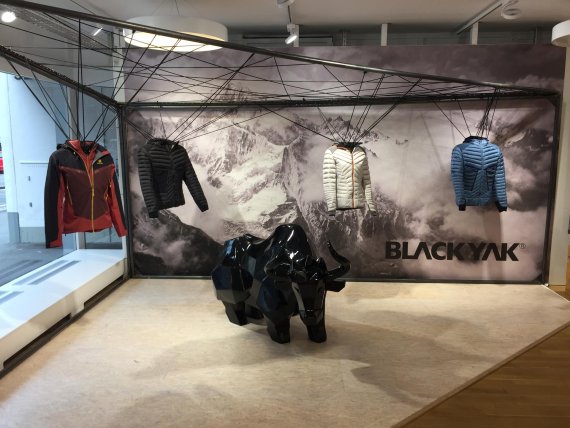 At the same time, retail was key to the brand's successful start. Maximilian Nortz, Managing Director of International Business at BLACKYAK, explains to ISPO.com how important the partnership between retail and BLACKYAK is as well as the various demands on the Korean and European markets.
Here is the successful BLACKYAK collection: Click here for the overview >>> 
ISPO.com: Mr Nortz, the first European BLACKYAK collection is available from winter 2016/17. Given that the brand comes from a completely different fashion and outdoor tradition, how did you cope in Europe?
Maximilian Nortz: We were given a very warm welcome. BLACKYAK had already set up a stall at ISPO MUNICH five years ago. We were a bit of a bird of paradise at the fair with our brightly colored Korean collection, bringing something completely different to the European market. People seemed very pleased and accepted our ideas. However at the time, we were still a little to glaring. Everyone liked the appearance, but nobody really wanted to buy anything.
We learnt from that experience and have spent the past few years working on a collection that is clearly set apart from our European competitors, but at the same time is not quite as colorful as our colleagues in Korea like to make their products. A unique collection.
And this combination of three colors at most and with out characteristic mix of materials gave us a very good position on the market. Many big names in the industry said to us: great job guys, finally we have something new!
 
Read here: The state of BLACKYAK's accounts after a year on the European market.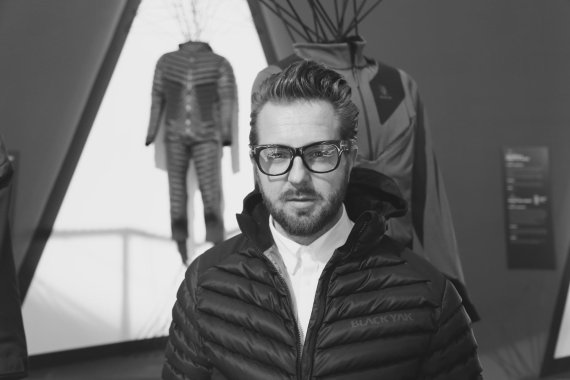 Variations in sizing, standards, design
You say, BLACKYAK's image in Korea is a very colorful one. That is one of the key differences to the European market – what others are there?
Sizing is very important. Europeans have very different proportions, for example we have longer arms. That's why right from the start, we employed one person who was solely in charge of finding the right cuts for our European collection. This employee brought over 25 years of experience in the technical sports clothing market with him.
Our cuts are very sporty and athletic, meaning that we don't create clothing for dogwalkers, but for those who seriously want to be active. And when customers buy a new item of clothing, it goes without saying that they also want to look good in it. That is another of our goals.
Colors, sizing...and there are other important aspects.
Another key point is standards. Europe has completely different certifications. In South Korea, there are certain standards that must be adhered to. However these cannot be matched 100 percent with the European market.
In addition, Korean lifestyle tastes differ considerably from those in Europe or North America. It is always important to find the right balance: how do you create a product for the global market that also has a shot in Asia? That is our biggest challenge. We have, in our opinion, already risen to that challenge with considerable success.
BLACKYAK: A great deal of effort invested in development
Are there nevertheless products in this European collection that you have, at least in part, adopted from your Asian range?
No. Our collection here is a completely individual one, designed for the needs and demands outside of Asia.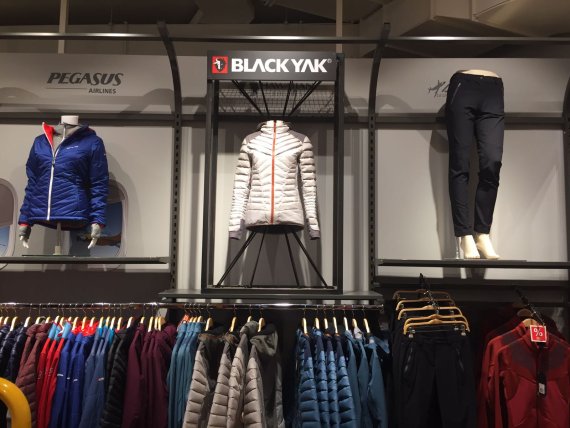 In South Korea, there are BLACKYAK shops that work according to a franchise system. Here, our collection is distributed by sports retailers. What inspired you to break away from your Korean roots in this area?
The principle of healthy growth, of taking things one step at a time. In one year, I can maybe open up two to three shops, which gives me contact points in, say, Germany, Austria, and Switzerland. But what reach does this method generate? For us, given the effort we invest in developing our products, it is much more worthwhile to equip as many people as possible. There's simply no way around retail.
"How high up can we set our products in the stores?"
How is your interim financial statement looking with regards to your cooperation with the market?
We are very happy with the way things are working out between us at the moment because our products are merchandised the way we want and appreciate. Our products simply existing in the stores isn't enough; you need excellent merchandising for your collection. You have to try and use creative solutions to put your products in the spotlight, to get people's attention.
In our pioneering work, we have always used the following method: we start by asking retailers, how high up can we set our products in your store? The higher up your products are and the better the advertising, the more attention they attract. That's why we commissioned several tall product carriers, specifically in our design. The style is very avantgarde, it's different – almost the same as our performance at the trade fair – and they have been very well received by retailers.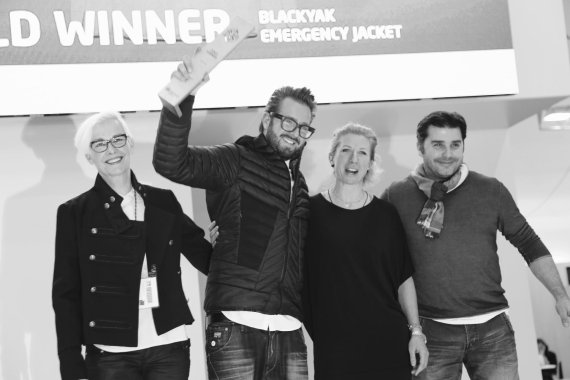 Retail is doing wonders for BLACKYAK, because at the end of the day, retail introduces the brand to the public...
That's true and we are very grateful for it! We wouldn't have come this far without retail. And that is why we are so pleased that we were able to win over some really fantastic stores. I will name a few:
In Germany: Globetrotter, Bergzeit, Keller Sport and Ertl Renz (in Munich),
in Austria: Strolz, Jennewein, and Schönherr,
in Switzerland: Jelmoli, Pesko, and Bächli.
However, it is also necessary to try and continue to support our retailers. It starts with the media kits, for example. We accompany almost all of our European products with short explanation videos, each a maximum of two minutes long. A picture paints a thousand words!
Our retailers are able to use these internally and pass them on to customers. In addition, we are working on other technologies to give us a good mix. For example, we are hoping to create hang tags that allow customers to recall this information in store. We are constantly trying to work with and for the retailers to make people's lives easier.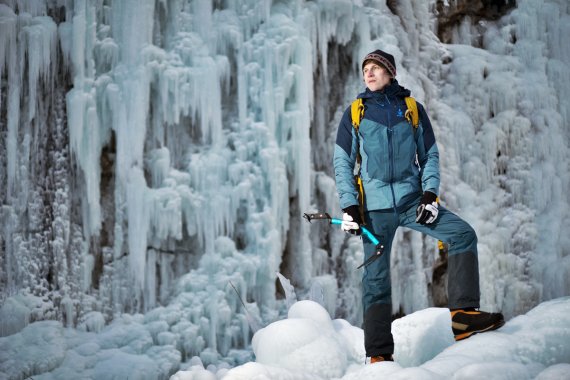 "Retail must be transparent"
What challenges do you face when selling your products?
Our products are extremely high-grade and technical. However it is always easier to sell a product that requires little or no explanation and is cheaper. A product that is very technical takes longer to sell. And retailers will often decide to sell something else before they have to spend six, seven additional minutes explaining the product to the customer. So retailers need an incentive. Our incentive is that our information is well-prepared and easy to access.
What do good retailers have to achieve, what requirements do they need to meet in order to be considered a potential partner?
Retail must be honest, fair, and transparent. If the retailer has these qualities, then nothing stands in the way of a successful partnership.
BLACKYAK also wants to continue to grow after this successful start: Click here to see the product overview >>>