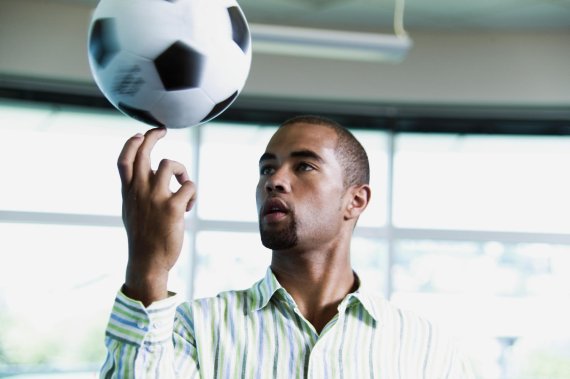 Although clubs and associations often turn to sport enthusiasts for only superficial reasons, they actually mainly make money by marketing through media, sponsors and other partners: So more like a B2B company which has straightforward business connections.
The work of marketing agencies like Lagardère (previously Sportfive) or Infront is directed even more closely at just a few target groups. Brand and broadcasting rights play a large role here – thoroughly exciting work which often earns lots of money!
Gugenheimer: Top Positions Found Internally or Through Relationships
"Especially at the clubs, the career paths are vastly different internationally," says Andy Gugenheimer, head of sportyjob.com and cooperation partner at ISPO JOB MARKET.

"At the top UK clubs nearly all positions are applied to via advert, so that the best candidates are found – no matter what sector they come from, whether they marketed cycle races or instant soup."
On the other hand, at the well-known clubs in Germany it is mostly positions like internships and traineeships which are advertised. Gugenheimer: "Candidates for top positions are found internally or through existing relationships."
From Cycling Association to FC Bayern Munich
The HR expert suggest adopting a similar approach to Andreas Jung, the marketing boss and Executive Board Member at Bayern. After obtaining his degree in sports management, he worked at the German Cycling Federation.
He got to know former Bayern player Karl-Heinz Rummenigge and was asked if he would be interested in helping support Uli Hoeness' team. 15 years later he took over a large part of his work...

"It's clearly worth starting a bit lower," says Gugenheimer. "Perhaps start in a sport with not so many applicants. Or at a club in the second or third league." Then you'll become more attractive to the bigger clubs and will also grow in experience.
Bicycle Kick at Borussia Dortmund 
Carsten Cramer got his position at league rivals Borussia Dortmund through a "bicycle kick" maneuver. Cramer oversaw the relationship between BVB and Sportfive between 2002 and 2007.
He was so good at his job, that the marketing agency made him head of their German business, because he knew the workings of the club so well.

2010 then saw his bicycle kick return to Dortmund, also because Cramer now knew the marketers so well.
Zigzag Route for a Career Boost
"Having experience with the business partners is of course to your advantage," says Gugenheimer. "A zigzag route between the club and the marketers or industry often gives a boost to your career."

Is this how Cramer launched his career? He wrote articles in the matchday programs, sold advertising space and gave stadium announcements – For the third tier team Prussia Münster. 
Outside of relevant sports experience, marketers are looking for a mix of knowledge of business and law. There are lots of tricky legal contracts to deal with. But there is also lots of dealing with percentages and yields – those who work in this area must be ready to do mathematical acrobatics...
Nike, Adidas and Red Bull are Door Openers
The most sought-after applicants are those who come out of sports management, who have already worked with the sponsors. Above all, the major sports manufacturers, who sponsor many athletes, events and clubs.
Those who work in this area know what offers the companies expect from the clubs, so they can be involved with sponsor revenues.

Gugenheimer: "Those who work at Adidas, Nike or in particular at top sponsor Red Bull have gained firsthand experience and will find career entry and rising to top positions much more eas. Furthermore you often know people personally through business relationships, which makes everything easier."
Successful "Detour" to Red Bull
Red Bull in particular have lots of interesting jobs for career starters, according to Andy Gugenheimer.

Students could be a "student brand manager", advertising the drink on campus and driving around in a car with a large can on top. "It often starts there," says Gugenheimer.
More tips: Get to know decision makers from companies and clubs!

Whether in person at industry events such as ISPO MUNICH or over the internet, through Twitter, Xing or a committed blog which you use to bring attention to yourself.
Trainees Have Good Chances
Aside from this high-school leavers should not, according to experts, neglect the good old-fashioned apprenticeship or dual study.

It is often much easier to get a job with the top names as a business trainee with good grades than a study internship with 1000 applicants.
And after the traineeship you've already made impressions and have practical experience, and after your studies will have significantly better chances than many of your classmates.
Gugenheimer: "The Enthusiasm Must Be There"
So, getting a job with the top clubs is a complicated affair. But the dream is achievable!

Andy Gugenheimer's most important advice is that "the enthusiasm for the club and the sport must be there, along with the absolute desire to bring it to bear – and with a few tips and tricks it can be done."
Searching for a job in the sports business? ISPO JOB MARKET is biggest job fair – around 1000 jobs are waiting for you there.