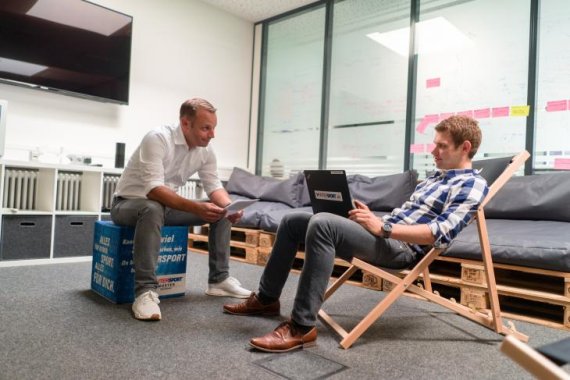 Since November 2016 Carsten Schmitz has been the Chief Digital Officer at Intersport, the association of over 900 retailers. Previously, he was Omnichannel Director at
Rewe (retail group) Digital and Executive Director of E-Commerce at Lidl.
He has settled in quickly – and successfully – to the world of digital sports business. In fall 2017, the CDO also  rolled out the Cooperative Retailers Platform (CRP) at Intersport. 150 retailers are on the waiting list. In an interview, Carsten Schmitz explains the path to becoming an omnichannel retailer. And says: "E-commerce doesn't work with a baseball bat."
ISPO.com: Mr. Schmitz, you have now been Chief Digital Officer at Intersport for more than a year. Time to take stock. How has this turned out, from your point of view?
Carsten Schmitz: The most significant milestong was the implementation of our new retailers platform. The second point was surely the digital implementation of our new store concept at Intersport. our new red and blue world. And thirdly, communication was and is important to us, that is to say, winning acceptance among the retailers. For example, we did a roadshow to remove retailers' uncertainty and to explain to them: This is the path that we are now walking. And that was very well received. We are experiencing the tailwind from the members.
Please explain the principle – and the advantages – of the new, shared platform for all associated retailers.
The advantage is the holistic approach. In many places we offer points of contact. We have an online shop, which we no longer consider to be a silo. In addition, there is a rental platform that lends half a million German skiers their equipment each year and that is not a silo, either. We also bring together a large number of retailers with their individual repositories of data. And we believe that this combination is exactly the right one.  This is the step that we are taking with the new CRM – in order to always include our customers, in line with our retailers.
What are the retailers' expectations like?
Very varied. But there are very many who formulate a specific, realistic requirement, such as, for example: At some point, I want to generate ten percent of my sales via e-commerce. And they have a second question: How will people come into my stationary business? One topic is: How many packages should I pack for my E-commerce business? The other is: How many customers can I inspire online  through a campaign? And then they say: But I would like to make the purchase in a store, because I would like to try on these shoes that cost 189 Euro, before I buy them.
That is to say that it is not only about making quick sales in E-commerce?
No, an important step of our strategy is saying: As a customer on our website, you are able not only to place an article in the shopping basket, but there are also four of this article close to you. And when the customer clicks on it, they are shown their closest retailer and can go there straight away. This is a significant added value of digitization: That we go to the exact places in which the customer makes their purchasing decisions and where the customer's interest is awakened. Then the customer chooses the sales channel.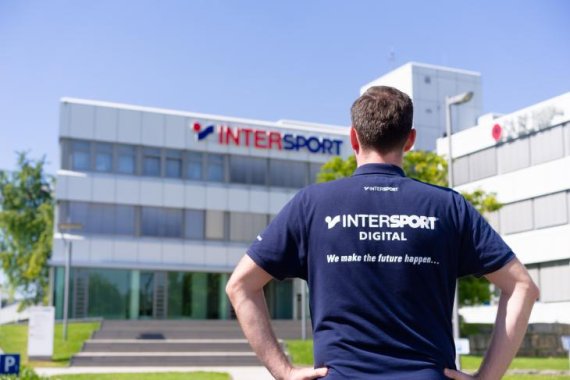 ISPO.com: You are speaking about the interaction of online and digital – in which the retailers are recognizing the online world along with the opportunities it offers and are not seeing this as a threat.
The only thing that got in its way so far in the past was online pricing. For some retailers, this is a headache. To these, today, we wish to say: The price on the net is already there. Nobody is waiting for an Intersport retailer to say what a certain Adidas shoe should cost. And if the price is already in the internet, then I can decide whether I am going to play along or not. And we offer assistance through a solution for exactly this case: We call the mechanism behind it "online price recommendation": Every day, we establish online prices for our range and make these prices available to the retailers. Then the retailer can decide whether or not they play along with this price.
This has been completely well received. Many retailers say: I don't have any idea what the 4,000 items that I have here in the shop cost online. I am really glad when someone suggests to me the appropriate online price. And yet they always have the choice of saying: No, this product is in such short supply in my business that I wish to sell it only in stationary trade or at a completely different price.
You are rolling out the Cooperative Retailers Platform successively: You started with five retailers; at the end of 2017 you were at 64 associated retailers – the goal for 2018 is...?
We have a waiting list of 150 retailer enquiries. The aim is that we will finish the year with 200 associated businesses. We believe that, in the following year, a similar magnitude is possible, when the first success stories are there. Furthermore, it has now already emerged that the industry also has a great interest in playing along with us. In the first quarter, we will start a pilot with two partners from the industry and give them the chance to offer their goods on our platform. These are firstly the big players, but a further 30 relevant brands currently also wish to offer their goods on our platform.
And are your retailers pleased with this?
We are pursuing a very fair model here. If the retailer has the stock, the retailer will sell first. If it is, for example, a promotional item and this is no longer available from our members, then we sell it from our own E-commerce shop. Only when we ourselves can no longer deliver it either, do Adidas or Puma supply it. That means: We always prioritize the retailers.
The retailers should have the opportunity to grow with the sales, as well as  with the expertise, that they themselves develop for E-commerce.
How are you able to convince also those retailers who still think that they can make quick money at Amazon to use your platform?
I think that very many retailers have understood that at Amazon they are not online retailers – but that they could actually be that with us. For us, it is about customers and developing customer relationships. At the moment, Amazon is using the retailers as package packers on the way to doing the business themselves. By now, many retailers have realised this. With us, there is a significant advantage: We link the customer relationships to our member. At Amazon I don't have a customer relationship. And I don't gain any e-commerce expertise either.
Amazon and the largest online warehouses benefit from their enormous reach. What are the aims for your reach?
We know how many sports-minded customers we have on our platform every day. It is a six-digit number. If we also achieve a healthy conversion rate of 3 to 4 percent, we can be very successful with that. We have decent shopping baskets; we have decent average prices. We have attractive own brands - and very little competition on this. Therefore, we are particularly annoyed when they suddenly appear on Amazon.
What digital expertise do you expect from your retailers?
Not that much at all, because commercial competence is much more decisive. As a retailer, I must decide how much margin I wish to achieve – and what I am prepared to do. At the same time, a certain service level must be adhered to: The package must be sent out within a specified time; a return must be booked for a specific time. We call for customer feedback and there are certain rules of play for the platform participants: For example, we have cancellation rates that must be adhered to. Anyone who wishes to be on our platform must be able to guarantee this. And to provide proof of it.
What else do you expect from retailers in their dealings with the online customers?
In many places, we would wish that more interaction with the customers were there. Here, our CRM now comes into play: We generate customer data and customer knowledge. We must keep these customers happy – that is our expectation.  The member must be ready to interact with the customer. Very many are still not properly positioned for this today. They often have no-one in marketing who can write a newsletter once a week that would ideally be personalized. Achieving this is now the requirement placed on us in the cooperative. We must help our members to recognise the needs that their customers have. Would you like an example?

Gladly.
If a customer bought children's shoes from us last year in size 32 for his son's birthday, then this year, he needs to receive a personalised newsletter, in which he is offered new shoes for his son in size 34. The offer must be more personalized; away from complete information overload and towards genuine added value. We have competitors who send six newsletters per week. Why should we send the seventh? We must be more relevant.
What challenges await you in view of the transformation in the sports business?
We should further build up the onmichannel principle. We must consistently focus on customers. We must be modern. It shouldn't always be about only sales; we should also sometimes be entertainers and make the brand more emotionally charged. And the third thing is surely building up the service profile and service competence, for example, taking goods back in the event of returns or the reservation processes. We must offer interlinked services.
What are your aims for 2018 – against what do you wish to measure yourself?
Developing even more relevance for the brand is a significant aim. And that is in several respects: Relevance in relation to sales. Relevance in relation to positioning on the market.  Relevance of our own brand –  Relevance that is firmly established in the customer's mindset.
And how much time do you have to achieve your ambitious aims?
E-commerce doesn't work with a baseball bat. If we merely talk about wishing to become more digital, then this will not yet happen. We must be successful in sustainably changing the customer's mindset in our favor. Intersport must be taken seriously as an onmichannel retailer. This is a process. Everyone must be clear about that.
The path that we are walking is simply a longer one. I am pleased to say, as a joke: We have to accomplish three years in 18 months.
"E-commerce doesn't work with a baseball bat."
Carsten Schmitz, Chief Digital Officer Intersport