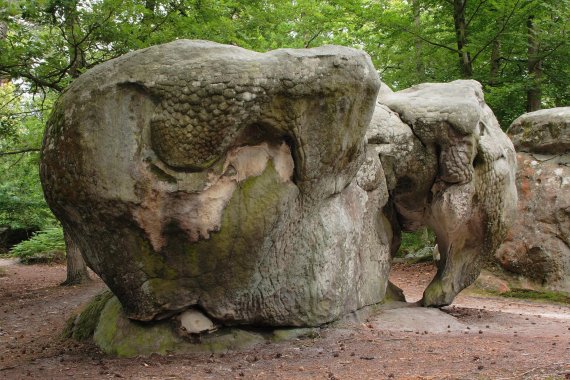 More than 100 years ago, the Bleausards were already trying their hand at the characteristic grey or ochre sandstone boulders.
Fontainebleau is divided into various bouldering areas: Le Cuvier, Apremonts, Les Trois Pignons and Franchard, among others. The choice of boulder problems is so wide that even beginners will be happy here. From the second to the seventh French grade you will find everything.
The climbing is very technical. In the course, you can get used to the peculiarities of bouldering in Bleau and, on top of that, train your endurance. Depending on the difficulty, boulder problems of a boulder block are marked with a colour (ascending: yellow, orange, blue, red and black/white) and numbered consecutively.
The challenge is to solve the homogeneous single boulder problems in a fixed order. Only those who finish a course within one day have completed it.
The main bouldering season is from the end of October to the end of March. The sandstone is particularly grippy on cooler days. If you plan really difficult bouldering, Fontaineblau is the place to be in winter.
Bringing a crashpad is urgently necessary, although the forest floor is mostly soft and yielding. The bouldering area is also great for kids.
The online climbing portalklettern.de has chosen the top ten areas. Among others Bas Cuvier, Cuvier Rempart and Gorges d'Ampremont.
The top 5 most beautiful spots in Europe for climbing in winter: